There are some things that I've left out this season already regarding the show that I will now fill you in on:
-Rachel Truehart's sister, Crystal, was on season 2 of "The Janice Dickinson Modeling Agency." Seems like reality TV runs in the Truehart family. Yeah, no doubt Rachel was there to find a husband. Sure she was.
-The grandmother who gets out of the limo, Sheryl, is Brittney's grandma. Brittney is the one that leaves during the cocktail party in San Francisco, which was held at the Conga Room.
-Two more last names for you: Dianna Martinez and Amber Tierney. Not like you need to keep your eye out for them since both are sent packing on the first night.
-When Mike Fleiss had that tweet back on Oct. 18th that said, "Every year, some guy or girl thinks they can outsmart my amazing team of producers. Good luck with that", I told you I think I may know what he was referring to or I may not. Well, here's what I know. What I had heard is that Casey Shteamer was someone who had a boyfriend back home that she was seeing before she left and he wasn't thrilled she was doing the show. Gee, I wonder why? Would any boyfriend be? His name is Michael Patak, President and CEO of a company called TopStepTrader in Chicago, and Casey either still works for him, or worked for him at some point. This is them together: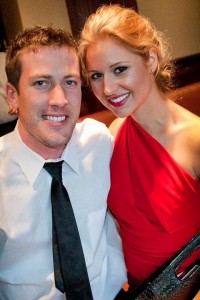 I was told about Casey having a boyfriend early on after I confirmed her as a contestant, but then some people informed me that Michael and her were on and off, but when she left to do the show, she was single. So half the people that contacted me about her said she was definitely still with Michael, and half said she wasn't. Best case, that's what Fleiss' tweet was referring to. At worst, you just got a little dirt on Casey.
-Ahhhhhhh, so which girl fell for which producer? That would be Samantha Leavy, Miss Pacific Palisades 2011 and she fell for producer Bennett Graebner during filming. If you remember that Sonoma news video, Bennett was the guy who walked up to the camerman and told him to shut his video camera off. Here he is in the group date picture from Sonoma (sorry my arrows suck. I guess I don't have a steady hand)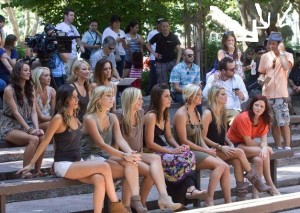 Nothing happened between Bennett and Samantha physically since, well, Bennett is married with kids. But I do know that for whatever reason, Samantha fell for him, asked off the show, they talked her into staying, and she was eliminated in Utah. Not sure if it was a rose ceremony, or a 1-on-1 where she wasn't given a rose, or if she just voluntarily left. I just know she left in Utah. I have no idea if this storyline will ever make air. My guess is no.
As of right now, I do not know if I'm going to release the episode-by-episode spoilers due to the fact that I'm still missing some pieces. If get them, then I will. If I don't, then I won't. But if you go back over all my posts over the last three months, it's safe to say a lot of the spoilers in regards to dates and locations are already out there. Hopefully next time I write to you, it will be to address this lawsuit and the allegations against me. Thanks for all your emails in support and I don't plan on going anywhere. Stay tuned.
Send your emails to: steve@realitysteve.com. To follow me on Twitter, it's: www.twitter.com/RealitySteve. Or join my Reality Steve Facebook Fan Page. Talk to you later.