-Now it's time for the group date where 12 women will audition for parts in a children's play, while Ben plays the lead. I don't have kids, but I was a kid once in my life. Lets just all admit it. Kids play suck. Yeah, they're cute and all but in reality, if you're a parent and you've been to any of your kids plays (especially anything before about 3rd or 4th grade), you know you're looking at your watch waiting for that thing to be over. So when we saw that they were going to be acting out a kids play, I hope none of you had high expectations. As for all the little tikes that got to appear on national TV for probably the first time in your life, I hope you weren't emotionally scarred. If your first foray into television was on the "Bachelor," I have a feeling that the little girls we saw last night will end up as the chicks who sleep with the whole football team and the guys will grow up as pretentious douchenozzles that will wear the 2032 equivalent of Affliction shirts. God help us all. Wait, is Ben wearing cut off white jorts? Please tell me he was in a hurry to get dressed that morning. If jorts aren't bad enough, the fact that his are white makes them uber dorky.
-So the girls have to get up in front of the kids and "audition" for which part they'll get in the play. I put audition in quotes because, well, they didn't audition for anything. If you noticed, all the "auditions" they showed us ended up being the part in the play they got. Hey, imagine that. So not only are we supposed to believe a bunch of 2nd and 3rd graders wrote a play called "Prince Pinot of Bachelorville," but now they are freaking casting directors? Seriously, shoot me now. Might've been the worst date this show has ever come up with. And this was just the beginning. We got to see a couple of the girls "audition" for their roles:
-Jennifer was told to act like a weasel. She made a noise that was similar to, well, not a weasel. But hey, great job! You landed the part!
-Shawn had to make a pig noise. I don't want to say that Shawn was type casted, but, Shawn was type casted.
-Jaclyn had to pretend she was being chased. I really want to make a comment here but I'm gonna have to hold off for a bit.
-I don't know what role Nicki was trying out for, but she was asked to do a sexy dance during the middle of it. Instead of incorporating her dances moves she showed us on top of the Dizzy Rooster bar that I gave you pictures of where horny, GHB carrying pervs could look up her shirt, she gave us the sprinkler. Boooooooooooooooooooo.
-We only got a quick glimpse of what Brittney was asked to do, but long enough to where she bent over in her sun dress and the giant funbags that got her hired at Hooters in Colorado were on display for all of Sonoma to see. But oh don't worry, someone else's plus 2's stole the day…
-…that would be Blakeley's. So you really think a bunch of kids needed Blakeley to jog in slow motion for her part? Really? They came up with that on their own, huh? Now maybe Emily wasn't too thrilled with Blakeley's outfit for the date, "Her striped romper with a very tight fitted chest area in front of children" didn't sit well with her or the rest of the girls but, ummmmm, yes please! Blakeley, I think you totally dressed the part. You should've been given the lead. Now, if only you would've worn THIS outfit would I have been any happier:
Lets face it, the most interesting storyline regarding Blakeley is how long does it take Dave Good to try and hook up with her, if he hasn't already?
-Back at the house, Courtney is already sizing up the competition (and ABC is already setting up the finale), by saying that "Ben gave the 1st impression rose to the person I got the worst impression from." So in case you're scoring at home, we're less than 1 hr into the first real episode of the season, and Courtney has already bad mouthed two of the other three girls who get to the final four with her. Gee, I can't wait to hear what she has in store for Nicki. Can't wait til Nicki wakes up to a dead rat.
-Back at the auditions, the girls can't get enough of what Blakeley decided to wear on the date. I say the hell with them. Would you rather she wore any of these outfits?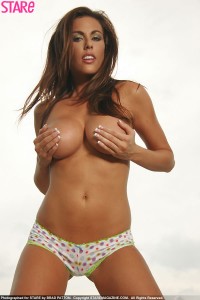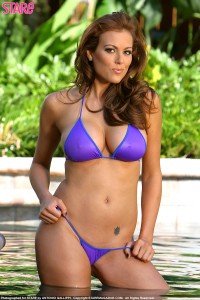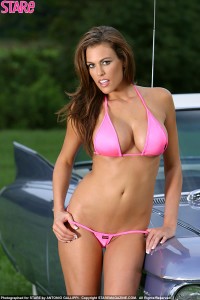 _______________________________________________________
Samantha even chimes in with, "What do you get when you cross a gingerbread man with a hooker? Blakeley." Ooooohhhh, I got one, I got one! What do you get when you cross a blond, ditzy pageant girl who sounds so congested and nasally on the show, you feel like giving her a Kleenex every time she's on screen, with one that falls for a producer whose married with kids during filming? That'd be "Samantha." Bennett doesn't want you. Sorry. Hope that doesn't affect your Miss Pacific Palisades 2011 crown.