Something else that came out today were more pictures from Emily's group boat racing date in Bermuda. To see the story and more pictures of the guys on that date, click on this link:
Emily Maynard Films Scenes with Her Suitors
As you can see in the pictures, the guys I've already identified that are visible are: Kalon McMahon, Travis Pope, Ryan Bowers, Jeff Holm, and Chris Bukowski. I can reveal who the blond guy in the red shorts is:
_________________________________________________________________
7. Sean Lowe: 28, Dallas, Texas. Fitness model/insurance agent. The competition pictures were taken from the RX Muscle Gallery site. Played linebacker for Kansas St. University. Graduated 2006. Apparently Sean also plays matchmaker in his spare time. According to this story, Sean matched up his sister Shay (Shay's blog: Simple Things) with one of his teammates in college, and they ended up getting married. Awwwwww, sniff sniff. Needless to say, Sean has muscles.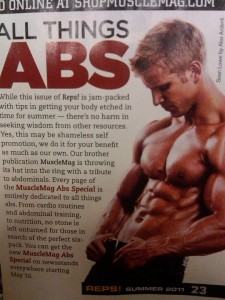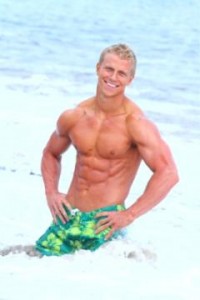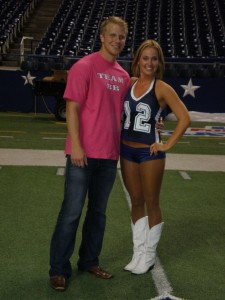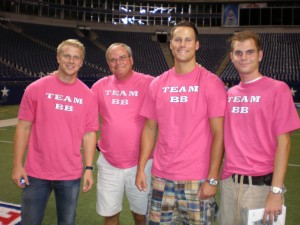 _________________________________________________________________________
Also, I can confirm two more contestants that are on the show. Ummmmm, I'm beginning to think Emily asked for a certain "type" on her season. You know, guys that have never eaten a carb in their life and that are more vain than her. Just a guess.
8. David Homyk: Lives in New York, graduated from the University of Virginia, musician. Has his own music website at www.DavidHomyk.com. Plenty of info, videos, and pictures if you google him.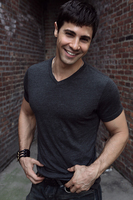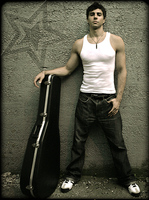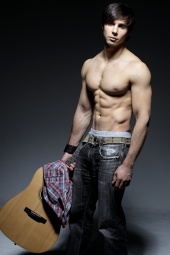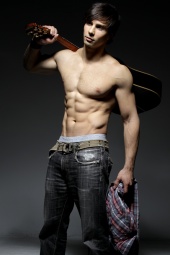 __________________________________________________________________________
9. John Wolfner: St. Louis, Missouri. Co-owns CitiShred with his father, Greg. Played golf on one of the minor tours as evidenced by this page.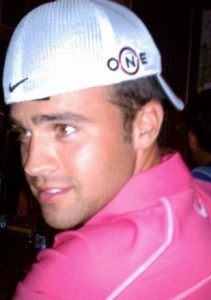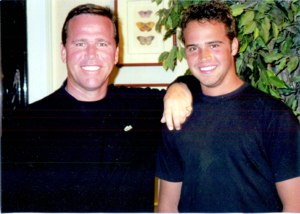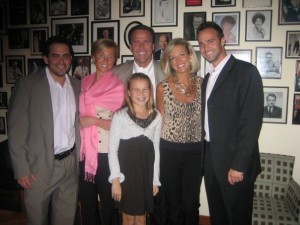 __________________________________________________________________________
You know how I know John is a contestant on the show? Well, it's kinda easy when your cousin blabs about it on Twitter and identifies him from a magazine picture taken on the Muppets group date like she did right here. Twitter is making it awfully easy for me to do my job. Hell, I didn't even do anything. Someone else saw this and emailed me, but I've been busy all weekend so didn't put it up right away.
Funny story about John. He was one of the guys I was informed was in the group picture I have at the Charlotte airport. The person who sent me the picture said she specifically heard his name was "John Wolf." So I was doing all these searches for a John Wolf, and being such a common name, I couldn't find jack sh** to match him up to the guy at the airport. Amazing what missing three letters off a last name will do. So, thanks to CeCe Wolfner for letting everyone know John was on the show and confirming he was the guy not only in the group date of the Muppets show, but also the guy in my airport picture from Charlotte. Thanks CeCe. Made things a hell of a lot easier for me. Which goes to show, the more people blab on Twitter, the easier my job becomes. I don't even have to follow it. Inevitably, someone will email me something they saw on Twitter, then I'll just dig from there. Keep it coming people. The less work for me, the better.
I've still got three or four more guys to confirm for the show but waiting on solid confirmation that they were on. After what happened with a couple of the guys early who I said were on and weren't, I'm just being a little extra careful now. Which is why last week I never said there was a "John Wolf" on the show. I knew either something was misunderstood, or, there was something I was missing. But thanks to CeCe Wolfner, we got the confirmation on the full name.
Back tomorrow night when your live video blog at 9PM EST/6PM PST. Not a big batch of emails right now, so it doesn't look like there will be a column tomorrow. Send your emails to: steve@realitysteve.com. To follow me on Twitter, it's: www.twitter.com/RealitySteve. Or join my Reality Steve Facebook Fan Page. Talk to you tomorrow night.