Lets talk about Arie for a bit. Arie's first 1-on-1 date, as you saw from the clip on the previous page, is this Monday when Emily takes him to Dollywood in Pigeon Forge, TN. It's on this date that Arie tells Emily about Cassie. No, not about Cassie Lambert. This Cassie (Facebook Page & work pictures). This is Cassie Harshman, one of Arie's ex-girlfriends. She's the divorced mother of two that he was referring to last week when he told Emily he dated a woman with two kids. Arie and Cassie lived together for over a year before he moved out last June. Arie tells Emily on Monday's date about her, including the fact that he got her pregnant and she miscarried. Will they show him telling her this on TV? I don't know. But he told Emily everything about her. I have no idea why he'd offer information like that on a show seen by 8 million people, but I guess he felt he could score brownie points that way. Cassie Harshman was a big part of his life. So much so that each of them got tattoos of the others name on themselves. Before Arie went on the show, he had his covered up. His tattoo now looks like this: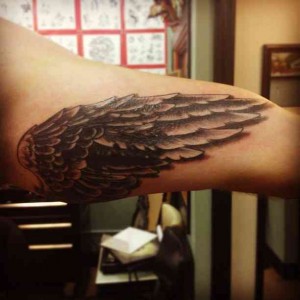 So that's what you need to know about Arie and Cassie Harshman. This is just the beginning. Here is a picture of Arie with one of Cassie's kids: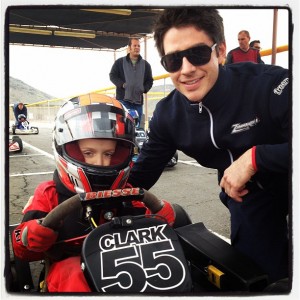 ________________________________________________________
Now everyone break out a pen and paper. Well, you might want to get a pencil due to all the erasing you might be doing trying to sort all this together. Try and stay with me if you can. When I first found out about Arie and Cassie Lambert, I figured I would certainly find out more information about their past relationship. However, most of the stuff I've been gathering led to all this you are about to read. I've been gathering it for the last month, and even I'M confused by it. However in the end, it should make sense. Lets get started.
-After breaking up with Cassie Harshman, Arie started dating a Diana Navarro (Facebook Page ):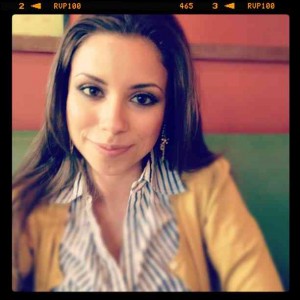 -Arie owns a company with Chad and Jared Brassfield (the sons of ex-NASCAR driver Darin Brassfield) called Anti-Celeb Clothing
and another one with Chad Brassfield called Zanardi America. Anti-Celeb Clothing is basically defunct now. It never really got off the ground and they barely did anything with it. Zanardi America is a go-kart racing company.
-On New Years of this year, Arie brought his then girlfriend Diana Navarro out and met Courtney Hanse (Facebook Page), and Stephanie Vian (Facebook Page). Arie was seen flirting with both girls that night, while Diana was there. Courtney's little sister is Caitlyn Hanse (Facebook Page). Caitlyn is dating, or was dating (get to that in a minute), Chad Brassfield. Got it?
-Stephanie is the best friend of Jared Brassfield's on-again/off-again girlfriend, Brittany Lorenz (Facebook Page). Why is Brittany important in all this? Remember the story that broke a few weeks ago about Arie was caught texting a girl during filming? Well, Brittany Lorenz is who he was texting. They are very close, shall we say.
-Arie spent time right up until leaving for the show hooking up with Courtney, Stephanie, and Brittany. Some more photos for you:
Stephanie with Diana: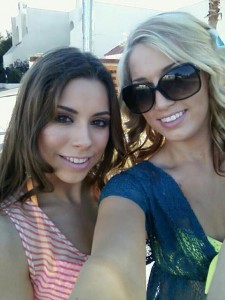 Arie & Jared Brassfield: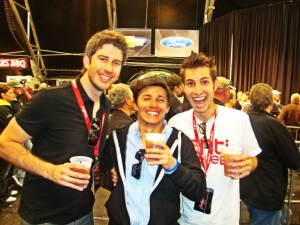 Jared Brassfield's Twitter account:
There used to be a lot of photos of Jared and Arie on his Twitter feed. Not anymore. And you'll notice some choice tweets he's made in the last few weeks referencing "#dontf**kwithmylife," "Dumping on fools today," and "Gotcha!". I can only guess what those are in reference to.
-Here's where things stand right now. This is a very dysfunctional group that all knows each other and all talks. When Arie was away filming, all of this came to the forefront. People all started finding out stuff that apparently wasn't known before. Jared found out that his friend and business partner Arie, had been sleeping with his on-again/off-again girlfriend, Brittany Lorenz, who somehow Arie was texting during the show. Jared has since packed up and moved to New Jersey, chasing Brittany down, who moved to New York in February. When Arie returned home, he realized all of this got out, and the sh** hit the fan. Jared and Chad aren't speaking to Arie anymore, and Chad has since broken up with Caitlyn Hanse because this has become one big convoluted mess.
-I want to make this perfect clear: This is not hearsay. You can ask any of these people involved in these last few paragraphs if this is true, and they will all verify it I'm sure. I mean, it happened, so I don't know why they'd pretend to deny it didn't. Jared and Chad know Arie hooked up with Brittany and they aren't happy with him right now. So much so that Jared packed up and moved to the east coast to get his woman back. Jared, a bit of advice: If your girl was banging your friend and business partner behind your back, probably not the greatest idea to move from Arizona to New Jersey to try and work things out with her. My friend, sounds like she's playing you like a fiddle. Listen to Dr. Reality Steve. I'm here to help.
-You know what one of the most comical things about all of this is? Check out the ages of everyone involved:
Caitlynn Hanse, 20
Courtney Hanse, 21
Chad Brassfield, 24
Jared Brassfield, 22
Brittany Lorenz, 22
Diana Navarro, 24
Stephanie Vian, 20
Arie is 30. A grown man. A man that is gonna be telling Emily on Monday how he's mature because he dated an older woman with kids, and got through a miscarriage with her. Yet back home, THIS is what's going in his life? He comes home from filming, and realizes his inner circle has pretty much imploded because he couldn't keep it in his pants? Nice. Now, I know exactly what you're gonna say. "Steve, this is a bunch of petty high school stuff." Exactly my point. What's Arie doing hooking up with a 22 year old, and not only hooking up with her, but texting her while he's on this "magical" journey with Emily trying to convince her he's the right fit to be her future ex-husband and Ricki's step father? Please. Lets face it, Arie is a dog. He went on the show strictly to revive a struggling racing career, to build up his once popular "Luyendyk" name, and nothing else. Once again, this isn't hearsay. It's fact. It's taken a month for me to gather everything up and cross check everything.
-Also, let it be known that before leaving for the show, sources told me that Arie made it known to his friends that Cassie Lambert has been trying to get him on the show for years, but he kept turning it down, and that he agreed to do it this time because Cassie would help him get to the end. He told someone, "I'm only doing it because I know I'm gonna win." He was extremely confident going into the show that Cassie would help him get far (being that she's the one that Emily talks to on a daily basis), and it's obvious by just watching the show he has had tons of coaching. Maybe you'll watch Monday's show a bit differently now when you see Arie feeding Emily a bunch of B.S. and getting the first make out session of the season. It was told to me on many occasions in the last month that Arie is a "perfect fit for this show." I was told that there no doubt Emily would fall for him, but "she has no idea what he's really like. He knows exactly what to say, when to say it, and how to say it, and he's VERY convincing." Seems to be quite accurate considering he was juggling three girls before he left for filming.
-I mean, even if you're an Arie apologist, after hearing all this you gotta at least admit the guy had some serious ulterior motives for doing the show, none of which had to do with possibly being Emily's future fiancé and Ricki's future step father. Is it earth shattering news? Not in the least bit. I never insinuated it was. But I think for a guy who gets to at least the final three, this is more than "Oh, I hear they may have a girlfriend back home" news. The Arie/Cassie Lambert relationship definitely played a major role in him agreeing to the show. Unfortunately, that'll never be explored deeper other than what I just presented to you because ABC won't allow it, Cassie sure won't address it, and I'm guessing neither will Emily, Arie, or anyone else involved. It's one thing if this was given to me by some anonymous person. It wasn't. Do some research, start contacting all these people, and I guarantee you they will confirm what I've written here today. I would never run with something like this if it wasn't verified by more than one person. Who the hell could make this up anyway? The thing is, Arie isn't the first guy to go on this show with ulterior motives, and he sure isn't the last, but to see the extent of what was going on in this guy's life? Geez. One can only hope Emily didn't choose him in the end. He'd have some major explaining to do.
-As of this point, I still don't know how the final 3 shakes out between Sean, Arie, and Jef. In past seasons, I've gotten it right more often than not. But this season, I will give ABC credit. This one has been a tough one to crack. I've heard so many things since filming ended, a lot of which are conflicting stories, so I'm not 100% confident in running with anything yet until I hear something I feel is solid. ABC has kept a pretty good lid on the ending this season, regardless of what else is being said out there. Bottom line: Emily doesn't need to involve herself with all this Arie garbage. Please. Him being "hot" only goes so far I would think. 22, 21, and 20 years old. Dude, when I was 30, I don't even think I knew anyone who was 22, let alone hang out and talk to them. Seems to me this guy loves the spotlight and the attention this is gonna bring him. So if Emily is with Arie now, I hope someone fills her in on what his life was like back home right before he left, and the sh**storm he walked back into when he returned from filming. If she didn't pick him, well, now you know a little bit more about who Arie Luyendyk Jr. is.