Not as big of a "Reader Email" bag today. Although I did receive a lot of response in regards to Tuesday's column, a lot of it was just support and "keep your head up" emails. I appreciate those. I just don't need to re-print them. You know, kinda like how some people out there re-tweet every single positive thing someone tweets to them – I don't do that. Just know that I got all your emails and I'm thankful you saw my side.
___________________________________________________________
Hi Steve,
I was just curious why you thought no one at the ATFR focused on the hypocritical side to Emily, such as – when she watched Brad's season play back, she called him every week berating and ranting at him about the "material" he provided to the cameras week-to-week, how he went on more fun dates with Chantal, seemed remotely interested in Shawntel etc. Even though Brad was ga-ga over Emily the entire season, their relationship started out so rocky and negative due to her immaturity while watching the show. He'd have to answer/explain to her each week, send her gifts each week, pre-emptively call her and tell her how much he loved her each week, how sorry he was each week, explain the tabloids and so on. That would "poke" anyone. It was exhausting to hear about and watch on the ATFR. THEN, she becomes the Bachelorette, gives more material than I've probably ever seen from a Bachelorette, Jef watches the season maturely and doesn't give her any grief (which is a big reason they are all happy, in love and smiles today because he could have been a big pain in the ass about how Emily and Arie were when together all over eachother) yet no one referenced how lucky Emily was/is that Jef didn't act like such a brat like her!
Also, Emily's big thing after the Bachelor season was how she was so beat down by the paparazzi, wanted a normal life for Ricki and herself, couldn't travel with Brad because she has a daughter blah blah blah. And here we are, and all Jef and her have done are media spots all last week, no problems with paparazzi any longer, are traveling the world (to LA, NYC, Ghana) and no Ricki??!!! Emily either matured, or she is full of it. She poured out this sob story about her and Brad's breakup and the challenges of the paparazzi, so we wouldn't think she was the cold bitch she was on the ATFR last season, all to set herself up to be the Bachelorette. Bottom line, when she actually likes the guy (like Jef), she will travel back-to-back-to-back, she will do media, she will drop Ricki for weeks no problem (which is fine and understandable for the chance to be with the love of her life) but she was full of crapola back during Brad's season.
And it overall bothers me that no one has pointed this out to her or about her. Oh and PS. I also love that she CLAIMS she'd love to uproot and start over in AZ or in SLC and here we are, Jef is moving to Charlotte. Of course he is, because she was full of it regarding wanting to move too! She always says she will move, but when it comes down to it, she won't in a million years!
Comment: Soooooooooo, you're sayin' you're a big Emily fan, huh?
___________________________________________________________
This is totally random, BUT….
Can you imagine how great it would be if Bachelor Pad only had nice people on the show? Here's how I imagine it playing out:
[Chris Harrison pauses for a moment. He stares at Ames and Kiptyn with his sorrowful eyes.]
Chris Harrison: "Ames…Kiptyn. There's one rose left tonight. One of you will stay and one of you will go."
[Thirty second pause as super dramatic rose ceremony music plays.]
Chris Harrison: "Ames, you are safe."
[Ames buries his head in his arms in despair. He looks to Kiptyn and gives him a hug before going up to get the rose.]
Ames: "I can't accept this rose. Kiptyn deserves to be here. Let him have to rose."
[Kiptyn's jaw drops along with everyone else's.]
Kiptyn: "Thank you for the kind gesture, Ames…but I can't accept your offer."
[Ames puts his finger to Kiptyn's lip.]
Ames: "Shush, child. I insist you take this rose and compete as hard as you can. You will do fine and I am confident that you will go on to win this."
[Kiptyn sheds a tear as he embraces Ames in a bear hug. Doves fly in the background while instrumental music plays.]
Kiptyn: "Bro's for life."
[Hand hug.]
End scene.
Comment: What a boring show. No one would watch.
___________________________________________________________
Steve –
Did you notice Jef's Twitter bio says, "Mr. Emily Maynard"? How many weeks do you think it took him to come up with that one? Do you think he got it from an e-card?
Comment: He really changed his Twitter bio to that? Hold on, let me check. (Checking Twitter). Yep, he did. Wow. I guess we see who wears the pants in that relationship. I wonder how many times he's already had to spend a weekend on his "Honey Do" list? So when Jef inevitably buys her a Chanel bag, will it come equipped with his balls already in it, or no? They've been engaged 3 months (known each other for 5), and she's completely emasculated him already. Outstanding.
___________________________________________________________
Hello Steve, I've been a reader and fan of yours since Jason's season. I have a question for you. You've stated that Emily O'Brien was your favorite Bachelor contestant ever, and made it obvious that you had a crush on her. You also shared that you contacted her and offered to pay her for information. Not judging you, just stating facts. I've often wondered if you regret not using that opportunity to ask her out instead. Maybe you did. I hope so. I assume that ship has sailed, but I thought your feelings for Emily were very sweet.
Comment: No, because when I sent that email, I didn't know her. I would never ask somebody out that I didn't know. I sent that email after she got back from filming and six weeks before the first episode even aired. I didn't have a clue about her yet. It wasn't until I started watching the show that I started to like her more and more.
___________________________________________________________
Hey Steve,
I've been reading your spoilers and recaps since Jason's season and look forward to tuning in a couple times a week for laughs and eye-rolls.
Speaking of eye-rolls, I'm assuming you've seen the article on People.com regarding Cassie Lambert's wedding and seen the attached photo.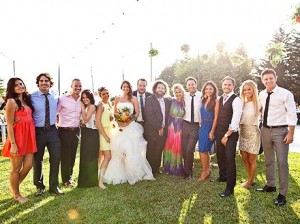 I can't help but feel sorry for these people that appear to be living in a plastic pseudo reality-show type world. Wouldn't one pause to consider whether or not recently divorced Chris Harrison would be the best choice as celebrant? REALLY? And People.com calling it a "star-studded event" with the likes of Ben Flajnik and Casey Shteamer?! Who are we kidding? And who is the mountain man in the middle?
I couldn't help but also chuckle at the "Bachelor Experience" featured on last night's Bachelor Pad episode at Madame Tousseau's. Those poor people walking in to find "big name Bachelor stars" like Tony and the curly-haired guy whose name I can't bother to learn. I just love that Rachel finds herself such a huge celebrity. Michael, on the other hand, is HYSTERICAL. His ITMs are golden. Regardless of how much I love to hate this show, it's incredibly entertaining on SO many levels.
Thanks for doing what you do– keep up the sarcasm!!!
Comment: The "mountain man" in the middle is producer, Elan Gale. He's there because he's friends with Cassie and Pete and, most importantly, has been dating Casey Shteamer for the last few months. I made a subtle reference to it in a column a couple weeks ago. No one seemed to pick up on it though.
___________________________________________________________
Why was Casey S invited to Cassie's wedding over the weekend? I didn't know they were friends. I just thought it was kind of weird being that most of the bachelor people that were invited to that wedding were former leads. Casey S wasn't nor was she a big part of the show during Ben's season. I just would assume other people that are considered "more popular" in the franchise would be invited as oppose to Casey.
Comment: Read my answer above.
___________________________________________________________
Steve,
When this season of Bachelor Pad started I thought the "fans" gimmick was a terrible idea, if only because I figured they'd probably pick people who'd act like morons (which has largely been the case, with David as a possible exception).
Sure enough, the former contestants have steadily picked off the fans, episode by episode. But what's been fascinating to watch is the invisible social barrier that seems to exist between the fans and the former contestants. The former contestants really just won't accept the legitimacy of the fans, and at one point I turned to my wife and said, "I think I figured this out. These former contestants really think they are TV stars." It's pretty amazing to watch. The "fans" are all excited to be there and are just trying to navigate the awkwardness of the spotlight and the cliques they are trying to penetrate. The former Bachelor(ette) contestants are almost territorial, like mini-Kardashians defending their allotted camera time.
It's as if all of them have been "changed" (like an underground society, Twilight style) and live in a parallel universe where their endless hookups, petty jealousies, and overindulged personalities (could Chris be a bigger douchebag if he tried?) actually matter. They think they matter. They think they are culturally relevant. They think they are building a public persona. It's amazing. Stagliano's kiss of Donna (fulfilling a fantasy for her?? What are you Matt Damon now?), Ed's pious insistence that he really cares about people, the stage 5 creeper women..it's a nut house of overweening ambition and self-regard.
Watching this show makes me think of the Disney movie Wall-E, where in the futuristic world everyone is an overfed lardass confined to a lounge chair, except with Bachelor Pad the morbid obesity that is created is mental, not physical.
Oh, and as for the Erica Rose thing—they can all go screw themselves. Keep doing what you do. Everyone already sees her for who she is anyway.
Comment: Interesting. So this show and it's characters can kinda be like "Inception" as well, but way less confusing.
Look, I've said it a million times. A lot of these contestants become changed once they've been on the show. They get a taste of the Hollywood life, and they think it'll last forever, when in reality, it basically never does. They all want to hold on to something that really wasn't there. It's sad to see. I applaud those who basically disappear from it once it's all over. I don't think some of these people realize how it's not that big of a deal anymore that you were on a reality show. Look at how many channels are on TV now. Look at how many of those channels have reality shows. It's astronomical compared to what it was 5-10 years ago.
If you want to book a couple local appearances where you live and make some cash that way, that's great. Most of them are bigger deals in their hometowns than they are on a national scale, so it actually makes sense to do appearances where you live. But to move to LA or NY to start an entertainment career just because you were on a reality show is mind boggling. And plenty of them have done it.
The worst part is, based on stuff I hear and what I read on Twitter, none of these people have thick enough skin to make it in Hollywood. The second someone tweets something negative about them, it gets their panties in a wad and they're calling tabloids trying to beg them to run positive stories. You're gonna let some no name who has 2 followers on Twitter bother you? What happens when you get to Hollywood and every audition you go on you fail? These people absolutely have lost touch with reality when it comes to this show.
Now, I'm not saying ALL of them have. There are still a few in the group with a good head on their shoulders, but, that group seems to be getting smaller and smaller every season they turn out new contestants. It's all about who can get the most Twitter followers, who can get the biggest fan base, and how can they market themselves the best. That can only last for so long. The minute the next season starts up, no one cares.
___________________________________________________________