Thanks to Bounce Sporting Club and the dream Hotel for their help this weekend with accommodations, not to mention all of you who were able to make it out to Bounce on Friday night. Luckily for those people in attendance, they were the first to hear of the breaking news that I tweeted out that night, which was that after this past Sunday's rose ceremony in LA, filming was headed to Whitefish, Montana. Kinda crazy how that all went down, but here's the short version: A month ago, a morning DJ in Montanta reported he'd heard the "Bachelor" was filming there at some point this season. I was notified of this, I followed up, but nobody could confirm anything. Then this past Friday night as I'm hanging out at Bounce, I got the confirmation that they were heading to Whitefish, including a concert this Wednesday night being put on by country singer Sarah Darling. So expect tweets, pictures, and FB posts to be coming from this date: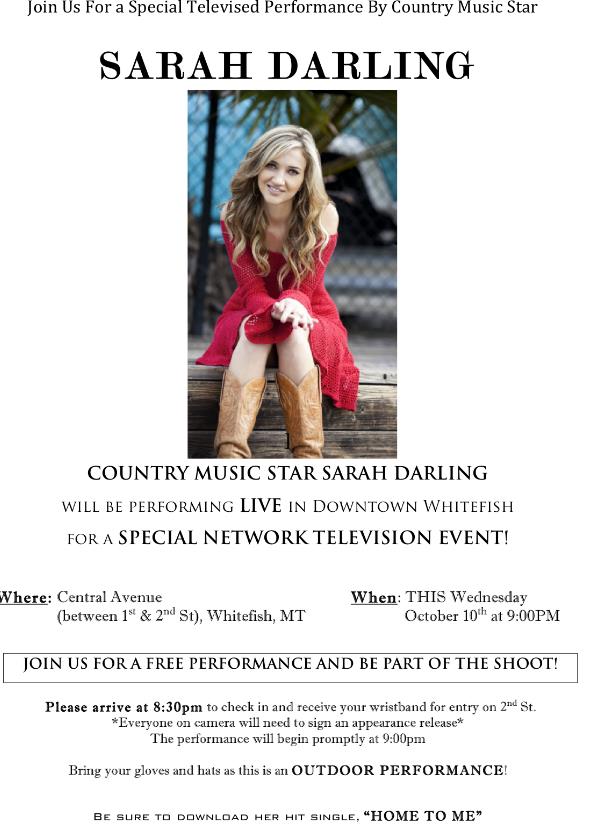 A couple other notes to get to, some that were tweeted out when I was out of town:
-Kristy Kaminski is home. She lasted three episodes . Guess that gives her more time to get back to selling her ViSalus shakes in her pyramid scheme. Wonderful. Sign me up. Hey, it's not like Kristy even cares she got eliminated. She thinks the show is stupid and hates it. "Hate Hate Hate Hates" it. Remember this gem?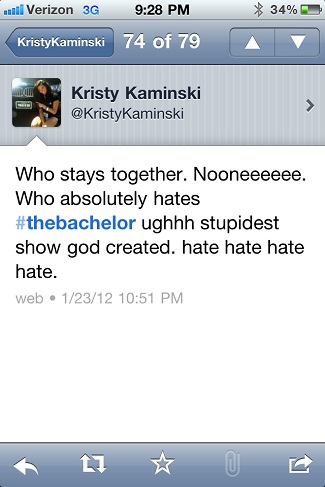 -Katie Levans is also home. Thanks to her employer in Charlotte, Y2 Yoga, we were informed in a tweet by them on Thursday that she was gonna be back that night teaching class. Thanks for the heads up Y2 Yoga. Hope you all had fun downward dogging that night.
-Kacie Boguskie is off the show and lasted only three episodes as well, like I predicted. Look, I know plenty of you out there were hoping Kacie and Sean would be married for 50 years with tons of kids, but as I said when I found out about her on the show, I never understood why she'd agree to it. I knew why ABC wanted her, I just didn't know why she wanted to do it. Two reasons: 1) She had met Sean in NY two weeks prior and nothing happened. Not only that, she made so little of an impression on him, he decided to make out with someone else from her season, Jenna. 2) Kacie has been casually seeing Ty Brown (from Ali's season) for the last couple of months. They even attended the charity event in Philadelphia together the day after the NY event, and were already seen together back in Nashville since she's been back from the "Bachelor." So I ask again, "What was the point of her going on the show?" Knowing she's been seeing Ty, and knowing that there wasn't anything happening with Sean, why do it again?
-Neil Lane is featured prominently once again this season. He's the jewelry provider of this show and he gave an interview last week launching his new Kay Jeweler line, and in it he promoted the fact he was going to be seeing Sean and his date this past Saturday. That date was in Beverly Hills with the fancy car and the woman is given jewelry for the night, etc. The girl Sean took on this date was the other Leslie. Leslie A. Hughes the actress, former "Take Me Out" contestant, and the one with one of the greatest mug shots ever.
Send all regular and "Dr. Reality Steve" emails to: steve@realitysteve.com. To follow me on Twitter, it's: www.twitter.com/RealitySteve. Instagram name is "RealitySteve," or join my Reality Steve Facebook Fan Page. Talk to you soon.