-Now it's time for the limo exits which can be entertaining. Or not. After 25 seasons, they're kinda running out of creative things they can do that are remotely original. But lets see what this crop has in store. First, Sean arrives to greet Chris Harrison. Have you noticed that Sean definitely walks with a certain strut? I think I first noticed it when he went to greet Emily last season. Now I REALLY notice it. He almost sways all the way left and all the way right when he walks. I'm gonna keep my eye on that this season. Chris tells him that "all 25 women specifically signed on to meet you." Really Chris? You mean when you were casting women as far back as 9 months ago, before Sean was even on Emily's season, those women specifically were signing up for him? Stop lying. It's getting embarrassing.
I'm not gonna talk about all 25 limo exits because not all of them were that memorable. I'll just talk about the ones that stuck out to me.
AshLee: Says something about usually saving the best for last, but happy she's first. Sean fakes laughs, and AshLee doesn't bother to tell him she spells her name like my nephew in kindergarten who still capitalizes every third letter.
Jackie: Since she's involved in make up, she says she wants to put her mark on Sean tonight by putting on lipstick and giving him a kiss on his cheek. I loved this entrance. Why? Not so much for what she did, but for what came next.
Selma: A very, very busty Selma introduces herself to Sean, and in an obviously pre-planned schtick between her and Jackie before her, Selma pulls some kleenex out of her cleavage to wipe it off Sean's face. That's it. Greatest entrance ever. Any entrance that has a chick with DD's reaching into her cleavage for anything wins the award for "Best Entrance" in my book. I'm sure Mike Napoli is watching in pure disgust. Ex-boyfriend.
Daniella: She decides to go with the baseball player high five, handshake, slap nonsense. I guess Sean wasn't too put off by it, but any chick that wants to address me like that should just turn and walk the other way. Sean's not looking for a workout buddy, he's already got one in Jeremy Anderson. He's looking for a wife.
Kelly: She's a singer from Nashville (and quite orange), so naturally, she sings some awful song about Sean coming to her home and tasting her mom's sweet tea or something. Kelly, I'm only gonna say this once. Don't you dare try and take down the greatest night one singing performance of all-time. You are no Emily O'Brien my dear. No one is.
Katie: Yoga teacher who wore no shoes on the wet driveway and decided to help Sean with his breathing. If I didn't think her hair made Medusa look like she uses a flat iron, I'd say I liked the entrance. But the no shoes and out of control hair distracted me too much.
Ashley P: The producer's dream. "Here's what you do. Run with the whole 50 Shades thing. Sean will love it. You're totally gonna get a rose by doing this." Something tells me that Sean's church probably has book burnings every Sunday about the 50 Shades trilogy. Not a good start, Ashley. Awful gimmick.
Catherine: 26 limo exits and hers was honestly the least memorable. Not because it was bad or anything, but obviously knowing they're engaged, you try to look to see what she did on the first night to stand out, or if she told a corny joke, or said something stupid, or did a stupid trick. Nope. Nothing. Told him he looked sexy, gave him a hug, said "I'll see you inside" and that was that. See future contestants? You don't need to act like a jackass on your first impression to get a paid for Neil Lane ring at the end.
Robyn: Our gymnast tries to get cute by doing a back handspring in a dress. Not a smart move as she falls on her noggin. If Sean was any sort of man, he would've ran out to where she fell down, picked her up, dead lifted her, then put her back down. But he didn't. Where's your heart, Seanie?
Tierra: She has a heart tattoo on her finger that's half open and she's looking for someone to close it. This apparently blew Sean away so much, that he just HAD to go and "change the rules" by giving her a rose right then and there. When realistically, I'm sure Sean was told off camera "Hey, we want you to give a rose to someone right out of the limo. So pick someone to do it with and we'll make it seem like it's this big game changer, when in reality, it's not. It'll just add to the dramatic effect since we've never cut away to commercial in the middle of the limo exits with a girl just standing there not knowing what's happening." I should produce this show.
Amanda: At least she came to the table with something different talking about awkward pauses in relationships so she figured they should just get theirs out of the way now, rather than later. Points for originality. The bright red lipstick was a tad distracting, but she seems likable. I'm guessing her plan of going on the show to make her ex-boyfriend jealous worked since she's together with him now. Now THAT'S how to use the show to your advantage.
Desiree: You know what's amazing about Desiree's intro? Granted, there have been over 600 limo exits in this show's history and I don't claim to remember them all, but Desiree definitely wins award for best entrance this season, and probably over the last 10 seasons. How in the world has no one ever thought of using that fountain to make a wish in before her? We see that fountain every season (well except for Emily's since they bent over backwards to accommodate her in Charlotte) right behind the lead, yet it took 25 seasons to think of making a wish? Props to you Desiree. Best entrance yet. Lets be honest here, exactly how was Tierra's introduction so superior to Desiree's that it deserved a rose over everyone else? Head scratcher until you realize her getting that rose first really meant nothing.
Lesley: Well, at least Lesley didn't come to the table with any sort of political joke or carrying that lame "Lesley Sean 2016" sign. You figured at least one of them would try and appeal to Sean's sports side. Lesley is a UGA grad. I'm glad she was at least home from filming in time to watch them gag against Alabama in the SEC Championship game. Nice play calling at the end of the game there, Richt. And just think, you guys too could've stomped a mudhole in Notre Dame's ass last night if you were given the chance.
Kristy: So already in her video she's told us girls will be jealous of her. Now she steps out of the limo and says "Sean did you invite these girls, cuz I didn't?" Safe to say Kristy wasn't the author of "How To Win Friends and Influence People" because what she's done in an hour seems to be exactly the opposite of that. She seems so excited to be on the show and so thrilled to potentially fall in love with the man of her dreams on this show, which is rather amusing considering what she had tweeted just nine months ago when watching Ben's season. How could we forget?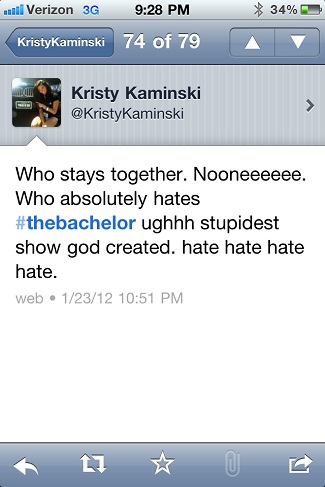 So already she's lying to Sean. Not a good start, sweetcakes.
Chris Harrison comes up to Sean and informs him there's still one more woman left. In fact, she requested that she wanted to see him for a chance at love. Did you see the look on Sean's face? Why did it look like he was sh**ting his pants thinking Jenna Burke, who he'd made out with a couple weeks earlier, had somehow found her way onto the show to stalk…errr…court him? I'm sure Sean's heart skipped a few beats when Chris told him that. Or 100. No worries Sean. Jenna's moved on to other guys from Emily's season, so I'm pretty sure she's over you.
Kacie: Well I gotta say, Kacie looks awfully good in that dress. Yowza. I had tweeted about that dress that Britney Spears wore the something very similar on the X Factor semifinal show. Kacie should've stepped out of the limo and said, "It's Kacie, bitch." One thing I'm glad these two did was mention the fact they'd recently just spent time with each other. Would've been awfully disingenuous if they, or the show, never acknowledged it.