Hi!
Do you think the producers ever try to tell the lead (or at least encourage them) not to pick someone because they want them to be the next Bachelorette? Seems ridiculous but with ABC you can never be too sure…
Comment: I think they have a certain influence and might lead people in certain directions, but ultimately, it's the leads call. Whether that call was made because a producer was telling them, "Hey, I think this one is ready for marriage and would probably say yes," or, "I'm not so sure so-and-so is ready for an engagement," I guess we'll never know for sure. You'd have to ask the leads.
_________________________________________________________
Hey Steve!
Love your site! Good luck with the lawsuit!
I was wondering your opinion on Arie raising funds for his car or whatever. Seems he's pimping on Twitter a lot, and…well, taking advantage of the female admirers he's accumulated. I mean, hasn't he raced before and made money? And wasn't he paid for The Bachelorette?
What's your thoughts?
Thanks for reading!
Comment: According to his page, he needs to raise $400k to race. He's got a little over 20 days left. As of last night, he hasn't reached $7,000. Ummmm, I don't think he's getting his goal, and since the money he's asking for isn't going to charity and it's basically asking people, "Hey, donate so I can work," I hope each and every one of them gets their money returned when the goal isn't hit. I can't see how he could keep it if he doesn't reach his goal. VERY bizarre fund raising if you ask me. Never really seen anything like it.
_________________________________________________________
Hi, Steve.
I was reading your reader emails section from last week and came across the question that someone asked wondering if the rose drop from the balcony and getting the perfect shot of it landing was fake or not.
I recently directed an indie feature. I had no experience with film making prior to this film and I was thrust into the role of director after writing the film (I'm a writer, not a director). Anyway, the project opened my eyes to just how easy it is to fool people into thinking that things are shot sequentially and that many things CAN'T be shot sequentially. Between your column and my recent experience as a director, the fairy tale of "reality" TV is over for me. It's just not possible to film reality the way it is portrayed on reality television without doing multiple takes and calling for cuts in the action to change camera angles, etc. In my book, that's not reality.
I can tell you with 100% certainty that the rose Sean dropped from the balcony is not the same rose that hit the floor. For that to happen, they'd have to have a camera on Sean and a camera in the landing area which wouldn't be seen in the shot of the rose falling to its death and then from 3 stories up have Sean hit the target in one shot. That's like a one in a billion shot and it definitely had to be set up ahead of time (i.e. not reality at all). In fact, when I saw that, my eyes just about popped out of my head at how ridiculously fake it was. (Not to mention over-the-top cheesy.) To get the rose to drop in a perfect way like that so that the petals flew up in the air, my guess is they dropped a lot more than one rose (not counting the one Sean dropped) and Sean wasn't even in the building at the time. They could even have gone back to the location and shot it after principal photography was over because they thought it would spice up their edit. They could even have done it BEFORE Sean even got there if they'd decided Lesley was going home and Sean was going to drop a rose off a balcony.
Considering how fake most of your readers know this show to be already, I'm sure this is just icing on an already thoroughly iced cake, but I thought I'd throw my two cents in on this because I noticed that shot too and it irritated me no end because it was blatant manipulation of the audience and a totally unnecessary shot. I would have been fine seeing Sean just drop the rose. I think we all got the picture that we were supposed to be sad for Sean's pitfall on his quest for love (if you can call it that since no one ever thought Lesley was really a contender) without the exploding rose shot on the floor.
Comment: Thank you.
_________________________________________________________
Desiree is rather snide…she picked at Amber to try to get a rise out of her, and she was the one that set Tierra off tonight with her snarky comment ("Jackie is so sweet, it was so hard to see THAT send home")…but very sweet with Sean. Tierra got the bad edit, but I feel like she had a target on her back since she got the first rose (and everyone knowing Sean really liked her). Are you picking up on this too, or am I the only person in the world who is sympathizing with Tierra (and maybe I'm just delusional).
Comment: Uhhhhh, who's Amber?
You are the only person in the world sympathizing with Tierra and are delusional. But hey, at least you can admit it.
_________________________________________________________
Hi Steve,
Why are the travel locations (prior to hometowns) for the Bachelorette a bit more extensive and exotic compared to the locations for the Bachelor?
Examples: Jake (North & Central America), Brad (North & Central America), Ben (North & Central America), Sean (North & Central America), versus the women's seasons flying across the ocean: Ali (Europe), Ashley (Asia), Emily (Europe).
Don't get me wrong, I think U.S. travel is great and its wonderful to invest travel dollars in our own beautiful country – it just seems far from coincidental that the travel locations are aligned accordingly to Bachelor vs. Bachelorette seasons.
Comment: I agree with you that it seems like the Bachelorette gets more time in Europe mid season. And if what I'm hearing about the upcoming season is accurate, it'll hold true once again.
_________________________________________________________
Hey Steve,
This is a 1/2 Reality Steve, 1/2 Dr. Steve question. Can you think of any instances where one of the girls has "tattled" to the Bachelor about the crazy girl or the girl that no one likes and the Bachelor has been like – ok, I see it and has eliminated the crazy girl? It seems like every time someone tattles, it's the tattler that leaves. I feel like the Bachelorettes in the past have listened – am I correct?
OK Dr. Steve – why doesn't any Bachelor listen? Is it a man thing, a Bachelor thing (the kind of guy who may be more sensitive than the average man), or just the producers whispering in the Bachelor's ear that the other girls are just jealous – she's really not all that crazy. I think most women would want to know what was going on and would appreciate hearing what was going on behind the scenes.
Comment: Definitely happens a lot, no doubt. I guess it's no different than telling your friend who's dating a douche, "Hey, your boyfriend is a douche. Leave that guy." Do they ever? No. They want to believe their significant other over their long time friend, and the friend usually ends up getting ignored.
I think inherently the leads want to give people the benefit of the doubt. And the more others attack that person, if the lead hasn't seen any of it for himself, I guess they feel they need to discover it on their own and not let others dictate. Personally if it were me, I'd listen to the others. If everybody hates my girlfriend, that's a problem.
_________________________________________________________
So, I read your recap of the Bachelor… and got the CM Punk reference… Let me ask you, do you get insiders with the week-to-week scripting.?
If so, how long is The Rock going to be champ, and when is Ryback going to get another shot.?
Would you think HHH is going to come back due to Vince having his hip "broken" and challenge Lesner at Wrestlemania again.?
Any other insite would be great. I'm almost at the point of not watching anymore.
Comment: If you don't want your daily wrestling fix right now, you can skip to the next question.
No, I have no insiders within the WWE. I just read certain sites that have good information and are usually pretty accurate with their "spoilers" for storylines.
From what I've gathered, the Rock was always going to win the Royal Rumble, and that made sense. You don't promote it almost a year in advance only to have him lose. With that said, the plan is for Cena to redeem last years Wrestlemania loss (along with a horrible 2012 that saw him lose pretty much every big match), and beat the Rock for the title. The Rock just can't stay champion long because he's not a full-time wrestler. So the title reign was always going to be short lived.
HHH comes back next week, and he will be fighting Lesnar at Wrestlemania to avenge the Lesnar "breaking" his elbow, and F-5'ing Vince last week.
Not sure what they have in store for Ryback regarding Wrestlemania yet, but I gotta imagine it'll have something to do with The Shield.
I absolutely just nerded out on all of you. What can I say? I'm multi-talented.
_________________________________________________________
Hi Steve!
Love your blog and I liked to wait until the next day to watch episodes so I can read your blog while watching the show. Of course, I read the spoilers way before hand, but your episode by episodes are awesome.
I have a question about the fact that Tierra posted (real or fake) pictures on her Instagram of an engagement ring – Isn't there something in her contract she signed that this would be against? It seems weird to be posting this BEFORE she gets the boot vs. waiting for the outcome of her fate in the show to be aired. I would think that Catherine definitely would get in trouble for posting THE ring, right? This makes me think Tierra could get in some sort of contract trouble.
Anyways, keep being awesome!
Comment: I have no idea what Tierra's doing or why she's doing it. Hopefully I'll have a more clear answer after this weekend and I can address it next week. But frankly, with her being gone after Monday, I really don't care what she does anymore. The more people talk about her, the more she's "winning." This is exactly what she wants. I'm almost to the point of letting everyone else talk about her and I'll just ignore it. She's become that irritating in my eyes.
If she thought she'd get in trouble, she never would've posted the pictures. So either she doesn't care, or they don't care. Or both.
_________________________________________________________
Steve–
Love your blog!!!
Why don't the producers put a camera inside the girls' mansion so the lead can SEE if these women who are "different with the lead than they are with the other girls" are in fact, acting differently? Since the show wants drama, why not create it by having the lead "shocked" by how someone like Tierra acts in the house vs. how she acts with Sean? This happens every season! I suppose they think it creates more drama to have the lead "figure out" what's really going on….but there might be just as much drama if he secretly watches and confronts her.
Comment: Because they want them to find out on their own.
_________________________________________________________
Hi Steve,
I was reading your column recap of last night's episode. I noticed that you mentioned that Robyn lasted the longest, from any African American. However, in Season 12 of the Bachelor-featuring Matt Grant, Marshana was an African American and lasted until the week before hometowns. It happened to have been episode 5 as well, however, in terms of how many contestants were left, Marshana made it much further.
Comment: That's right. Marshawna did last that long. I believe she's the only other one. I stand corrected.
_________________________________________________________
K, Tierra legitimately thinks "fustrating" is a word. The first time she said it, I thought it was a mistake, but 2 times in a row=no, she really thinks that's the word. My questions:
1. As a man, what is the appeal of Tierra? She's clearly high maintenance, unfriendly with others, and in my opinion unattractive. Why would Sean keep her for so long? Do men find girls that other girls hate intriguing? Because this has also happened with Courtney, Vienna, etc.
2. Have you noticed that this season, a lot of the girls have very high-pitched, whiny voices? I feel like there are more voices like this in this season than there have been previous seasons. Kind of a random observation, but I find these voices so annoying! I'm kind of glad the girl with a more normal/moderate voice–Catherine–wins.
Comment: Never noticed her saying "fustrating." Yeah, not a word.
1) I find absolutely nothing attractive or appealing about Tierra, so, you're asking the wrong guy.
2) Now that you mention it, yes. And I agree that Catherine's voice isn't whiny or high pitched. She just seems to have the dialect of a teenager. That's what I hear when listening to her speak.
_________________________________________________________
Pretty sure you are a fake, bought and paid for by ABC to "create' controversy & increase viewership.
Comment: And I'm pretty sure you don't have a f***ing clue what you're talking about. My legal bill for the month of January that just arrived yesterday begs to differ.
_________________________________________________________
Hi Steve,
Random question: Do the contestants have a contractual agreement to attend
the Women/Men Tell All at the end of the season?
The reason for my question is, after watching the editing some people get,
why would they come back for more? (Besides the obvious 15 more minutes of
fame) Bentley did not return for the MTA, whereas Courtney had to return. I
wonder if Tierra will come back, seeing how she is the flavor to hate at the
moment.
Thanks for writing about this stupid show. Keep up the good work.
Comment: They want them to attend, but nothing is forcing them to. Rego didn't. Wes didn't. Bentley didn't. Frank didn't. Might be a couple others I'm forgetting. But Tierra loves the attention too much. No way she won't show up for the WTA. She'll be there, and will probably go on the defensive immediately, instead of doing the smart thing and apologizing.
_________________________________________________________
Why can't you have just good country people instead of all the rich ones. I am a middle class widow age 50 and my dream is be on the bachelor or be the bachelorette. But I'm not one of the rich people .
Comment: I hate to crush your dreams, but you will never, ever, ever be on the "Bachelor" or "Bachelorette."
_________________________________________________________
Hi Steve,
I really enjoy your blog. Thanks to your insight and commentary, The Bachelor/Bachelorette is one of my favorite guilty pleasures. I was bored on Instagram and came across this. Don't know if you've seen it or will find this interesting, but here ya go. Keep up the good work.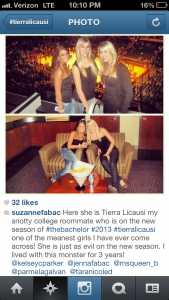 Comment: Seems like she makes friends wherever she goes, I guess.