Now lets get to what's happened since we last spoke for those that haven't been reading my Twitter account. Desiree's first 1-on-1 date was last Saturday with Brooks Forester. She picked him up in this Bentley…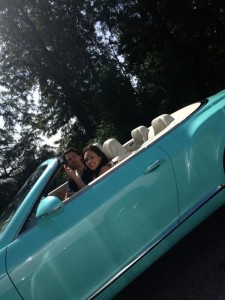 …and they went cruising on Sunset and Hollywood Blvd dressed as a bride and groom, fed each other cupcakes, and took questions for the crowd around them…
Needless to say, Brooks got a rose.
Sunday she had a group date that I don't have any info on yet. Monday she had a 1-on-1 date at the Ojai Valley Inn and Spa. I was given a couple pictures taken at night that the "Friendship Tree" lit up, but a blogger by the name of "Johnny Jet" gives a pretty good detailed description of what he saw on this date in his blog post from Tuesday. As far as I can tell, that guy she's with is not one of the thirteen guys I have confirmed unless my eyes are deceiving me.
(For the record, I bet Brooks sure feels special now that she picked him up in this fancy aqua blue Bentley, then two days later is picking a different guy up in it).
This isn't the first I've heard of hotel patrons being inconvenienced by the "Bachelor" or "Bachelorette" filming at their hotel, and it certainly won't be the last. This is pretty much the type of ship they run. It's their way or the highway, and those resorts are basically at their mercy because they are the ones getting free publicity out of being on the show. Pretty funny how "Johnny Jet" calls them out on it though, not to mention laughs at the show for being fake.
Isn't it funny how every time you hear people's accounts who are watching filming always say "there's nothing real about this reality show" (something I've been saying for years), yet sometimes you'll hear contestants say, "Oh no. The feelings are real." That's usually their go-to line. "The feelings are real." Well yeah, I guess. But they're also heightened and sped up because of the situation you're in. So you might think you're falling for that person, but lets be honest, you're not. You're falling for the experience, not the other person. Whatever. I can say that til' I'm blue in the face, yet the hopeless romantics will always believe that because someone looks at someone a certain way, or because they hold their hand tighter than someone else, or because the way the sun was positioned on the 3rd Thursday in April, that they must be in love. Uh huh. Must be nice living in fantasy land all the time. How much does it cost to visit?
There was a rose ceremony Tuesday night that I don't have all the results from. I usually don't post the episode-by-episode eliminations until I get it all together, so you'll have to wait for that. Then yesterday the show did something that I honestly can't remember them ever doing before. What you see on the show during the beginning episodes is the order things are always filmed in. Every episode is always 1-on-1 date, Group Date, then another 1-on-1 (or 2-on-1). Maybe I'm mistaken but I can't remember them ever filming a Group Date the day after a rose ceremony, but they did yesterday as 10 guys went and played a game of dodgeball at the American at Brand in Glendale, CA. Here's the play-by-play of what went down that I was tweeting yesterday:
-They played best 2-out-of-3.
-The 5 guys on the Blue Team were Brad, Ben, Zack K, Brian, and someone unidentified. The Red Team consisted of Brooks, Brandon, Chris and two unidentified guys. Jesus, I just realized this. Can we stop having so many guys whose first name starts with a "B?" It's already bothering me and we're only a week into filming.
-The Blue Team won the first game.
-Right when the second game started, Brooks injured his finger. A medic (and Des) came to his side, and he had to be removed from the game. While he was being tended to, some of the guys on the Blue Team were saying he was pulling a "Tierra." Possible broken finger as he was taken away in an ambulance. From that point on, the Blue Team had to rotate someone and the game was 4-on-4.
-The Red Team won the second game.
-The final two guys remaining in Game 3 were Zack (Blue) vs. Chris (Red). The Red Team thought they won, but apparently Chris had stepped over the line. So they restarted, and the Blue Team won thanks to Zack.
-The Blue Team each took turns giving Desiree a piggy back ride after the win.
-The crowd shouted for them to have a push-up contest and a couple of the guys did with Des on their back just for fun. The End.
If you do any type of search on Twitter, you will find numerous photos from the event since everyone and their mother was tweeting out pictures and videos yesterday, but here are some for you that I have:
Something a lot of you were commenting on or asking me yesterday had to do with, "Well why do they sue you if they have all these public dates." I think people are forgetting, or just have short term memory when it comes to this show. For the last 4 or 5 seasons, there's ALWAYS dates at the beginning of the season that the public sees and takes pictures of. Remember Ben's skiing group date? Ben and Jennifer's concert date in Park City? Ashley and Ben C.'s flash mob dance (which also took place at the Americana at Brand ironically)? Emily and Ryan's 1-on-1 date in Charlotte? Emily and Chris' 1-on-1 date in Charlotte? Sean and Lindsay's date in Montana? Those are just ones off the top of my head where I was posting pictures and telling you about those dates the day they were happening. This is nothing new. Trust me, NZK Productions isn't mad at me for spoiling these dates, because honestly, I'm not spoiling anything. Plenty of people are witnessing these dates. It's not like anyone has any sort of exclusive on this. Americana at Brand tweeted out yesterday to come see Desiree and her guys, so it's not like this all the sudden popped up.
I spoil things that aren't public. That's what bothers them. They obviously know if they film a date in front of a bunch of people, they realize it's gonna get out. They don't care about those spoilers. But when I'm telling you that Kacie B. is a contestant on Sean's season two days after the first rose ceremony takes place, that's a spoiler. When I say that Shawntel showed up at the San Francisco rose ceremony to try and date Ben just days after it happened, that's a spoiler. When I tell you a month before they get there that Ben's final rose ceremony was gonna be in Switzerland, that's a spoiler. When I tell you nine days after it takes place that Sean was engaged to Catherine a remote villa in north Thailand, that's a spoiler. Those are just a few of probably the hundreds of spoilers that aren't public that I've given you over the years. You get the picture. It's the stuff that isn't public that I find out about is the stuff that bothers them. Not dates like these. Did I tweet out yesterday before the guys even arrived that it was gonna be a game of dodgeball? Yeah, but to me, that's not really much of a spoiler because within "x" amount of minutes, everyone was gonna clearly see what it was. So no, having public dates in the beginning of the season is normal. Trust me, the info will start slowing down and it'll take me longer to figure out once they start their traveling. Always does. I do what I can when I can on the information that I'm given. That's all I can promise you.