It's been a little over 2 weeks since I last posted anything on what's happening with Desiree's season, nor have I tweeted much about it. Two reasons: 1) Pretty much all last week I was in California and it just wasn't something I needed to instantly do every time I heard something and 2) I wanted to have a lot of it all together in one post. During the off season when the show is taping, my traffic drastically goes down, so, I don't need to post every other day, or two or three times a week since, well, it doesn't matter. My traffic and my income happens when the show is airing. Has always been that way no matter what I do. I don't need to post just to post. I got a TON of information over these last two weeks and I didn't post once because I wanted to put it all together with a nice little bow on it. So here you go:
Let me first confirm two more contestants for you. The first guy was really the only bit of info I've tweeted out in the last two weeks. I tweeted him out last Wednesday right before I left for California.
_________________________________________________________
14. Mike Garofola: 31 or 32, Florida, Assistant United States Attorney. I first tweeted him out last Wednesday before I left for California once I was notified this blogger had posted him. So a big thanks to David Oscar Markus on that one. He's one of the two unidentified guys on the red team during the dodgeball date.


_________________________________________________________
15. Bryden Vukasin: 26, Missoula, Montana. Served in the Middle East for a year. Either still plays, or did play, for the semi pro Missoula Phoenix football team. He got the second 1-on-1 date at Ojai Valley that was posted by Johnny Jet a few weeks ago. He got a rose on that date.
MySpace: MySpace page
LinkedIn: LinkedIn page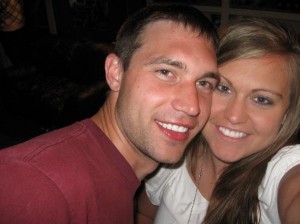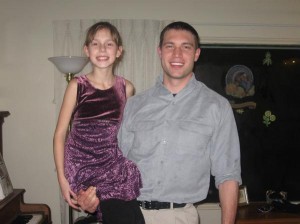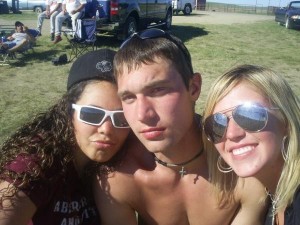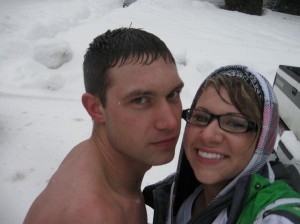 _________________________________________________________
I can tell you now that the first impression rose went to Ben Scott. He had his 4 year old son Brody with him in the limo, Brody came out of the limo first and gave Desiree a rose, then Ben came out. So yeah, I mean, how do you NOT give Ben the rose at that point? That was too easy. So now we know the answer to executive producer Robert Mills tweet from the first night that said:
Robert Mills @Millsy11374 14 Mar We just had BY FAR the cutest limo entrance ever. #Bachelorette
There you go. It was Ben with his son Brody.
When we last left Desiree and I posted, she had just had a Mr. America group date in Atlantic City, NJ. Kasey won that "pageant," Zak W. finished 2nd, with Brooks finishing in 3rd. There were 11 guys on that group date, and Bryden and Mike were both on it, so now there's only 2 from that date which I've yet to publicly identify. Gonna hold on to them for the time being since I don't want to give everything away just yet, but here's what those 9 guys did for the "talent" portion of the competition:
Kasey: He did a tap dancing act. Didn't take it too seriously since he didn't know how, but it was apparently fairly entertaining. Must've been since he won it.
Bryden: Strip tease.
Chris: He came out in women's heels, and hula hooped around his arms and waist.
Mike: He got the crowd fired up and sang "Fight for Your Right To Party" by the Beastie Boys.
Brooks: He played the ukuele to a song he made up. At the end of the song, he smashed his ukulele on the ground.
Ben: – He pulled a Frank the Tank from "Old School" and did a rhythmic gymnastics routine using the ribbon and everything. Good stuff.
Zack W.: He played the guitar and sang.
Zack K.: Only guy I'm not sure of what he did.
Juan Pablo: Played the mini drums.
The first 1-on-1 in Atlantic City went to Brad McKenzie. They went to an amusement park in a Rolls Royce and ate dinner. Also played games at the park where Brad won toys to bring home to his son Maddex. Dinner was at a lighthouse, but Brad didn't get a rose on this date and was sent home. However, there is a little drama surrounding Brad's exit. Maddex's mother, Brittnee Nelson, has either a boyfriend/fiancé she's been with for a while in Colorado. Apparently while Brad was away filming, Brittnee and her bf/fiancé had some sort of disagreement, and she decided to move back home to Texas where her family is. Obviously she couldn't take Maddex with her, so before she left, she dropped him off at Brad's mom's house. This was all relayed to Brad during filming at some point, and Brad makes a phone call to Brittnee in front of the cameras to confront her on what happened. I'm not sure at what point during filming this happened, but I'm guessing it was still in CA and before they left for NJ. That would make the most sense and why Brad was given a 1 on 1 with her with the first date in NJ, because I'm sure Desiree was informed of all the Brad baby mama drama, and probably the reason she didn't give him a rose. So as far as I know, Brad is in Colorado with his son Maddex, while Brittnee is still in Texas with her family. Fun times.
The Mr. America group date was the next day, then James had a 1-on-1 with Desiree the following day. Instagrammer Sophia4052 posted this picture that day to confirm it: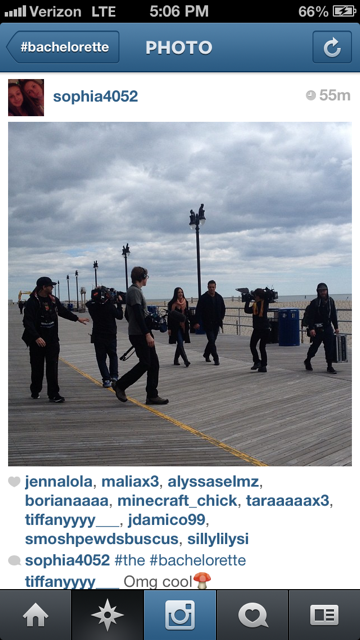 _________________________________________________________
From New Jersey, filming moved to Germany. A couple things in Germany:
-The group date in Germany had them sledding down one of the highest peaks in the country
-The 2-on-1 date happens with Mike and Ben. Apparently the vibe was that Ben played up the "Brody" card and Mike didn't seem to like it, which caused these two to butt heads in the house. And whaddya' know, these two got put on a 2-on-1 date together. Crazy how that happens, huh? Anyway, on this date, Mike got the rose and Ben was sent home.
From Germany, filming moved to Spain. Don't have any details on any Spain dates yet, but I do know that three guys were sent home. So if you're keeping track at home, the breakdown starting from NJ goes like this:
NJ – 13 down to 11
Germany – 11 down to 8
Spain – 8 down to 5
The five guys that left Spain are now in Portugal. I'm aware of who they are, and with any deducting skills, you could probably figure out a few of them as well. And for some reason, which seems odd, Lesley Murphy is out in Portugal now too. I know Lesley was obviously friends with Des', but I thought she was a lot closer to others in the house over her. Whatever the case, she's over there to see Des, so I'm guessing we'll be seeing her on camera in this episode. Maybe it's like when Shay visited Sean in St. Croix and it's just gonna be for a pep talk or something, I don't know. Seems odd, but not surprising at all they'd bring Lesley onto the show for moral support or whatever.
Right now, there are still 10 guys from Des' season that haven't been identified. Do I know some of them? Yes. Are any of those 10 still left? Yes. If/when ABC releases the bios on the guys, then I will share who I know about. But I can tell you, in no particular order, these guys are definitely home: Diogo, Zack K., Ben, Kasey, and James. Along with others obviously.
When you really break it down, you pretty much now have every date covered up through Germany except for one or two. There isn't much left to reveal at this point since you're being spoiled in real time. There are few other tidbits that I'll hold on to until later on down the line since we're still 6 weeks away from the premiere, but hometowns start filming next week, and usually that's when social media will start back up again and word will get out of who's filming a hometown, so be on the lookout for that. I guess I need to eat my words from last column when I said I'd be shocked if Kasey Stewart didn't get a hometown date. He doesn't. But you can rest assured Brooks and Chris are shoe-ins for a hometown date and look to be the front runners right now.
Since I was told there was a 90% chance they were going to Paris this season, and they haven't been there yet, looks like that's where the final rose ceremony might be. I'll let you know if/when I get it confirmed.
Send all emails to: steve@realitysteve.com. To follow me on Twitter, it's: www.twitter.com/RealitySteve. Instagram name is "RealitySteve," or join my Reality Steve Facebook Fan Page. Talk to you soon.