-The next day is Kasey's 1-on-1 date and Desiree is so excited, she's actually using the creepy used journal that Zak gave her last week for something other than a coaster. I guess she's writing down her thoughts. Or drawing Brooks' long, flowy, greasy hair. Whatever the case, the phone rings. Never a good sign. If you're the lead, and they're filming you in your room, and the phone rings, assume it's never anything good. Ask Ali. Chris informs her she needs to get to the mansion because it's about to go down. Tells her to go to the mansion and talk to Brian outside first before she leaves with Kasey. She brings Brian outside to give him one last chance to try and save his ass, and he basically just kept digging himself a grave. At that point, Desiree has him turn around to his girlfriend Stephanie and Chris Harrison walking in. This is where it gets all sorts of ridiculous.
-You all saw what happened last night. Some of you think Brian is a jerk. Some of you don't believe a word Stephanie said. Some of you think they're both acting. Some of you think they were both paid to be on the show. I've heard it all. Here's what I can tell you of what went down back around the time this happened, and how I knew it happened back when I reported it.
I received an email back on March 19th, which was 2 days before Stephanie appeared on the show. The 19th was the day last week's rose ceremony took place. I was informed on that day there was a guy named Brian Jarosinski on the show, and that he had a girlfriend named Stephanie Larimore. When I googled both of them, Stephanie's name and face looked familiar, and that's when I made the connection she was Craig Robinson's ex-girlfriend. I had heard MANY stories about her in the past, but it had been a couple years since they dated, so it didn't register right away. Plenty of people in the Bachelor family know firsthand about Stephanie and her antics, as they've been witnesses to her actions at past events. Will they share? Probably not. But she is well known in those circles and the stories surrounding her? Lets just say they aren't the most positive ones. Anyway, I was told that she got in contact with a producer, told the producer her story, and she was on a red eye, Wednesday March 20th to LA (the day of the dodgeball date). So she gets in Thursday morning the 21st, they bring her to the mansion that day, and then you saw what happened that night. She was on a plane that night headed back to Baltimore. I broke the story a week later on March 28th, because I needed to make sure I had all my ducks in a row.
So based on that information, if Stephanie was an actress, or this was pre-planned from the beginning, she would have no reason to get in contact with a producer to tell them her story, because essentially they'd already know. Why create this whole fake phone call in the first place? Just have her already booked for a flight like, "Ok, we're gonna use you this day, your flight is booked for this day, we'll have you home at this time." Didn't happen that way. She first got in touch with a producer on the 19th, she was on a red eye the next night the 20th, arrived the morning of the 21st, had her blowup with Brian that day, and was on a flight home immediately after that and was back in Maryland on the night of the 21st. So yes, producers were made aware of a possible huge "girlfriend" storyline, their ears perked up, and obviously they did everything they could to make it happen because they knew it'd be good drama and what the show needs. So they did it, and what you saw last night was the end result.
However, here's what I can tell you since that all happened on March 21st:
-About two weeks ago, I got an email from someone stating that they had seen Brian and Stephanie together in Upper Maryland and they were all over each other. I immediately emailed this person to get some clarification and more details, but never heard back. So I didn't completely dismiss it, but unless they were gonna follow up with something, there wasn't anything to report.
-Last night during the show, I got another email from someone saying that Sunday night, Brian and Stephanie were at Bay Café in Baltimore together. The email stated, among other things, "They were all over each other walking hand in hand like they had been together forever. Even spotted them at one point sitting in the beach area of the bar cuddling and whispering in each others ears. They walked around like almost waiting for someone to recognize them." Interesting.
-Then not 5 minutes after I received that email, yet ANOTHER email came in to me stating that Brian and Stephanie were definitely together at Baltimore Ravens Lardarius Webb Foundation Sponsor's Cocktail Party the night of May 31st. I was sent this picture with it: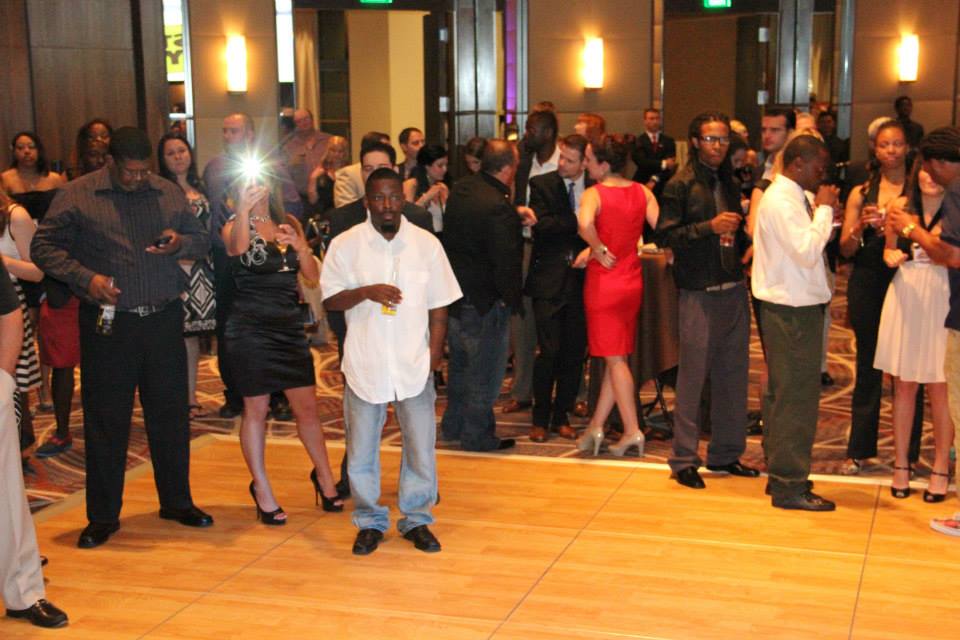 They wrote: "She's right next to him looking down, but you can't really see it's her because there's someone right in front of her. If you look at the right side of the pic, there's a girl in a white dress and then two people next to her. He's the 4th guy over behind them slightly. Stephanie is next to him but really hidden."
-I've been made aware this morning that Stephanie has been in contact with the tabloids, is looking to get paid for her story, and her pitch is that she's back together with Brian. Well there you go. That makes her look even worse than that sad sack performance last night on the show.
Now I don't know if this means that everything back on March 21st says it was all acting and they were in on it together back then as well. Personally, I don't think they were. But knowing the stories I've heard about this chick, and hearing them both say last night they've always had a volatile relationship (including throwing rocks at each other), yet they still remained together, and now hearing this, I mean, is anyone surprised these two are back together? Me neither. We can debate until we're blue in the face how legit this whole thing was, but it's a waste of time. These two attention whores deserve each other and let them continue in their BS relationship.
They got what they wanted out of it, so let them bask in their 15 minutes. Like these two are ever going to last. Brian, she chucked rocks at you and you're still with her? Basically shows what kind of guy you are. And Stephanie, if you're as upset as you pretended to be back on March 21st, what could he have possibly said to make you change your mind about him? I'm sure Stephanie's not insecure AT ALL. What a joke. These two are laughable, and I'm glad I exposed this almost 3 months before it aired. The fact she admitted last night that her son looks up to Brian is pretty embarrassing in and of itself. What does her 13 year old son think of mommy spread eagle and naked all over the internet? I'm sure his friends have a field day with him talking about his MILF. Congrats, Steph. Mom of the Year if you ask me. Bottom line: Stephanie didn't HAVE to go on the show last night. For what? Because she really wanted to protect Desiree? A girl she didn't even know or had ever spoken to before? Please. She was looking out for Desiree so much, and warning her about a what a "lying, cheating, deceitful, pig" he was, that within 2 months, she'd already forgiven him, and they are back together. So basically everything she said on the show last night is a slap in the face to Desiree. Stephanie obviously just did it for publicity because she's a has been former Playmate of the Month who's a single mom with not a whole hell of a lot going for her right now, and Brian was just looking to promote himself on a popular television show. Nothing more, nothing less. The two of them are both an embarrassment and I hope their unhealthy relationship blows up in their face. Other than that, great job last night. Highly entertaining.
-After that whole debacle, my interest in watching Desiree go on a date with Kasey couldn't have been any lower. Couldn't we just have skipped that date and had Stephanie start giving the guys in the mansion lap dances or something? How many of those guys tried to slip Stephanie their phone number when she was there? Or are trying to hit her up on Facebook as we speak. Oh you can bet there are a few. Did they spend more than 4 minutes showing us Desiree and Kasey's date? I know they went window dancing at the Andaz Hotel on Sunset Blvd and Kasey was wearing Capri pants with both of them having harnesses shoved up their crotches, but other than that, it was about as bland and boring of a date as possible. Of course, it didn't help matters that Desiree seemed to be PMS'ing that day. Not being able to get over the Brian thing, the weather at the night portion of their date sucked, and Des just seemed to be complaining. All date you could tell that Kasey was essentially in the friend zone. There was nothing chemistry wise with these two. I can't remember the last time when recapping an episode I basically had nothing to say about a date – until now. I've got nothing. Kasey and Des bored me to tears. I guess after the fireworks with the whole Brian/Stephanie stuff, nothing Kasey and Des really did would be all that interesting. And it wasn't. Sorry guys.