-We start off being introduced to Juan Pablo Galavis. I'm glad we got this introduction of him since in six episodes last season, we didn't know sh** about the guy. Went to college in Ithaca, NY, lived in Venezuela, currently lives in Miami and he's now the "BACH-aye-lore." His job? Well, he does consulting for sports entertainment. Translation: He doesn't really have much of a job. He goes around to all the MLB teams and interviews the players from Venezuela for…something. I don't know. I don't even think he knows. Hence the reason he got two months off to go film the BACH-aye-lore. So I thought his career was in music? Which is it? He forgot to add one job title to his resume: Professional tweeter. Because God forbid this man goes 14 seconds without telling the world something completely irrelevant. And he does it in TWO languages! So even double the irrelevancy. Like this one. Yes, lets hope Juan Pablo didn't disappointed anyone this Christmas. The more this guy takes to social media to tweet out his thoughts, the less appealing he becomes. How ABC hasn't stopped him, or had someone assigned to proofread these inane ramblings is beyond me: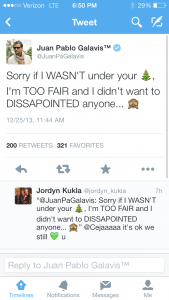 And this one. Have fun trying to decipher this chicken scratch. WHHAAAAA???? I've read it at least 20 times and I still don't know what he was trying to say…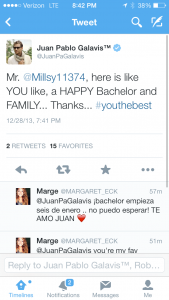 -In case you didn't know, Jua Pabloooooooo has a daughter. Her name is Camila. He's looking for a stepmother for her. Well, at least that's what he's trying to convince America but it couldn't be further from the truth. He tells us that Camila was not supposed to have a middle name, but was born on Valentine's Day, so her middle name is Valentine. Hmmmm. Maybe her middle name should've been "Oopsie," or "Notplanned." Anyway, he says she has a great mom, who is a great friend, but things just didn't work out. I get it. Happens all the time. People have a kid together, never get married, but stay real close friends to where they see each other all the time, at times have lived with each other, and even make YouTube videos of them and their kid together during happier times. Uh huh. This is normal:
I'm not sure if we're gonna see Carla appear on screen at all this season, even though she was in LA watching Camila while filming was there, and was also in Miami when it was down to the final six, but make no mistake about it, these two are not done. She will always be a major part of Juan Pablo and Camila's life, and if you think for a second that will not come in the way of his relationship with him and Nikki, I'm not sure what to tell ya'. Not every woman out there is cut out to immediately step into an already formed family. Especially one where Juan Pablo has such a close relationship with the mother. Good luck, Nikki. Hope that works out for ya.
-Hey look, it's Juan Pablo walking along Santa Monica Pier just like Des did. Do they literally have the same itinerary every season? Do they just map out all the cheesy shots on the pier they can get of the lead then just reshoot them every season? This is fascinating. I think Juan Pablo just walked over the exact place where Des fell on her ass while roller skating. Hey, the least they could've done is put him on rollerblades and shirtless, just so we could've done a compare and contrast with Des' intro video. He tells us that his family will be spending a couple weeks with him in LA while he's filming as well. Unfortunately, they decide not to show us that Carla was out there as well with the family. I guess they figure no need to get everyone's panties in a bunch just yet. I'm sure Carla totally approves of all this that Juan Pablo did. You know, cuz she's an actress/model herself. Why not? Anything for the brand, right? I'm surprised they didn't just cast Carla as one of the 27 women and have him pick her in the end. Would've been more realistic.
-This next scene was rather hilarious. The infamous lets-bring-someone-who-was-on-the-show-before-to-give-advice-to-the-new-lead. In this case, Juan Pablo says he placed a phone call "to a guy who's familiar with this" – Sean. The exact quote was "Who else I's gonna call?" I don't know. Who else you's gonna call? Maybe's you's should calls Ben? Or gives Brad's a calls? How abouts Jason's? What he failed to mention was that he'd never met, seen, or spoken to Sean in his life before that day, so naturally, the chemistry between Juan Pablo and Sean was about as realistic as this show. Really? You placed a phone call to Sean? I think you meant, "Producers thought it'd be a good idea to integrate Sean into the show since his wedding is coming up in 3 weeks, so I was forced to talk to him." Ahhhh, that's more like it. They talked about whether he should use the word "journey" or "adventure." How about neither and just call it "the show that will hopefully start my acting career?" I think that seems more appropriate.
-He also asked Sean for advice on names because according to him, he's terrible at them. Don't worry Juan. That's why on the first night rose ceremony you take a break after saying 4 or 5 names, go back and talk to producers, say the next 4 or 5, take another break, and so on and so forth. Yes, for the 1000th time, that is how the lead remembers everyone's name on the first night. You really didn't think the cameras just kept on rolling the whole time through the rose ceremony and there were zero breaks or zero editing did you? Shame on you. That's what I'm here. To educate the masses. Then again, 27 seasons in, if you didn't know that's how they do it by now, then you also probably think Santa Claus delivered those gifts on Christmas morning. Or that the Elf on the Shelf really reports back to the North Pole every night. Or that 4 + 4 = jello. Sean also explains his kissing strategy to Juan Pablo. I didn't even know Sean had one. He says Catherine wasn't even on his radar til 3 or 4 weeks in, and to just keep your mind open. We hear ya' pal. Trust us, Catherine wasn't on ANYONE'S radar all season.
-I think when Sean was talking to Juan Pablo, he should've taken that time to chastise the franchise for all this hoopla and publicity to drum up interest in this guy's season, when they did none of that for his. You couldn't call last January "Sean-uary?" Once Sean left, we got the obligatory shot of Juan Pablo shaving and in the shower, getting ready for night one. What's the deal with hyping Juan Pablo's abs? Sean had better abs than his. This focus on a "shirtless" Juan Pablo is like, "Ummmm, you did that last season with Sean. And with Jake. And with Brad. And with Andy Baldwin." They act like we've never seen a lead on this show without his shirt on. Mystifying to me who and how they decide to promote each season, even though it's usually always some variation of the same thing. However with Juan Pablo, I guess I get it to a certain extent. Gotta focus on the style since there's very little substance. Very little. Like barely noticeable.