-With the ladies moved into the mansion, Chris Harrison shows up and fills them in on how this show works, in case none of them have never watched even one episode of the previous 26 seasons that have been completed. Well, according to Victoria she hasn't. Anyway, I'm guessing we'll get this exact same scene tonight replayed since we pretty much always see Chris handing out the first date card of the week. As we will probably see the whole scene of Camila playing on the ice skating rink that was shown last night. Nothing too much stood out to me about this scene except for two things:
1. Molly got her own doggy bed which was awesome. You know, I bought Maddie one of those back in the day and she couldn't have avoided it more if she tried. Never once laid down on it. Just sniffed it.
2. Elise's facial expressions. Just go back and watch. Some of the best overacting you'll ever see. No one, and I mean NO ONE, could possibly be that excited about Chris Harrison walking into a room and a first date card.
-We see Clare getting the first date rose and already beginning to cry because back at home, she lives a boring life. She doesn't go to bars or do online dating. Nor does she even go on dates. This according to her, which I don't think anyone believes for a second. Then again, this is the same girl in her ABC bio that said she's never been on a vacation, and has never experienced romance. Yet another reason you know Clare was specifically picked out by producers for this date, because they knew she would freak out, be brought to tears, and immediately start falling for a guy she barely knew. It's basically just one big mind f**k they put her through immediately as she starts the show so they suck her in to thinking she actually likes this pud. I'm sure tonight Clare will utter the words "amazing," "unbelievable," "could see myself falling in love," "never done anything like this before," etc. You know the drill. It's coming.
-Chris Harrison then tells us they're going to show us footage of some of the ladies who will be part of the drama of tonight's episode. Essentially what it was was that we saw the intro videos of more girls that we didn't see in night one. He starts with Victoria, as we know she's the one who gets completely sh**faced, plops down in a bathroom stall, and wishes Juan Pablo to die. Anyway, Victoria tells us she was married at 18 when she and her boyfriend eloped. But then he cheated on her and, well, they broke up. She says guys her age don't relate to her once they find out her story, they just wanna sleep with her. You mean, like this guy you Instagrammed about the other day?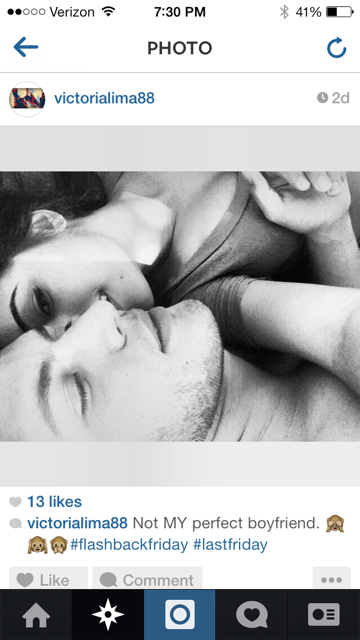 Looks like Victoria has moved on in bed with this guy. Be careful. Don't you go off and elope now you silly goose. I was gonna say make him earn the nookie, but it looks like you're already past that stage. Oh well.
-Lucy's intro video was pretty much exactly as you'd expect. Her naked. Granted, it was all done in the privacy of what looks like a backyard, but if this woman could never wear clothes again, she'd obviously choose that. And hey, how bummed is she that her ex SnapChat boyfriend is now being linked to T Swift? Think that guy upgraded or no? And oh yeah ABC, nice touch with a naked Lucy spraying herself with a hose. On her body, in her face, up in the air, etc. I was half expecting her to get on all fours while someone in production sprayed down her back. Verrrrrrrry subtle.
-Elise lets us know she's an elementary school teacher and her mother died recently from cancer. Very unfortunate. What's also unfortunate is the giant load of crap Elise is trying to sell to America about who she is. I'll get to that tomorrow. It's quite amusing and about as embarrassing as you can get.
-The Amy intro video was also comical. Yes, she was a reporter in her past, but that's not what she does now. She's a model for Body Glove and part time plays Cinderella at Disneyworld in Orlando: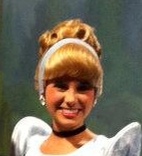 Not sure why she's trying to pretend she still works for any sort of news station or is still a reporter because she doesn't and she isn't. How come when she was interviewing all of her family members about what she was looking for in a guy, none of them said "Brooks?" I think that would've been more realistic as she's already hopped on him over New Year's when she and Alexis went down to Miami to see Michael and Brooks. Yes, they were together and my guess is she's just another girl on his list. Ahhhhh, the "Bachelor" franchise. Where everyone bangs each other and no one cares. Well, except the girls. They think the guys care, then they find out the hard way. It's about quantity with these guys, not quality. Sorry to break the bad news to ya'.
-Not sure why we got to see Clare's exact same intro video that we saw last Monday, but uhhhhh, we did. I guess to drill home in people's heads the whole DVD thing. As I said last week, and on the live video blog this past Thursday night, they would not be telling us about this DVD if they didn't plan on playing it later in the season for Juan Pablo. I have not heard one way or another if Juan Pablo sees this thing, but it's just my guess that he does. Why else would they tell us about it the first time we met Clare? It's right up this show's alley. Her struggle with opening up and letting something so sacred be shown to him, she shows it, then gets dumped at the altar.
Tonight should be an interesting episode. Clare's 1-on-1 that was spoiled just a couple days after it happened, Kat's 1-on-1 which was spoiled as it was happening from all the people in the Electric Run that were live tweeting and instagramming it, then a puppy photo shoot group date where half the women dress up as something completely ridiculous. Enjoy and I'll be back tomorrow with your recap.
Send all links and emails to: steve@realitysteve.com. To follow me on Twitter, it's: www.twitter.com/RealitySteve. Instagram name is "RealitySteve," or join my Reality Steve Facebook Fan Page. Talk to you tomorrow.