So a few little fun things for you to chew on. Do with it what you want, but just thought I'd share it with you. Let me first start out by saying I've never been on Snapchat, nor will I ever be on Snapchat because I'm not a 13 year old girl. I think I have an idea of how it works, but not all that well, so I had to have someone explain to me. For this particular instance, if you have a Snapchat account, and someone that you Snapchat with clicks on your name, they can see your three "favorites," meaning the three people you Snapchat with the most. A week after Andi's filming ended (so the week of May 12th), I received two emails from people who are friends with Josh on Snapchat. Two different people took two different screenshots of who was in Josh's "favorites":
"Scoopitson" is Josh's Snapchat account name, which I'm sure now will be flooded with requests from strangers (Sorry Josh). And "AndiDorfman" is Andi's Snapchat account. Verified 100%. By the way, a quick Google search shows Josh's mom's maiden name is Lauren Goodhart and there are 5 total in the Murray family, so my guess is "LG5" is his mom. I know, really took some serious detective work to figure that one out. Can't imagine why Andi and Josh would possibly be snapchatting each other the week after they're back from the Dominican Republic, can you?
As of this past Saturday, here's what Josh's "favorite" list looked like: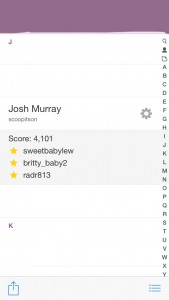 Guess someone must have tipped him off like, "Hey dum dum, Andi is in your list of favorites and anyone that's friends with you can see it." Oops.
Also, wanted to share this. The Nick videos that I posted on May 19th were from a flight he was on from Charlotte to Milwaukee on Sunday night, May 11th, two days after the final rose ceremony. These pictures are of Josh in the customs line at the Miami airport on Monday, May 12th returning home from the Dominican Republic – three days after the final rose ceremony. He was on American Airlines flight 2468 from Punta Cana, DR departing at 1:25pm and arriving in Miami at 4:10pm.
Gotta give Josh some credit. At least he wears normal clothing when returning home from filming and not those awful blue capri's Nick was in. Now, I know there's no time stamp on these pictures to show proof these were taken on that Monday the 12th, but lets just say I trust my sources on this one. If you honestly think I just make things up for the sake of making them up, then I don't know what to tell you. Can't imagine why Josh would be arriving home from the Dominican Republic a day after Nick did, can you?
So like I said, do with this info what you want. Just keep in mind, before all this info came to me (the Nick videos, the Josh Snapchat, the Josh Miami airport pictures), I already knew that Josh and Andi were engaged. But for the first time ever, I can actually show you guys some stuff I was given after the fact. The last thing I'm worried about is being wrong this season. My focus has already moved on to getting you "Bachelor in Paradise" spoilers and casting for the next "Bachelor," which I'm already compiling my list of contestants. Not to mention, I'm pretty sure I already know where the final rose ceremony is next season. Want to get that 100% confirmed, but I'm pretty sure what I've been told is accurate. This season's spoilers are over and done with for me. I know things and have been told things nobody else has, so it's pointless to deal in speculation and rumor when I know it's not coming from a place of what I was told. Nothing Andi writes in a blog, or something that's tweeted, or anything I see in the edit of these episodes can change what happened on May 9th which is when Josh and Andi got engaged. Enjoy the rest of the season.
Send all links and emails to: steve@realitysteve.com. To follow me on Twitter, it's: www.twitter.com/RealitySteve. Instagram name is "RealitySteve," or join my Reality Steve Facebook Fan Page. Talk to you Thursday.