Robert and Sarah
So as we're watching Sarah and Robert have an overnight date, these two are saying all the right things. Sarah is loving it. "I've watched these overnight dates on TV growing up, and they are so romantic…I'm with the hottest guy…Robert and I are on the same page…most comforting feeling in the world…this is a huge step in the relationship…I hope he goes there…I hope he digs deep." Apparently not digging deep was a huge no-no. This was another case of two people that seemed to be on completely different pages. Robert thinks everything on the overnight date went great. And we all assumed it did until the next morning when Sarah basically complained about what a disaster the fantasy suite was. Uh oh. Another fantasy suite disaster? Did he not perform well? Could he not perform at all? Was his junk less fulfilling than say, oh I don't know, Cody's was to Michelle? Ummmm, none of the above. In fact, nothing happened.
Sarah: "This room begged for romance, intimacy, getting to know each other…didn't happen at all…Robert was ready to go to bed…he had his jeans on under the sheets…Robert did not want to be physical with me…I went to unbuckle his pants and he stopped me…his hands did not touch my body…I don't even know if he has a penis." Of course, Robert immediately took to social media to shoot down the jeans comment: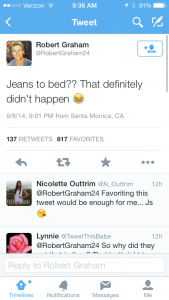 So it's a he said, she said now. Either way, that's not good. I say a guy does that, then he's not into you. Sorry. In that setting, under those circumstances, and he doesn't even touch her? Look, I don't know Robert at all. I have no idea what this guy's sexual history is, and maybe, just maybe, the guy got freaked out by the cameras and froze up and just didn't want to have sex out there. But knowing he lived 10 minutes from her, and would have to come back to LA with that on his mind, and from what I've heard, they haven't dated since they got back, well, that pretty much explains it. My opinion is that he pretended to be into her while he was out there (he sure said and did things to make her think he was) so he could last longer on the show, but in reality, he was never really thinking about anything long term with her.
What's even more awkward is as Sarah confronts him about this saying, "I couldn't make any sense of why you went straight to bed…last night I felt incredibly, not loved…I don't think I'm getting what I need in this relationship from you…" Robert seemed to think everything was great. Even called the night "perfect." Huh? Talk about being on two completely different pages. How is that even possible? Actually, I think I have my answer. Remember, Robert is the same guy that was hooking up with Des' roommate back in the day, then goes on Des' season as a contestant and doesn't even recognize her when she calls him out on it (which wasn't shown). So yeah, apparently Robert has a completely clueless side to him that's becoming more and more apparent. Sucks for Sarah that she had to find out that way. Sarah: "If a guy doesn't want to hook up with you in the fantasy suite…he doesn't like you…I want to stay up all night…pillow talk for hours…I can't really make sense of the way things went down last night." Don't worry Sarah. Neither can anyone else.
Cody and Michelle
I think the most important thing to realize in this whole relationship is that Michelle's 9 year old daughter Brielle might have given the most sound advice ever told by anyone. Of any age. Michelle called her and said she had a decision to make about a cute boy and didn't want to screw it up again. Brielle: "It doesn't matter if he's cute or not…he's gotta be nice, and have a lot in common." She said other stuff that sounded like she was talking to a seasoned 25 year old veteran or something. That was crazy. Brielle is 9? Is that 9 in dog years? What 9 year old talks like that? I only say that because my niece Olivia is 10 and I couldn't see her saying something like that, let alone know anything like that. So through the power of her daughter, Michelle realized she had a good thing going with Cody and they decided to continue the relationship. Not before we heard Michelle talking about his manhood, how sore she was the next day, and comparing him to the Hulk. Yeah, I hope Brielle had earmuffs on watching that back last night.
Marcus and Lacy
As reported here on July 7th, they got engaged. Nothing too shocking there. They spent every minute together out there off in their own little world, and convinced themselves that after three weeks, they knew each other so well that engagement was the next logical step. Ok. Time will tell. And considering there's already Twitter chatter from last night that Marcus has been texting some girl and she still has the texts on her phone, I'll take a wait-and-see approach with these two. I don't know what the texts said, when they were sent, or if it's legit. Maybe it was taken out of context? Maybe the texts were before he left for Paradise? I don't know. There is a picture of these two together, so he definitely has met her. I just don't the extent of the relationship, and at what point they met. But when I have five different people tweet at me, including the girl in question, it's definitely something I'm gonna look into.
Send all links and emails to: steve@realitysteve.com. To follow me on Twitter, it's: www.twitter.com/RealitySteve. Instagram name is "RealitySteve," or join my Reality Steve Facebook Fan Page. Talk to you Thursday.