Quite a few news and notes to get to before we get started on your recap this week. The first one being Sean & Catherine are going to be on a new show. They are filming it now and it's one that another former "Bachelor" couple, Trista and Ryan, were on. Sean and Catherine are currently filming "Celebrity Marriage Boot Camp" that airs on WE TV. This will be the fourth season of the show. I believe Trista and Ryan were on season 2. I don't know any of the other couples on the show, I just know Sean and Catherine are filming it right now. Does it mean their marriage is on the rocks? Not necessarily. Just another paycheck for them and to go on and do essentially "couples counseling" where they're put through different exercises as a couple to get them to open up and work on any issues they may have. Some couples are way worse than others. Trista and Ryan's season was the only one I watched, and basically all the other couples were making fun of them because their problems paled in comparison to everyone else's. People were questioning why they even did it. Well that's easy: money. No different for Sean and Catherine. I have no idea when that full cast is going to be announced, but filming just recently started, so I don't think it'll be that soon. I'm sure Sean & Catherine being on another TV show will spark an opinion or a thousand from their haters. I don't care what these two do with their lives, but I know plenty of you do because I hear about it constantly. Whatever. Have at it.
Quick story about our good buddy Ben Z. that ran last week in case you missed it: He's a criminal! Ok, maybe not. Back in college, Ben once stole a book from the student bookstore and was charged with misdemeanor petty theft. Really? That's a story. I think it would be a story if Ben DIDN'T steal from the bookstore. I'm sorry, but we ALL tried to snake sh** from the student bookstore in college. All of us. And the ones that didn't have friends that worked there who hooked them up with free stuff. So yeah, Ben you're off the hook. No one cares you tried to walk out with a $130 book. In fact, I applaud you for trying. Just do a better job next time of avoiding the security cameras.
Hey guess what! If Andi Dorfman's web series where we follow her around NY looking for a job and husband doesn't do enough for you, she now has a book coming out. Here are all the exhilarating details of it: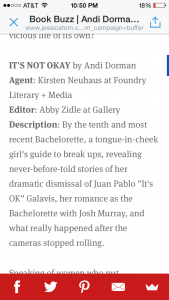 That is awesome. I can't wait to not watch her web series and not purchase her book. It'll save me so much time!
Ratings are in from last night and the show held steady from last week. Only down 100k in overall viewers and stayed the same with a 1.8 in the 18-49 demo.
I think someone in Thursday's "Reader Emails" or maybe it was the live chat ask me about UnREAL and the control room on that show. Is it similar to the "Bachelor's?" Well, the Lighting Director of the "Bachelor/ette," named Dennis Weiler posted a few photos from when they were at Citi Field. Here's a shot of the control room and you can see it's pretty similar to what you see on UnREAL: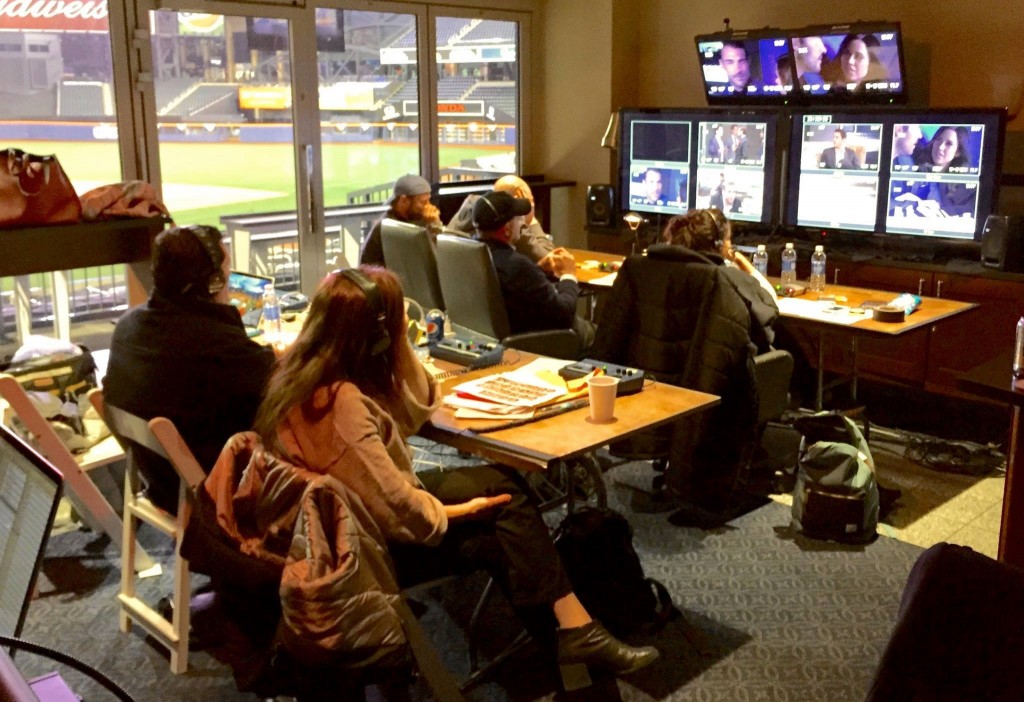 They all seem thrilled watching Kaitlyn's 1-on-1 time with Ben Z., which we never saw I don't believe. There are other pictures from that day on his FB page if you want to go look.
Chris Harrison's blog for Yahoo is up and of course zero mention of Kaitlyn's Snapchat video. Same with Kaitlyn's People.com blog as she goes out of her way to talk more about the Nick situation but avoiding the giant white elephant in the room. I'm telling you, you're not going to hear word one about this for the remainder of the season. What can they say? Nothing.
And finally a new poll question this week. Did you check out the results from last week? Two of the more lopsided ones we've ever had. When I asked how many of you would be upset at Kaitlyn for letting Nick on if you were one of the guys, here was the vote breakdown:
83.8%
Yes (9,777 votes)
16.2%
No (1,893 votes)
Then on the second question, I asked do you like having rose ceremonies at the beginning of the episode? You have spoken. Needless to say, you aren't happy about those:
7.7%
Yes (739 votes)
92.3%
No (8,881 votes)
Well I'd say with the big news this week, there's only one simple question to ask. Do you like the ending now or not?