So I posted this picture back when they were in Vegas on the Terry Fator group date: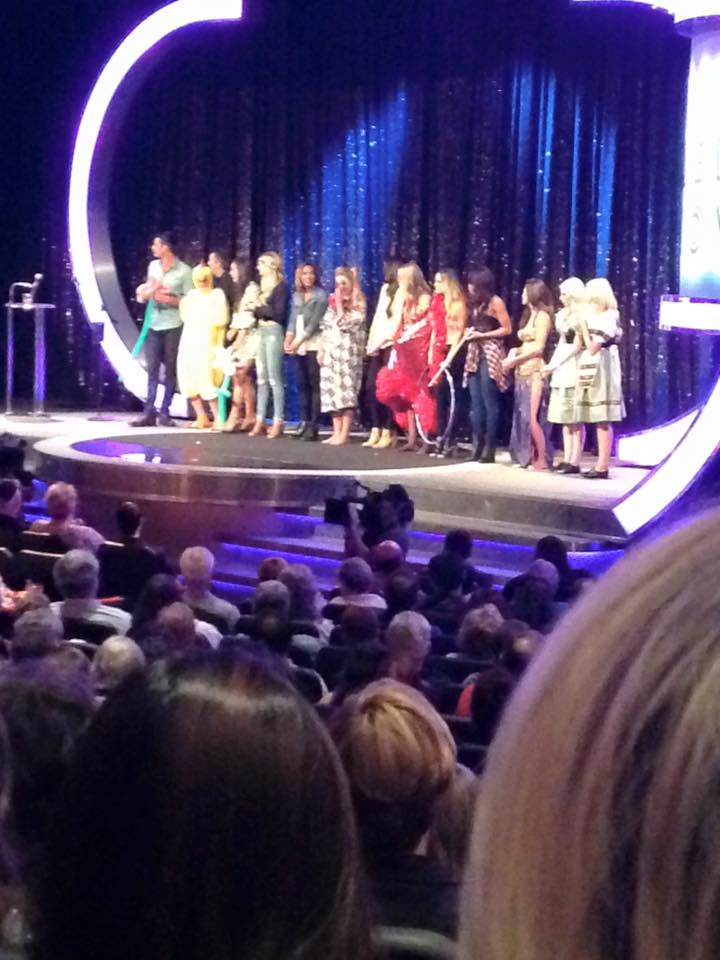 Now that I've confirmed everyone who's in that picture, here they are from left to right: Lauren Himle (chicken suit), Rachel Tchen, Lauren Bushnell, Amber James, Leah Block (clown), Jen Saviano, Olivia Caridi, Amanda Stanton, Jubilee Sharpe, Caila Quinn, Emily & Haley Ferguson.
On Friday when the group was leaving Mexico City, someone got a picture of them in the airport. I know your next question is probably, "The girls get to fly with Ben?" The answer: Very rarely. The lead almost always flys separately, but in this case, I guess they didn't. However, the lead would be put in first class with the contestants in coach, so it's not like they're carrying on conversations with him on the plane. Here was the tweet from Friday:
My parents casually running into @HostofBachelor and the cast of @BachelorABC in Mexico City airport this morning. pic.twitter.com/821bpGAwsT

— Tiffany R. (@tiffrogers7) October 16, 2015
In the picture, Ben is talking with producer Adam Mansfield. In between them is Caila Quinn. The girl with her hand to her mouth is JoJo Fletcher. Next to JoJo is Lauren Himle. The girl closest to us in the jean jacket is Amanda Stanton. The blonde that Amanda is talking to is Lauren Bushnell.
They arrived in the Bahamas Friday, with dates starting on Saturday. Before any of the dates started, here was all of them taking a group picture: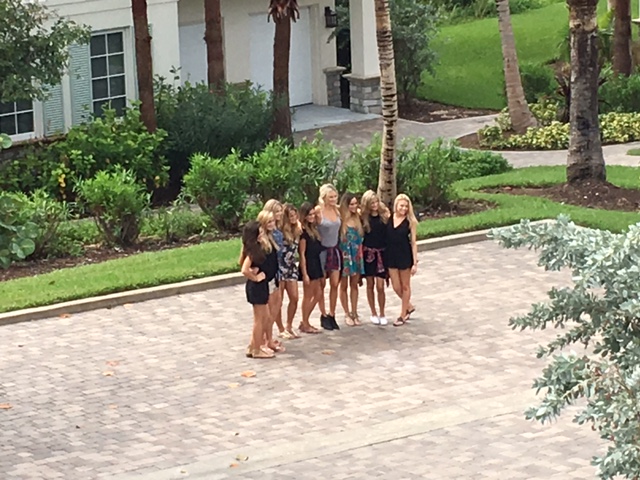 From left to right: Caila Quinn, Leah Block, Olivia Caridi, Becca Tilley, JoJo Fletcher, Lauren Bushnell, Amanda Stanton, Lauren Himle, Emily Ferguson.
So there you go. You are up-to-date on everyone that's left. From here, it should be pretty easy. It's not rocket science to figure out that these girls all start following each other on Instagram and Twitter the second they get home. They've been doing it for seasons upon seasons upon seasons. Makes my job a hell of a lot easier and hence the reason confirming contestants is not a big deal. I know they're going to get out every season because they can't control themselves on social media. All you have to do is follow them and they'll lead you down the right path. My guess is that 3 will be eliminated in the Bahamas and 6 will go to Warsaw. Rose ceremony in the Bahamas will be on Tuesday.
As for some stuff I can tease you with for the season. Here you go…
-There is a movie promotion tie-in this season for one of the dates
-Someone brought a pony on the first night that stayed for the whole cocktail party
-A couple of world famous athletes were part of a date
-A couple of repeat dates that we've seen from previous seasons – one a group date and another a 1-on-1
-The Vegas group date, each girl had to perform a "talent." One was declared a "winner" by the crowd. That girl did not end up getting the group date rose
And one final thing that I will give you because I'm such a great guy…
Olivia Caridi got the first impression rose
That's all for today. Back with "Daily Links" tomorrow…
Send all links and emails to: steve@realitysteve.com. To follow me on Twitter, it's: www.twitter.com/RealitySteve. Instagram name is "RealitySteve," or join my Reality Steve Facebook Fan Page. Talk to you tomorrow.