Episode 2: (Airing Jan. 11th) Los Angeles, CA (21 to 17)
Group Date: 10 girls paired into teams of 2 went to Verdugo Hills High School. The school tweeted this out a couple days after this date had taken place:
Did you know The Bachelor filmed at Verdugo this weekend? This is the school for you! Go to http://t.co/JQMtNCxH9w pic.twitter.com/LYZLM3Qjsp

— VerdugoHillsDons (@VerdugoHillsHS) September 29, 2015
UPDATE: This tweet has since been deleted from their timeline. Shocker.
The teams were: Jubilee/Lace, Jen/LB., Mandi/Amber, Becca/JoJo, and Lauren H./Jackie. Chris Harrison was dressed as a professor. And the teams had to compete in each "subject," with a team getting eliminated after each one. They took a science class and had to make a volcano erupt (gee, sexual innuendo anyone?) Then for lunch, they had to bob for apples and pass it to their partner with their mouths (gee, sexual innuendo anyone?) The third "subject" was geography class where they had to locate states on a blank map. All I know was that the two teams in the finals were Mandi/Amber vs LB/Jen. The "subject" was P.E. and each team had to shoot free throws. Mandi & Amber won. Then Mandi & Amber had to compete against each other in hurdles to see who the ultimate "winner" was and Mandi won. Afterwards, she got to ride around track with Ben. At the after party, JoJo got the group date rose.
1-on-1: Caila Quinn. Chris Harrison "planned" this date, but it was obviously already set up. Kevin Hart & Ice Cube showed up to promote their movie, "Ride Along 2." This episode airs Monday, Jan. 11th, and whaddya' know, "Ride Along 2" opens that Friday the 15th. Ice Cube and Kevin Hart met Ben and Caila at the mansion and drove them around. I don't think they watched the movie. It was more of a low key, casual, dinner date. Caila got a rose.
Group date: 6 girls: Olivia, Sam, Amanda, Emily, Haley, & Shushanna. They do Compatability testing with Ben. But not some sort of questionnaire. Some bizarre, half naked thing where the girls are in sports bras, and Ben is in just boxers. They run on treadmill, then Ben has to smell them afterwards? They are hooked up to wires to I guess measure pulse, heartbeat, etc. Didn't really understand this one but I'm sure it'll be entertaining. Whatever the case, Olivia ends up being most compatible. Sam is least compatible. Olivia got the group date rose.
Jami, Rachel, Lauren B., and Leah did not have dates this episode.
Rose Ceremony Eliminations: During the rose ceremony, Lauren Barr was offered a rose by Ben but didn't accept it and left. Apparently the show wasn't what she expected and she didn't want to be there anymore. Sam Passmore & Jackie Dion didn't get roses. UPDATE 1/11: Mandi actually leaves at this rose ceremony, not next week's.
________________________________________________________________
Episode 3: (Airing Jan. 18th) Los Angeles, CA (17 to 14)
1-on-1: Lauren Bushnell. Back on this day, we saw this tweet:
Bachelor Ben on a one on one. Just him, some blonde & a camera crew. @benhiggi @TheBachelorTV Photo by @brookebphotos pic.twitter.com/rE3HLubMNU

— Dorothy Lucey (@DorothyLucey) October 1, 2015
Ben and Lauren actually flew around the Agoura Hills/Malibu area in plane for their date. Lauren got a rose.
Group date: 12 girls. Soccer date at the LA Coliseum (repeat of Juan Pablo's soccer group date, except his was at StubHub Center) These tweets appeared that day:
The Bachelor is filming a group date at USC tonight.

— RealitySteve (@RealitySteve) October 2, 2015
Paparazzi is camped outside of my hotel in LA, because the bachelor is taping here. pic.twitter.com/dkuDEdatY0

— Matthew Rix (@TheRixReport) October 2, 2015
The 12 girls on the date were: Jami, Emily, Haley, Rachel, Jen, Olivia, Leah, Amber, Lauren H., Amanda, Shushanna, and Lace. Alex Morgan & Kelly O'Hara from the US Women's National Team were the two captains and split them into two teams of Stars & Stripes. Kelly O'Hara was the Stars coach. That team was Emily, Shushanna, Jen, Lauren H., Rachel, and Amanda. Alex Morgan was the Stripes coach. That team was Jami, Olivia, Leah, Lace, Amber, and Haley. The Stripes team won, so the Stars team had to go home. The Stripes team went to the after party at Hotel Intercontinental in LA. Amber got the group date rose.
1-on-1: Jubilee Sharpe. They took a helicopter down to San Diego for the day to go wine tasting. Jubilee got a rose. UPDATE: Actually, it was a spa day down in San Diego, which is what I thought I originally wrote. Apparently not.
Becca, JoJo, Caila, and Mandi didn't have dates this episode.
Apparently up to this point, Lace and Ben were constantly butting heads in their conversations, so during the cocktail party she decided to leave. You will see in the first three episodes, that Lace and Mandi will be the ones involved in any drama. There's always the early season girls that get people talking, and these two are it. After that, it becomes Olivia.
Rose Ceremony Eliminations: Shushanna Mkrtychyan, Jami Letain, and Mandi Kremer. Lace left during the cocktail party. UPDATE 1/11: Mandi was eliminated the previous week.
________________________________________________________________
Episode 4: (Airing Jan. 25th) Las Vegas, NV (14 to 11)
1-on-1: JoJo Fletcher. They fake gambled in the High Limit Lounge. They took a helicopter ride to Valley of Fire State Park, then watched a fireworks show later that night. These tweets came about that night as some of the people staying at Aria were none too thrilled with being woken up by fireworks. My question: What are you doing in bed in Vegas at 11:30? JoJo got a rose.
Group Date: They appeared at the Terry Fator show to show off their "talents." The 12 girls were: Lauren H., Rachel, Lauren B., Amber, Leah, Jen, Olivia, Amanda, Jubilee, Caila, Haley & Emily. This was the picture posted of them on stage, and below is what each girl did for their talent.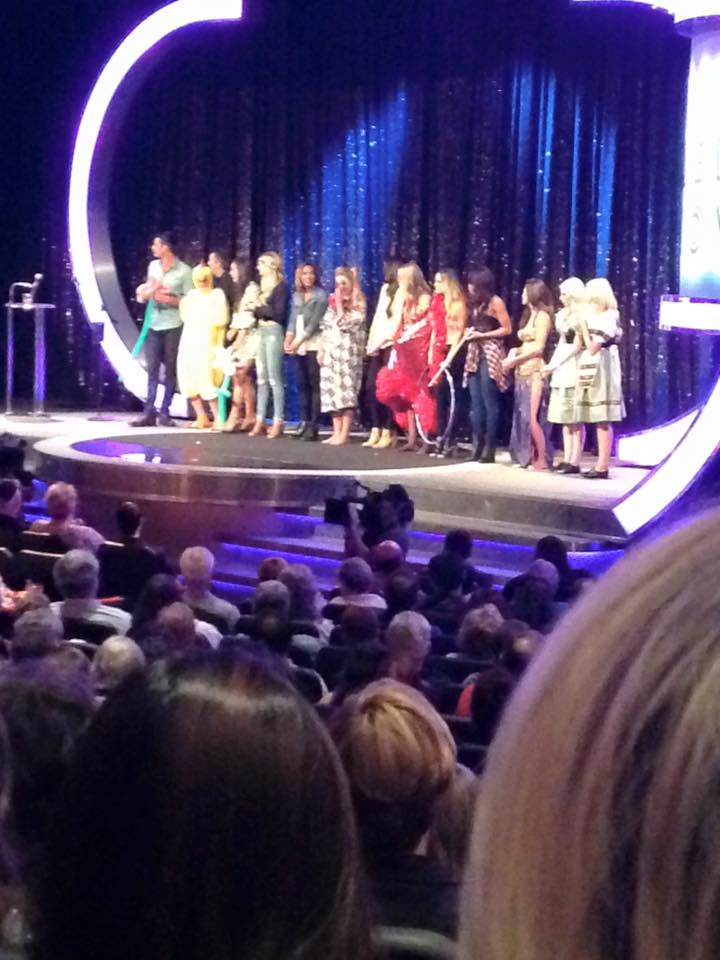 Lauren H. – Wore a chicken suit and sang the "Old MacDonald" song
Rachel – She made a balloon rose
Lauren B. – Juggled
Amber – She did a roast of the other girls using a puppet like Terry Fator
Leah – Wore a clown costume and jumped on a pogo stick while Ben threw M&M's at her
Jen – Hit tennis balls
Olivia – Jumped out of a cake
Amanda – Hula hooped
Jubilee – Played the harp and was really good
Caila – Did a Bollywood dance
Hailey & Emily – Danced an Irish gig
Lauren Himle "won" the audience vote for the chicken suit and singing. At the after party, Olivia called Ben out for kissing a lot of the girls and things apparently started getting tense between Olivia and the girls from this point on. Wouldn't say she was the villain, but certainly will be the girl from this point forward in the show who the other girls don't get along with. Olivia is definitely the "not here to make friends" girl this season. By the time the WTA rolls around three months from now, I'm sure they'll be fine. Hell, Shawn and Nick are practically sleeping together now with all the pics they post together, and they HATED each other during the show. So yeah, like every season, most people get over it once they're out of the bubble. But while filming, from everything I heard, Olivia became the most difficult person on the show. Lauren B. got the group date rose.
1-on-1: Becca Tilley. She was picked up that day in a wedding dress, and met up with Ben. Ben got ordained and the two of them married couples in Vegas. Becca got a rose.
On the day of the rose ceremony, Ben came to the girls room and asked to see Emily and Haley (the twins). He ended up taking them around Vegas (since that's where they live), and they ended up going to their mom's house. Ben decided to let Haley go at that point, so Haley stayed home while Emily came back to join the rest of the group.
Rose Ceremony Eliminations: Rachel Tchen and Amber James. Haley Ferguson already eliminated earlier that day.