Episode 5: (airing June 20th) Punta Del Este, Uruguay (11 to 8)
1-on-1: Jordan Rodgers. They go to Isla De Lobos, and swim with the seals. Jordan gets a rose.
Group date: Not sure what the group date was, but with my genius math and process of elimination skills, I can tell you that 8 guys were on it, and they were: Wells, James Taylor, Chase, Luke, Alex, Derek, Grant, and Evan.
1-on-1: Robby Hayes. Not sure what they did during the day, but at night JoJo and Robby were at the Capi Bar in Punta del Este. After leaving the bar, they walked on the street and were then treated to a fireworks show. Robby got a rose.
In this picture, you can see the fireworks in the distance…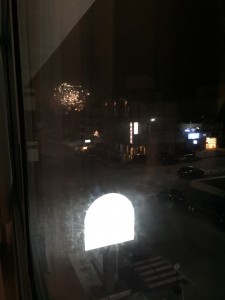 Rose Ceremony Eliminations: Vinny Venteria, Grant Kemp and Evan Bass.
Episode 6: (airing June 27th) Buenos Aires, Argentina (8 to 6)
The two stops in Buenos Aires have been the toughest for me to get information on in regards to every date and who was on them. I think once the season preview teaser airs tonight after the episode, it should be fairly easy to fill a few of these in as to who was on them.
When they got to Buenos Aires, I tweeted these out:
@RealitySteve bachelorette filming in buenos Aires today pic.twitter.com/ItdenHyxmQ

— Kelsey Kinser Evans (@kelskevans) April 8, 2016
Apparently all bachelorette contestants use the same barber @RealitySteve #bachelorette pic.twitter.com/8W9yyESIo1

— Kelsey Kinser Evans (@kelskevans) April 9, 2016
Spoiler alert: for the first time and extra 2 on 1 date in BsAs #bachelorette @RealitySteve pic.twitter.com/nBha9gXC5r

— Kelsey Kinser Evans (@kelskevans) April 9, 2016
1-on-1: ? Whoever it is, according to the season overview press release, "JoJo and one man show off their moves in the sexy Fuerza Bruta stage production." If you wanna play the process of elimination game, it isn't Wells since he gets eliminated this episode. It isn't Derek or Chase since they're on the 2-on-1. It isn't Robby or Jordan since they had 1-on-1's last episode. And Alex gets a 1-on-1 next episode. So that only leaves Luke and James Taylor as possible candidates. James had his first 1-on-1 in episode 3, and Luke had his in episode 4. So it's one of those two.
Group Date: ?
2-on-1: Derek Peth and Chase McNary. Chase got the rose.
Rose Ceremony Elimination: Wells Adams. Derek Peth already eliminated on the 2-on-1.
Episode 7: (airing ?. This particular Monday is July 4th. Ali's season was the last time July 4th fell on a Monday and they didn't air a new episode) Mendoza, Argentina (6 to 4)
Here were a couple pictures from one of her dates in this episode:
(SPOILER): Filming still in Argentina for episode 7. JoJo filming at the Entre Cielos Hotel in Mendoza yesterday… pic.twitter.com/O5wftuPIqg

— RealitySteve (@RealitySteve) April 15, 2016
1-on-1: Alex Woytkiw. Not sure what they did, but he basically joined the Joe Bailey & Olivia Caridi Club on this date by telling JoJo he was in love with her, but she didn't give him a rose and he was sent home.
1-on-1: ?
Group Date: ?
Rose Ceremony Elimination: James Taylor. Alex Woytkiw already eliminated on his 1-on-1.