Now you all remember at the beginning of June I shared the emails from one of Grant's exes along with close confidants of his other two exes right? Didn't take long for yet ANOTHER ex to come out of the woodwork over the weekend. And apparently this was a girl he was seeing from the time he got back from filming the "Bachelorette" (mid April) to the time he left for BIP filming (beginning of June). Hell, this girl could've been around before "Bachelorette" filming for all we know. Would be interesting to find out. Anyway, here's what she posted:
@BacheloretteABC @BachParadise @GrantMKemp pic.twitter.com/9oLytrOVSw

— taylor freitas ? (@tayfraay) July 2, 2016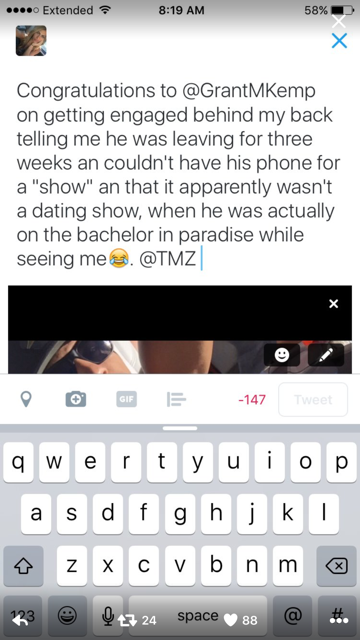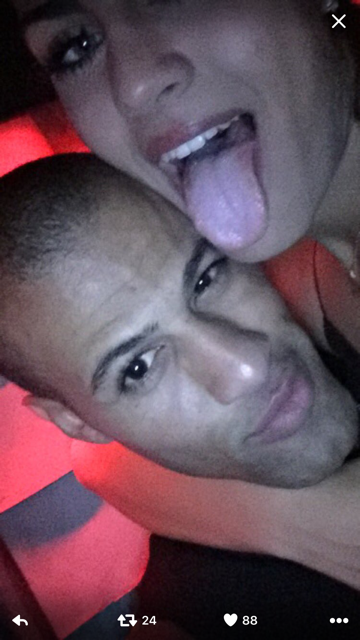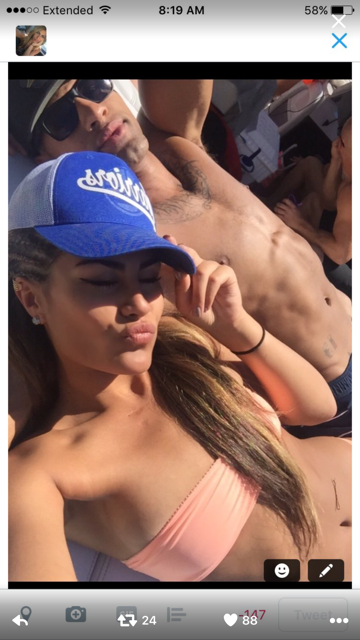 Is Grant serious? This guy has zero shame. What's funny is Lace is fully aware because she favorited one of the tweets that somehow DEFENDED Grant. Look, I get when you first meet somebody that you want to ignore every red flag possible, but Jesus Lace, how many more stories do you need about your current fiancé? Really? You think YOU'RE the one that's going to change him? Don't you think all these girls thought the same? Actually, they didn't because they had no idea they were being played. Lace, he got a tattoo of a flight number for the girl he met on a plane. A girl that he never told he was engaged at the time to someone and she didn't find out til way later. But hey, I know the allure of being an "engaged" couple on this show is too much attention to pass up because you need to get daily affirmations from strangers on IG telling you how great you are to build your fan base. But man, for someone who made an ass of herself on Ben's season, then came on "After Paradise" seemingly a changed a woman and looked to better herself, you surely picked the absolute last guy you'd want to be engaged to from this franchise. Good luck you two. Oh and by the way, in the early running of today's poll question, you and Grant are winning in a landslide for first engaged couple to fail.
As we know, Ben & Lauren have their own reality show coming to the Freeform network sometime in October that will follow their engaged life and Ben's political aspirations in Denver. Yesterday, they were filming some of that show as Ben was back in his hometown of Warsaw with Lauren waving to people from a car: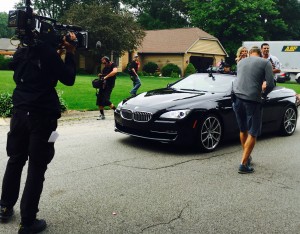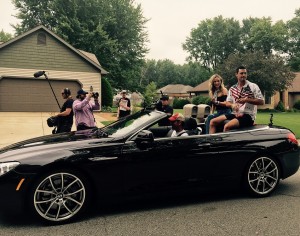 I honestly don't care about what Ben does politically because, well, I don't care about politics and I don't live in Denver. Have at it Ben. Be the best political guy that you can be. And if you want to help your chances of winning an election by having your daily life filmed of waving at people from a car, so be it. Not my concern. I just get a little leery, as should most everyone, when we see either engaged couples or newlyweds agreeing to film their life for a reality show. The track record is horrible of these people staying together for the ones that have done it. One can only hope these two aren't another statistic. I know their fans care a whole hell of a lot that these two make it. Not sure why, but they do. Because you know what will happen in my life if they don't make it? Absolutely nothing. Unfortunately I can't say the same for others. They might need CPR or something.