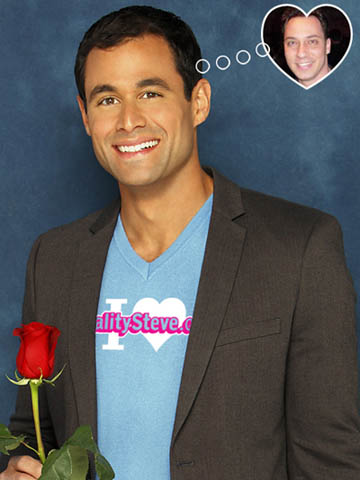 Sorry it took me a couple days to post this. Here is a 2 minute clip from the interview Jason Mesnick did Friday morning on a Seattle radio station where he has Reality Steve on the mind:
Let's dissect some of the things that Jason says here, since the guy is contradicting himself all over the place.
"That guy heard a rumor…that I ended things with Melissa and started up with Molly." Uhhhh, last time I checked pal, that wasn't a rumor, it was fact. And I never reported it as "Hey, speculation is", or, "Hey, maybe this happens". From day one, I told everyone this isn't what I thought happens, it's what I know happens. So, it wasn't a rumor, nor did I ever report it as one.
"I don't even wanna mention his name, he's got this reality website. I don't even think anyone should ever even talk about this guy." Sooooooo then why are you talking about me still three months after the fact when I basically had forgotten about you and Molly since about a week after the season ended? March 9th was really the last mention I made to your name in my column, yet here you were on June 19th bringing me up in a radio station interview promoting a Fathers Day event. I'm glad you have me on the brain. Is this a man crush?
"But, he made up the whole story in between, so everything he says is a flat out lie. He had the bookend right, but made up the whole story in between." Well, apparently not since the main story I reported last season before anyone else, that you dumped Melissa at a taped ATFR show and asked Molly back, was true. So yet again, another inaccurate statement. Not everything I say is a flat out lie. In fact, most of it is true. And this season, when I told people last week that Ed does come back on the show, that'll turn out to be true as well. As for making up the stuff in between, that will always be up for debate. I know I didn't. You think I did. Then again, you're under contract and not allowed to talk about certain things, so it'll take a hell of a lot convincing on your part to turn the people who believed what I said.
"So I will tell anybody out there if they know who this guy is, he's a bunch of BS. And I can promise that everything he says on his website is all his own stories. He's a storyteller." Wait, I'M a bunch of BS, or what I write is a bunch of BS? Please be more clear. And EVERYTHING that I say on my website is my own stories? Except for the little minor detail of finding out about the secret ATFR show you taped six weeks prior to the finale airing. And lets not forget, posting what happened at the ATFR 2 taping about one hour after it ended. Talk all you want about not liking some of the things I write, trust me I get that all the time, but don't say I was factually inaccurate and a "storyteller". Not true.
"And Melissa, who lives in the same city as this guy, started believing him." Oooooohhhhhh, ok. So now I was the one who turned Melissa against you? Even though I've never spoken to her in my life, never met her, and have sent her one email that she really never responded to? Yet without having ever spoken to me or had any running email conversation, I somehow was able to convince her of everything that really went on? Damn. I must be a REALLY good writer. Better than I thought. So not only are you a huge RealitySteve.com fan, but apparently Melissa is too, AND, she listens to everything I say. Outstanding.
"And I talked to her after that…well, I haven't talked to her since this whole thing went down. She was OK, up until that point, but she started believing what this guy was saying." So which is it? Either you talked to her after she apparently believed everything I wrote which you say was me telling story, or you didn't? My guess? You didn't. This guy is flip flopping like a politician.
"He's the one specifically that started stirring stuff up. He's a just a miserable guy. He's just trying to get famous." Actually, you stirred it all up when you agreed to dump Melissa during a closed set taping and ask for Molly back. All I did was report it. Miserable? I wouldn't say that. Jaded, skeptical, and weary about anything that actually happens on this show? You bet. And saying I'm trying to get famous is ludicrous. I've been part of the media for a while. I've covered plenty of athletes and interacted with famous people on numerous occasions. I don't want that life. Now THOSE are your miserable people. And extremely insecure. And completely crazy. So no thanks, but I'll pass.
I think I've said enough. Lets put it to bed. Jason showed some true colors in this interview, and just hearing the venom in his voice towards me was rather surprising. He's obviously still bothered by the fact that people still hate him for what he did, so he figures why not take it out on me? I find it funny. I'm just not gonna resort to name calling and blaming others for what I did. I've said my peace. Hope you had a wonderful Fathers Day and you and Molly live happily ever after. I won't hold my breath.