As you know, I like to have a little fun in my column. In all fairness, what I do is just try to make people laugh by being a bit outlandish in what I say. Hell, most of the time I don't remember any of the stuff I write. Over the years, there really haven't been many perks that have come with doing what I do. I just do it for fun and that's it. Well, for two years in a row now, I was asked to be a "Celebrity Waiter" at an event here in Dallas that benefited the CAP (Child Abuse Prevention) Center of Dallas. This year's was this past March in downtown and I had the privilege to meet a very special girl, who was a "celebrity waiter" with me. Her name is Emily Lites, an 11 year old girl here in Dallas who started a charity on behalf of her brother, Jude.
Three months before Jude was born, he suffered a stroke. When he was born, everything checked out, and Emily and her family thought Jude was ok. At three months of age, Jude started suffering seizures. A lot of them. In fact when the seizures first started in, he would have close to 70 a day. Yes. 70. The family has since found medication that has him "only" suffering 10-15 seizures a day. If that weren't bad enough, Jude is also legally blind, has cerebral palsy, and is an epileptic. Jude will turn 2 in a few months.
Because Emily spent so much time in and out of the hospital with Jude, and found herself with nothing to do, she decided to create Emily's Smile Boxes. They are play boxes filled with crayons, coloring books, stuffed animals, puzzles and more that they give to local children's hospitals so that every patient, and their siblings, receive a box. When I met her and spoke to her for the first time, I was blown away and immediately drawn to the story.
Of course there are tons of charities out there started by many people that are all great and beneficial. Just something about Emily when I met her at this event, being so mature for an 11-year old having no problems talking about her brother and explaining to me how and why she does what she does was truly inspirational. I've donated money myself to her cause, and a couple weekends ago, she brought out her boxes so that volunteers could help pack them and send 200 boxes off to a couple different Dallas hospitals. I attended this event, actually packed a few boxes together myself and took this picture with Emily: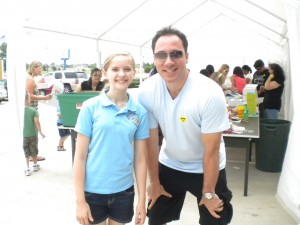 To see friends, family, and complete strangers like me come out and support Emily and her cause was pretty cool to see. I'm glad I made it out there despite the yucky Texas heat. Of course, I'm not much of an artist, so my Smile Boxes weren't the most well decorated ones, but hey, the last thing I'm known for is my drawing.
When I asked her mother how Emily's Smile Boxes started, here was her response:
In April of 2009. Jude had been in the hospital again. We had returned home from the hospital for a break and Emily and I were at home spending some time together. We were looking at a website called KidsareHeroes, and Emily told me that she also wanted to do something to help others. In other words, she was inspired by the amazing kids she was reading about. I encouraged her to follow through with helping others. So she came up with the idea of boxes for the patients and their siblings in local childrens hospitals. She had spent so much time in and out of the hospital with Jude that she knew how isolating that can be. The sibling of a sick child is overlooked a lot, even though the parent doesn't want that to happen. So she came up with Emily's Smile Boxes, and her idea took off. We incorporated her charity, got a logo, and collected donations. Her first drop off was only 12 boxes, and now she drops off a 100 boxes per hospital at a time with 50 build a bear "Smile Boxes" teddy bears.
The local news has covered her, she's been interviewed on radio before, but a couple months ago, Emily was also nationally recognized from over 1,000 applicants in the state of Texas for her charity she started. Her mom explains:
Emily was nominated by her school for the Prudential spirit of the community award, spirit.prudential.com. They pick 2 top volunteers from each state, one high school, and one mid level. Emily was the mid level winner for the state of Texas. The family received an all expense paid trip to Washington DC where Emily presented her charity to both of our US state senators, and Dr Condoleezza Rice. The trip was amazing! Emily received a $1000 for college, and was up for the national award. While in DC they award ten "national" winners who receive $5000 for college, and $5000 for their charity of choice. Even though Emily did not receive on of the national awards her fellow Texas nominee Ben Sater did. Ben started "Kids Swing" which is a children's golf tournament, and to date has raised more than $850,000 for Scottish Rite. Emily was so happy for Ben, and we all squealed in excitement when they called his name. You can actually see the awards ceremony online at the link I provided. Those kids are amazing, and I think every adult should watch that ceremony, because it's humbling.
Emily is now in the running for the Khol's "Kids Who Care"Award, and the Buil- a-Bear huggable hero. Different teachers, her principal, and other individuals have nominated her, but according to Em all she wants to do "is make kids smile". She said she doesn't need awards, but I simply explain to her that they help spread the news of her mission. She normally smiles sweetly, and just says okay.
I think her cause is a great one, and I know there are tons of mothers who read my column, and if you have a special needs child, you know how difficult that can be. As I've mentioned, I get nothing out of this. I just wanted more people to know about this special girl and what she's doing just to bring smiles to kids faces. I have never asked for anything in regards to donations or pimping out some websites in the past. This is something I've really gotten behind, having met Emily on a couple of occasions now and exchanged emails. I hope some of you will take the time to donate to Emily's Charity. Even if it's something minor, they would greatly appreciate it. To this point, Emily's Smile Boxes has raised over $10,000 and sent out over 1,000 boxes to local Dallas hospitals. You can donate through Pay Pal by going to her website at:
You can also join her fan page on Facebook by clicking here:
To read more stories about Jude and what the family has been through in the almost two years he's been here, there's a link on Emily's web page to a blog that her mother Jennifer writes. A very brutal and honest diary of the things they go through on a daily basis in dealing with Jude's needs. Just because Emily is located in Dallas, doesn't mean they won't mail Smile Boxes to other states for any kids in need. Sure the drop offs at the Dallas hospitals are usually at least 100 boxes, but they have time for everyone. So if any of you would like one sent to people you know, by all means, contact them through the site and they would be more than glad to help.
Thank you all for taking the time to read today's column. The more people that know about Emily and her charity, the better. I can't tell you how impressed I've been with Emily through all this. I don't know many 11 year olds. In fact, I think she's the only one I do know. But to have her start this on her own, and to see how far its come in just over where she's receiving national awards in Washington, D.C., is fascinating to me. She's an incredible girl with an incredible story. Let Emily know you're aware of her story and the amazing thing she's doing to help other children. It would really mean a lot to me if, you the readers, would donate anything you could to help out Emily's charity.
I will talk to you all next week.
Steve