I tweeted and posted on Facebook yesterday that I was going to have more "Bachelor" news for everyone today. Well, since posting that, I had more information given to me that I want to follow up on first before posting, so that update is gonna come Wednesday. As of right now, I have four new confirmed names of contestants, along with where a couple of the upcoming dates will be filmed. But since I promised it today, I can give you a little something to hold you over. There is going to be a group date this Wednesday night, and Brad will be taking the girls to a taping of Dr. Drew's "Lovelines" radio show. Don't know how many are going, or who's in it, but that is definitely happening this Wednesday. More date information and at least four new contestants names and pictures will be up on Wednesday.
Wanted to tell you about a contest being put on right now by a local magazine here in Dallas, "D" magazine, that I've aligned with to help promote. They are doing an NCAA Tournament style 32-person bracket to vote on the "Top Reality Star from Dallas". There are four 8-person brackets (One all "Bachelor/ette contestants", one "American Idol", and two others that incorporate other shows). You can vote once per day, and each week, the person with the most votes will advance to the next round. My role? I'm just giving my thoughts on a few of the contestants. Obviously, I know more about "Bachelor/ette" and "Idol" than I do some of the other shows, so I included commentary on most of those contestants. You can click on the link below, or you can scroll down the right hand column where that link will bring you directly to the brackets.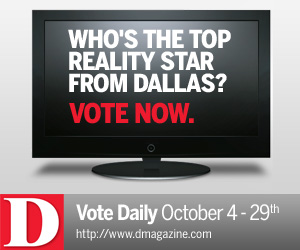 Couple thoughts on the 1st round: Man, they didn't do Jeremy and Tanner any favors by pitting them against Peyton and Melissa. Geesh. Peyton is fresh off her "Bachelor Pad" appearance, and now with word that she's linked to Chris Lambton, even more people probably like her. As for Melissa, well, apparently she's everyone's favorite. Tanner's gonna need to tweet and facebook post this thing everywhere. For his sake, I guess he can hope all of Melissa's minions don't own a computer. Or don't know how to vote.
Jake drew Misty Rake in the first round, who was booted early in Bob's season. I'm guessing Jake will advance to the 2nd round. I don't think Misty Rake knows who Misty Rake is. As for the other "Bachelor/ette" first round matchup, Alex Michel vs Heather Cranford, uhhhhhh, your pick is as good as mine. Nice head shot of Alex. That doesn't make him look the least bit creepy at all.
I should've written something about Rob Campos. Totally forgot what an absolute zero he was on "For Love or Money". He is arguably the worst "lead" ever cast on a reality dating show. And that's saying a lot considering he has to go up against the likes of Jake Pavelka, Lorenzo Borghese, and Flavor Flav.
Back Wednesday with more "Bachelor" information.
To follow me on Twitter, it's: www.twitter.com/RealitySteve. All other ways to get a hold of me are in the "Contact Me" link at the top of the page. As a heads up, my facebook page has been acting up recently, and I wanted to announce that some time in the near future, I'm going to be deleting a lot of people off it. I just get way too much riff raff on there and people carrying on arguments on my wall that it just gets annoying. Everyone can still join my facebook fan page, but I need to cut out a lot of the "friends" on my page since it's starting to get cluttered and I don't know about 90% of them. So if you've been a friend for a while but I have no idea who you are, I'm sorry. I need to limit it to people I actually know and have had contact with before. Hope you understand. See you Wednesday.