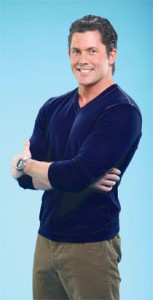 As I'm sure many of you have probably read by now, a sad story involving a former "Bachelorette" contestant broke today. Julien Hug, who was on Jillian's season of the "Bachelorette", was found dead yesterday morning in California. Not many details known at this point, so I'm not going to begin to speculate on what happened. You can google his name and read all the different accounts being reported. I never had any contact with Julien myself, but by all accounts he was very well liked in the house despite only lasting a couple episodes on the show. Thoughts and prayers go out to his family. I was able to reach a few of the guys from Jillian's season that knew Julien, and here's what they had to say about him:
Wes Hayden: "Julien was a nice guy and very likable. I remember he laughed a lot which made me laugh. My prayers go out to his family. He will be missed."
Reid Rosenthal: "He was like the dad of the group. Always mature and there to talk or help you out. Great chef and a great soul. He's in a better place now. My love and prayers go out to his friends and family."
Tanner Pope: "I remember being sick of sandwiches in the house so Julien decided to cook the whole bunkhouse some 'yardbird risotto'. Wes looked at me and said, 'What the hell is risotto?' in his country slang, and I said back to him, 'What the hell is yardbird?' So thank you Julien for introducing the bunkhouse dudes to your amazing yardbird risotto. You will be missed."
Michael Stagliano: "I have two things to say about Julien:
1. When we lived in the "Bunk House" in L.A. and were all sleeping side by side and front to back on tiny twin beds. My bed was lined up perpendicular to Julien's. Though it was only 3 or 4 mornings that we woke up in that large upstairs room, every Morning I would wake up, look down past my toes and Julien would be sound asleep in the exact same way. Here is what I saw:
He would be laying on his side facing me, and across the little hallway that separated our beds, every morning I would notice his left hand tucked up under his chin in a closed fist, his right hand wrapped around his chest and without fail he would have a small, but distinct smile on his face. Every morning. I pointed out to him and to the other guys and we laughed about it a lot cause he didnt believe us, hahahaha. I have never seen anything like it.
2. Julien, as you know probably, was a very good cook. He was ALWAYS offering to make all of us (20 guys!!!) whole meals. He would make chicken and "grizzle" a man food of sorts made of veggies and chicken and rice.
One night after pounding more beers than we could stand, and we were all beginning to pass out on the couches and not be able to stand anymore…Julien popped up out of his seat next to all of us, went to the Kitchen and made about 3 dozen cinnamon pop tarts…that we all destroyed in a matter of minutes.
What I remember and will always remember about Julien is that he was a kind, caring, loving person who was generous when he didn't have to be. He was happy, even in his sleep, and was well respected and well liked by all the guys in the house."
Next column probably coming next week which will have more confirmed contestants with pictures, an update on the hometown dates, and quite possibly, where the overnight dates are being filmed. Stay tuned.