For episode-by-episode spoilers of Brad's season, click on the link above that says "Bachelor Brad Spoilers". It has a breakdown of every date, rose, and elimination, all the way down to Brad's final choice. However, there will be spoilers talked about throughout the course of this column. You've been warned.
So this past Saturday as part of the "Bachelor Gives Back" promotion, there was a blood drive in LA where former contestants from the show, along with public, got together and helped donate blood. I'm sure you've seen the pictures by now considering they've promoted the hell out of it the last couple days. What's interesting is that there will be three other blood drives in the coming weeks: In Philly Jan. 15th, Dallas Jan. 22nd, and Chicago Jan. 24. Wait, back up a second. Dallas? In 2 weeks? Weeeeelllllllll, might have to make a stop on over there and give my blood. Not sure of what all former contestants will be at that one, although I did speak to Wes and he said he might come up. Tanner's in, and I believe Jeremy is stopping by as well. I'm just waiting to show up and get escorted off the premises by armed guards. Hey, funnier things have happened like, oh I don't know, having me removed from a TV show within an hour of it airing. I sure hope they do kick me out of there. That'll be quite a story to tell.
I'm glad a lot of you liked the new Friday column which will include "Reader Emails". That was fun. And if you think last week batch of questions were good, wait til you get a load out of this week's doozies, and it's only Monday. I'm sure someone will come to me in the next few days with some good hate email, or a question I've answered one billion times. On your mark, get set, go! Who'll be this week's winner in "Most Ridiculous Email"? The clock is ticking. In fact, I'm even going to start taking some of the questions off of Twitter because I get PLENTY of asinine things asked to me off there. I'm trying to see if I can pass the one trillion mark of times I've been asked, "How do you get your spoilers?" Well gee, why don't you all just gather 'round the campfire and I'll tell you where and how I get all my information from.
One last note I'd like to mention about the dating contest. Since the column last week where I said that the contest is over, I'm still single, and that it just didn't work out with any of the women I met, I've had a few of you inquire about, "Well, can we still send in applications now that you're single?" My short and honest answer is no. I gave that route a try, and it didn't work. I'm really not up for continuing to try it that way. If something develops naturally with someone, then great. But I really don't want to go through that "interview" process again. It was hard enough as it was, and sure I'll be questioning some of my decisions, as I'm sure some of the girls are. But as much as I appreciate the interest, I just don't have it in me to go through it right now. I will let the cards fall where they may and hopefully I meet someone great in the future. The originator of the dating contest, Olivia Wilde, is going to have me on again a week from tonight on her internet radio show again talking about the show, and I'm sure she'll ask me about the contest. I'll have a link to that up here next Tuesday night if any are interested and want to listen and/or call in. On to last night…
-The show started off with Brad outside the house he stays at holding a football. Ummmm, does he play catch with himself? Last time I checked, no one else was in that house with him. However, we did find out in this past week that the house Brad's staying in is the same house that Natalie and Dave stayed during their overnight date on "Bachelor Pad". That is awesome. I love the fact that Brad gets to sleep in the sheets that Natalie and Dave soiled with their DNA. Must make for some real comfortable nights. Hope you're enjoying the sloppy seconds, Brad. Or thirds. Or fourths. God knows how many times those rabbits went at it that night. With Natalie's sexual appetite, and Dave's enhanced testosterone level, my guess is double digits.
-Host Chris gathers the women around and explains there will be dates this season where the girls get to spend time with Brad. Really? I figured this time he'd just go with the ol' "Eenie Meenie Miney Mo" trick and land on Chantal and we could skip the next 2 ? months. Guess not. Oh well. Melissa is very excited for the upcoming dates. You know why? Cuz' she's a lunatic. "I've been thinking about this for 8 years. I've spent a fortune on clothes, dresses, and gowns. I even quit my job to do this." You're a waitress sweetie. I'm sure Applebee's will have an opening when you get back to town. And what do you mean you've been thinking about this for 8 years? The show's only been on 8 years. You mean to tell me when you first laid eyes on that questionably heterosexual first "Bachelor", Alex, that you immediately started thinking about appearing on this show? Ok, you need some new career aspirations. And 8 years of shopping the best you could come up with was that plain red dress I've seen 1,000 times at high school prom? Well, not like I've been to prom a 1,000 times, it's just, well, you know what I mean. I think. Let's move on.
-Ashley H.'s 1-on-1 date is up first as Brad picks her up in a car and takes driving out into the middle of nowhere. Doesn't tell her where they're going, looks like they're about to drive off a cliff, but then finally stop in a wooded area. Ashley is freaked out. Ashley: "Can't really say I've been on any first dates on a deserted road in the pitch black." Well then apparently you haven't lived, Ashley. I mean, who hasn't? That's like one of my all time favorite things to do on dates. Gas up the van with no windows, take out all the seats, pick up my woman, and head off to the middle of nowhere. They find it very exhilarating and suspenseful as we pull up in a cold, dark place and I ask if they wouldn't mind handing me the rope in the back seat. Whatever the case, it's fun times all around. I recommend it to more people. You'll be talking about it for days with your friends. It's not the least bit creepy.
-Brad has Ashley pull a lever down and suddenly a whole man made amusement park lights up. I like the editing job on that one. Hey, I'm no electrician, but I'm guessing one pull of a lever doesn't have every light and ride functioning within, ohhhhhh, five seconds. But hey, what do I know? Ashley is ecstatic. She loves the fact she's in the middle of nowhere in the woods in a half gown/half tutu about to go frolicking around in an amusement park. As would any of us. Why? Because carnivals are the best. Who doesn't eat like a complete pig at a carnival? Funnel cakes? Really? C'mon. If I lived near a carnival, I might have funnel cakes for breakfast, lunch, and dinner. Then again, if I lived near a carnival, odds are I wouldn't be alive since I'd have most likely been shanked by a carnie. Probably the only disappointing thing about this date is that it wasn't accurate enough in regards to the carnies working the rides. I refuse to get on a ride at a carnival unless I know for a fact it will be manned by a dirty, unemployed, homeless looking guy with 17 teeth perfectly spaced out inside his mouth. It's then, and only then, will I feel completely safe being locked in a cage and spun around like a top while 80's music blares and my life flashes before my eyes. Good thing the carnie is paying attention though, cuz I know if anything goes wrong, it's that guy who has everything under control and will know exactly what to do.
-Ahhhhhh, one of the joys of carnivals has got to be the photo booth. I mean, how can you not jump into the photo booth at some point during your stay at the carnival? Which is exactly what Brad and Ashley did. And you know what? You're never gonna believe this, but they didn't take it seriously, and made funny faces. Is that a prerequisite at photo booths? Has any couple in the history of mankind ever gone into a photo booth and said, "Ok, let's do this. Let's be sure we look our best so we can make this our Christmas card picture this year." Uhhhh, no they haven't. They go in there and look stupid, inevitably half of someone's face is missing from the picture, or, they take a shot of them kissing. So nothing new here between these two, although the kissing was tame. Brad waited til they got outside the booth before he said, "F-it, I'm going in for the kill", and didn't let her up for air.
-So on a positive note, Brad immediately comes out of the booth stupidity and declares, "I like this girl. I like this girl a lot." Translation: I'm gonna tongue you down like you're the last woman on earth. And they did. A lot of kissing. A lot. It was quite obvious (compared to the other 1-on-1 date later) who Brad is sexually attracted to. And who wouldn't be? Say what you want about her choice of dress, but Ashley is an extremely attractive woman. You know how I know this? No, not because she's got great teeth, a great smile, awesome hair, and fun personality. Nope. Well, I mean it is all that too, but, I'm gonna share a little secret with you: I saw her nipple. Don't believe me? Ta-da! (To see what's covered up, just click on any one of the pictures themselves)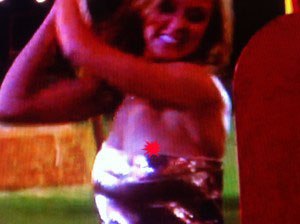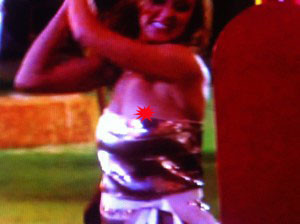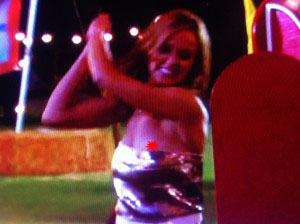 Wanted to get three different sizes of it and break it down like the Zapruder film because, well, someone sent it to me and I thought it told a good story. With that story being they shouldn't have put Ashley in a strapless dress if she's going to be lifting heavy mallets at a carnival. Yeah Ash, I suggest you bitch to the editors about that one. I'm sorry, if a network show is going to give us a nipple slip nine minutes into the episode (7:09pm central time), it's my job to make people aware of it. If I didn't post this, someone else would've. And it's not like Ashley has anything to be embarrassed about. We all know she's hot, and this just confirms it. Why? Cuz nipples equal hot last time I checked. I blame the show. It's unfortunate, but hey look on the bright side, I think I'm in love.
-Brad also won her a bear at the carnival, although, we didn't ACTUALLY see him perform anything, we just saw him giving her the bear. So no props to you Brad for landing a coin on a glass plate. Or throwing a ping pong into a floating glass. I don't believe you did it and neither should anyone else. Now it's time to get serious. Ashley sits Brad down and tells her how much her father was absent in her life, which Brad can totally relate to. His dad once took four years to come pick him and his brothers up to go to the store. Must've taken the long route to get there. Anyway, it was a really heartfelt moment and pretty much solidified her to be around for another billion episodes. However, I had a really hard time focusing because while Ashley was talking to him, she was also conducting the show in sign language for the hearing impaired. Holy hand movement, Batman! It was almost like a free commercial for the Braille Institute. She uses her hands more than I do in the bedroom. And that's saying a lot.