For episode-by-episode spoilers of Brad's season, click on the link above that says "Bachelor Brad Spoilers". It has a breakdown of every date, rose, and elimination, all the way down to Brad's final choice. However, there will be spoilers talked about throughout the course of this column. You've been warned.
I wanted to briefly explain how the advertising works on this page. All these ads you see are NOT the product of me calling people saying, "Hey, wanna advertise on RealitySteve.com? Here are your rates." Doesn't work like that. Those are different types of rotating ads that are part of Google and other companies internet advertising. I have nothing to do with who or what ads run on my site. We're linked with companies, who then send us a code to embed on the site, we do it, and the ads pop up. Simple as that. Obviously higher traffic sites make more money because more eyeballs are seeing those ads. Common sense. Sure, we'd love to have advertisers pay a premium to place an ad on the site, we just haven't gotten around to it yet. If you're interested, by all means contact me and we will discuss.
However, this next product I can say I'll officially endorse. The owner of this company is long time friend of the family and one of the funniest guys I know. He's been in the garment industry for as long as I can remember, and his latest creation is starting to make some waves in the fashion world. He's appeared on the "Bloomberg Report", "Fox Business", and "ABC" News. His company is called "REUSE Jeans" and you can see and read all about it by clicking the image below: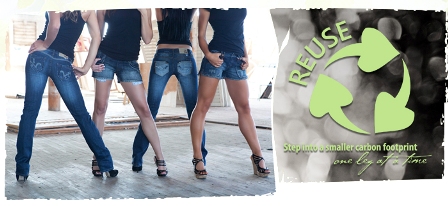 As a thank you to all my readers (which I'd say is probably 95% women), I've collaborated with him to give you guys a discount. I support sustainable denim line REUSE Jeans and think you should, too. Shop online at REUSEJeans.com today and save 35% with promo code REALITYSTEVE35. No, these aren't used jeans that they sell. They are jean products made from 80% recycled fabric. Check it out when you get a chance and let me know what you think.
Tonight I will be making another appearance on Olivia Wilder's internet radio show at 10pmEST. Olivia was the one who came up with the idea of the "Reality Steve Dating Contest" last summer and put things in motion. Maybe I'll give her a piece of my mind tonight. Ha ha. I'm kidding. We're gonna talk all things "Bachelor" related, breaking down last night's show, but just as importantly, taking phone calls from any of you who are interested. So come back to the site later tonight where you'll be able to listen in and call if you'd like. The number is 347.215.7536. I ask any and all of you if you have questions, feel free to come in and ask whatever you'd like. The more the merrier. If you want to save the link to the show for later tonight, it's:
http://www.blogtalkradio.com/olivia/2011/01/19/reality-steve-returns
Maybe you're aware of what ABC.com is running where they are having people comment on who they'd like to see on the next season of "Dancing with the Stars". They haven't really explained in detail if this is something serious where the person who gets the most votes will actually get cast, or, if they're just gauging the public's interest. There isn't an actual poll running, and it's just a bunch of people commenting on who they'd like to see, so I can't imagine it's anything official. Whatever the case, I'm now throwing my hat in the ring for someone: Gia Allemand. I mean, how can you not after watching this video?
Not withstanding the freezing cold shower I had to take after watching it, it's impossible not to enjoy the hell out of that video. Who wouldn't want to see her on the show after that performance? Gia, you've got my vote. Whether it gets you on the show or not, I just wanted a good excuse to post that video. We need more of those videos and soon. If you like Gia's video, they've actually set up a fan page on Facebook right here. I believe they said they will release more videos once more people "like" their page. So I'm begging you, for the love of all humanity, do everyone (ok, me) a favor and "like" their page so we can get more of two, hot, half naked women dancing around in their underwear. I beg of you. On to last night…
-Is it just me, or was last night's episode the most depressing, Debbie Downer episode in the history of this show? Kleenex should've taken out an ad every commercial break for as much heartbreaking, sob stories as we had last night. Geez. With that said, there is PLENTY to make fun of, with Michelle Money probably nudging ahead of Trish Schneider from Jesse Palmer's season as, well, craziest bitch in this shows history. At least of what we're seeing. Lets not forget that Michelle is an actress who has a movie coming out next week. She's either the smartest person to ever be cast on this show, or the most certifiably wacko. Could be a mixture of both. I will say that I'm watching Michelle's edit with a very realistic eye. The woman knows exactly what she needs to do to get camera time, so I'm leaning more towards a lot of this is her acting.
-So Aaaaassshhhhlllleeeee Spaaaaavey gets the first 1-on-1 and she couldn't be more excited. "Oh Mah Gaaaahhhh! It's me! If it's karaoke, I'm gunna daaahhhh." Brad is so excited to take Ashley on this date. Did you know Brad says that before EVERY date? He's excited about everything. Not sure which he says more: "So excited", "To tell you the truth", or "If I'm being honest". Close call. They arrive at Capitol Records and Brad gives Ashley a history lesson. "This is Studio A of Capitol Records. Countless platinum artists have recorded here." Really, Brad? Name one. It's always fun when the "Bachelor/ette" gives the person they're on a date with a history lesson of where they are considering they didn't have a clue about it til probably an hour before they left. "Ok Brad, be sure to plug Capitol Records when you're there. Say this." I like the fact that both of them admitted they couldn't sing because this made for some awesome karaoke. And by "awesome" I mean "torturous".
-In case you haven't figured it out yet, "Kiss From a Rose" being the song these two sang on their date is not coincidental based on Ashley's history with the song. At some point during the casting process, when these women are basically asked every question known to mankind about their history, I'm sure it came out at some point that Ashley and her dad's song was "Kiss From a Rose". The producers store that in the back of their heads, and whaddya' know? It's part of her 1-on-1 date. Which kinda leads me into a question I'll be answering this Friday in the "Reader Emails". I've gotten it a lot in the last week regarding dates, and who goes on them, and who Brad chooses. Stuff like that. It's pretty much not what you think is the short answer I'll give now. As I've said time and time and time again, remember, this is a television show. And a very bad one at that.
-Once Brad finds out they are recording "Kiss From a Rose", he knows it's gonna be awful. "This is probably going to be the most embarrassing thing I've ever done." Uhhhhhh yeah, probably not. I'm guessing this is more like the 10th most embarrassing thing you've done. Behind things like accepting an offer to do this show again after the response last time, being seen with your ex-girlfriend in Vegas like a week after your finale aired three years ago and having the picture show up in the tabloids, getting that tramp stamp on the back of your neck, wandering the streets of Austin by yourself and sitting in the rain…would you like me to continue? Trust me, your awful singing can't possibly top those moments. In fact, your awful singing would've won you some medals at some of the karaoke nights I've been to in the past. Is anyone who sings karaoke any good? The ones who really take karaoke seriously and think like some record executive is there and will sign them to a contract are actually more annoying than the bad ones themselves. If I'm attending karaoke, I expect the singing to be awful, songs from the 80's and 90's to be belted out more so than any other decades, and that inevitably, a group of young, drunk bimbos will get up there and sing "Material Girl".
-When the recording of the song was over and the director had wiped all the blood out from his ears, Brad did the noble thing. He apologized. Brad: "I apologize Mr. Seal. I apologize Mr. Seal." Actually, the correct way to address him would be "I apologize Mr. Heidi Klum. I apologize Mr. Heidi Klum." I get that celebrities are just a different breed by nature and not one of them is normal by any stretch of the imagination. And I get that celebrities usually only date people in their line of work because they feel they can better relate to what they go through. And maybe even you'll see some strange relationships based on just working together (i.e. Turtle and Jamie Lynn Sigler). But outside of what I've pointed out numerous times about "If you can sing, you can pretty much nail anything that moves", can someone explain the Seal/Heidi Klum thing to me. Really? I mean, hey, she's got Jungle Fever. That's great and all, but man, the guy isn't the least bit attractive and she's a supermodel. Oh well. I guess I'll never understand. Guess I need to learn how to sing, play an instrument, cover myself in body tattoos, and be 100 lbs underweight. That'll for sure get me laid.
-They go to the rooftop of Capitol Records where Ashley tells him the story about her father suddenly passing two years ago. Obviously, nothing funny about that. However, Brad's behavior that night sure was awkward. For a girl who got his first impression rose, and for a girl who just spilled her guts to him about something as personal as she did, did you notice the absolute zero lack of interest Brad showed in her physically? His words said otherwise as he babbled on and on about how good looking she is, and the date couldn't have been more perfect, etc. But the guy sat like 10 feet away from her on the couch, gave the most awkward hug after she was done with her story, then even when they were dancing, the guy couldn't have looked more disinterested. He barely even looked at her while they were dancing and his eyes kept wandering off to see all the shiny bright lights in LA. I'm sure the kiss felt like she was kissing her brother or something too. No points for you, Brad. You suck.