For episode-by-episode spoilers of Brad's season, click on the link above that says "Bachelor Brad Spoilers". It has a breakdown of every date, rose, and elimination, all the way down to Brad's final choice. However, there will be spoilers talked about throughout the course of this column. You've been warned.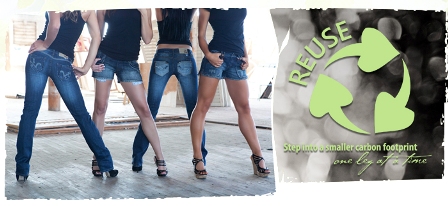 Click on the picture above to learn all about REUSEJeans. As a thank you to all my readers, I've collaborated with them to give you guys a discount. I support sustainable denim line REUSE Jeans and think you should, too. Shop online at REUSEJeans.com today and save 35% with promo code REALITYSTEVE35. The best eco-friendly jeans on the market. Check it out when you get a chance and let me know what you think.
As I'm sure you've all heard by now, earlier this week Star Magazine came out with a report regarding a "rap sheet" that Brad had from back in 1993. He had arrests for carrying a forged driver's license and even one for public intoxication. He was also found guilty of passing a bad check. I'm sorry, but this really isn't news. This happened when he was 20. Who in the hell DIDN'T have a fake ID and bounce a check when they were 20? Really? We're supposed to think he's a horrible person now? Sure, not all of us have had a public intoxication on our record, but lets calm down about "Bachelor Brad's rap sheet". My God, people are acting like he committed a double homicide and avoided jail. I think the more important part of the story is the fact that Brad's last name was once "Pickelsimer". He was born Stephen Bradley Womack, changed the last name to Pickelsimer at a young age after his step dad, then went back to Womack once he became an adult because, well, no one wants to be known as a Pickelsimer. I'm sorry, but starting Tuesday, I don't think with a right mind I can ever call him "Brad Womack" again. He's Mr. Pickle. Or whatever other variations I came up with over the weekend. He's a big boy. I'm sure he can handle it. Hilarious.
A lot of you are aware of the blood drives the "Bachelor Gives Back" is a part of now. It was the reason why they had the PSA date in episode two, to raise awareness for donating blood. That weekend there was a blood drive in LA that Brad, Chris Harrison, DeAnna, and a bunch of other former cast members attended. Last weekend, there was one in Philadelphia. Well, tomorrow there is one in the Dallas/Ft. Worth area that I wanted to make you aware of. As far as I know, the former contestants being publicized for being in attendance are Sadie Murray (Lorenzo's season), Brian Westendorf (DeAnna's season), Tanner Pope (Jillian's season), Erica Rose (Lorenzo's season), and some others. And oh yeah, I'm going. Still a little skittish about giving blood, but I think I might. If you're interested in going, here's the address:
Phi Gamma Delta (FIJI) Fraternity
Doubletree Hotel
1981 North Central Expressway
Richardson, TX 75080
12:00 noon – 4:00 pm
If you don't have much of a life or a job and you have a free 90 minutes of your day to spare, you can listen below to the interview I did Tuesday night with Olivia Wilder. Yes, it's long, but I think informative. Some good questions asked, addressed some things regarding this season, and briefly talked about the dating contest from this past summer. Briefly. To listen, just click on the "play" arrow.
I wouldn't say we had as many repetitive questions as the first two weeks, but definitely some odd ones. Oh don't worry, there's a few ridiculous ones this week, but overall, I'd have to say this a more "informative" batch of emails this week where I can clarify things for some people. Not to mention, the amount of emails I'm getting are increasing each week. Obviously I can't include all of them or else it'd be ten pages long, so I pick the ones I feel are the most entertaining. Lets get this started, shall we? Here goes nothing:
_____________________________________________________________________
Steve, am I the only guy out there that finds Madison extremely attractive? I mean sure the fangs might be a little much, but ask any guy one on one, and I think you'll find that they will be into a little bit of biting, maybe even a lot of biting, and heck, if she's into tying you up and choking you a little, well, that's what I would call a dream girl. Wait, is that just me? Hmmm, oh well. What do you think?
Comment: Uhhhhhh, tying up, choking, and biting? Can't say that I am, but hey, thanks for offering that up about yourself. I'm sure I'll be seeing you on the news for your sexual assault in the near future. Good luck with that.
_____________________________________________________________________
This email was cut and pasted exactly how it was written to me:
I have been watching each week,I'm impressed but its just a show that ever body loves to love but to hate .But I seen the spoiler but its still instresting to watch tho .But personally I think Brad has angry issues under all that skin .I truly dont see him with any body when its all said and done .He seems to put on a front but I see him with a lot of built up angry problmes from where I dont know but thats just who I see in his eyes .Just because his family members are happy that dont mean he will be .So but I think in the realy world he could be one of those guys that likes to throw things and has a really bad temp in life general .But hope he proves us wrong .But time will tell .I like to watch it but its not one of my favo ones but i'll give him a 2nd chance but i'm sure it want last 4 ever. luv ur blog.!
Comment: I hav no idea bout Brads temper .I don't know the guy .Kinda hard to figure out where you're coming up with that assessmunt, but if that's the way you feel, then that's yur opinyun .Seems like a nice guy that wood treet his wuman well, but that's just me speakin from afar .Maybe you know sumthin I don't .Lets hope not .ABC wood take a lot of heat for casting guy with angry problmes .
_____________________________________________________________________
Hi RS –
I read your Friday emails today, very entertaining, just as last week! I was pissed someone already asked about the ages (I was planning to), but it appears I wasn't the only one wondering. Good thing I had another question in mind, here goes:
Does Brad get to see any footage of these women while he's 'deliberating' before the rose ceremony? I would like to think he should get a chance to see how psycho some of these chicks are before he decides to give them a rose. However, I guess I just answered my own question…which would be "no, of course he doesn't get to see footage, that wouldn't make for good TV".
Okay, go ahead and put me on the stupid question list. 🙂
Comment: Congratulations! Our first reader who in mid-email, realized she was answering her own question and pulled the ejection cord. Hey, I appreciate your awareness, but yes, you said it correctly. Brad is seeing footage of the women back in the house when we are, which is every Monday night for the next two months. They keep him as closed off from that as possible, since that would be giving a selected few unfair advantages.
_____________________________________________________________________
My question is – How much do you think Chris Harrison gets paid? The man's presence on the show is baffling. He says the same words every year – WORD FOR WORD – and just substitutes the new names.
Anyways, it has long been my question how much a useless robo-host like that could be banking and why for the love of god they haven't replaced him yet. Must be his complete lack of sex appeal so as not to distract attention from the star.
Thanks again for all your spoilers! If I could ask one more thing it would be to do a special on what its like to be a contestant (the dirty details/how the show works) from anonymous past contestants and your sources.
Comment: Yes, Chris is pretty much a robot on the show. Probably why they don't need to replace him. There was a rumor going on within the last couple years that Reid was actually wanting to replace Chris at some point. Don't know where that started, but that's never going to happen. But hey, if Simon Cowell can get replaced, I guess if Chris flubs one of the 100 lines he repeats every episode, maybe he will get sh**canned. Or if he just shows up drunk one night and starts hitting on all the girls. Now that'd be some footage I'd like to see.
As for how much he gets paid? No idea. But I'm guessing it's in the low six figures. Complete guess on my part, but if you're doing something for 20 seasons, you're probably not doing it for 50k. I'd say 200-300k. Lets just say life is good for him. The guy probably isn't worrying about how he's gonna put his children through college anytime soon. He's well compensated for the meticulous, asinine, incredibly easy work he does. People think I hate the guy for some reason. I don't. I just wish he'd get called out for some of the stuff he says to the media, and the canned answers he gives. Of course, he HAS to say those things so as not to give away the show. But still, he'll never really answer questions that people want to know. Which is why he'll never do an interview with me.
_____________________________________________________________________