For episode-by-episode spoilers of Brad's season, click on the link above that says "Bachelor Brad Spoilers". It has a breakdown of every date, rose, and elimination, all the way down to Brad's final choice. However, there will be spoilers talked about throughout the course of this column. You've been warned.
Sorry for the delay, but some good dirt just dropped in my lap and I've been making calls trying to get to the bottom of it. Before I run with anything, I want to make sure I have all my bases covered. I'll be back posting at 9:00 EST tonight with what I know. Hopefully it's more than I know now. But in the meantime, I'll ask you this: If there were two former contestants from this show that I told you were "involved" right now (and both from recent seasons), I guarantee I can give you til 9:00 EST tonight and you wouldn't be able to put these two together. But go ahead and guess away. This will be fun. Both people are from within the last four seasons. Man, I don't see these two together at all, but that's the rumor making the rounds right now. Check back tonight for who it is. I'll tell you WHO the speculation is about at 9:00 EST. I just want to find out if it's true or not and it just landed in my lap, so I need some time.
And also, remember how back when I gave the spoilers to this season I told you the drama wasn't going to be happening on the show, but will be taking place in the tabloids? Watch out. The sh**t's about to hit the fan.
A great first week of sales for REUSE Jeans after the mention in last week's column. Thank you to everyone who bought. I support sustainable denim line REUSE Jeans and think you should, too. Shop online at REUSEJeans.com today and save 35% with promo code REALITYSTEVE35. We're gonna be running it through the end of the season, so get on board. Click on the picture below to be taken to the site: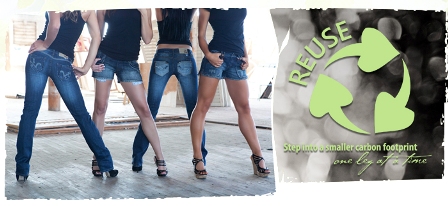 Just wanted to give a hearty round of applause to "US Weekly" for continuing to be behind the times in regards to anything "Bachelor" related. I let my subscription run out after they did what they did last season to me, but I'm not against looking at it when I'm at the grocery store and witnessing their ridiculousness first hand. This past weeks issue was no different. They threw in a picture of Chris Lambton and Peyton Wright together at an event from back in August now saying "sources close to them say they were getting cozy…" At that point, I just vomited on the magazine and put it back in the rack. Not because I don't like Chris and Peyton, quite the opposite, but because that news is only about four months old. Back after "Bachelor Pad" ended I alluded to the fact that Chris and Peyton were seeing each other, and that was BEFORE I'd even met either of them. Yes, Peyton and Chris are dating and have been since around September. It was pretty much the main reason he turned down being the "Bachelor", which actually made me respect him more. Having gotten the chance to spend some time with both of them in the last few months, I need to take back something I said in last Friday's email bag. Someone asked me if I wanted to see any couples succeed from this show, or if I thought any from past seasons would make a good couple. Of course I responded that I don't care. And for the most part, I don't. Whether or not these couples succeed has no bearing on my life whatsoever. Well, for the record, I actually would like to see Chris and Peyton make it. Good people, fun to hang out with, and definitely aren't caught up in the "Hollywood" aspect of this show.
I mean, have you seen Peyton or Chris give any interviews or at any red carpet events falling all over each other talking about their relationship? No. Gotta respect that. Hell, once I saw the US article I contacted Peyton just to make sure it was ok to run with this in today's column, because having known for a few months now what was going on and purposely keeping my mouth shut, I didn't want to step on anyone's toes and have them be uncomfortable with me talking about it. But it's been long enough, everything is going great between them, and they're fine now with people knowing. They're actually dating like normal couples do and staying out of the spotlight. Which is why I have hope they'll actually make it. So, just wanted to fill people in on what was happening on that front in case you didn't know whether to believe the US story or not. You can believe it, but this is definitely not something that just started or is its development stages. They're a couple and have been since about September. But hey, at least US is on top of things. I swear, sometimes I think I should turn this site into a gossip/tabloid column considering the things I know about the inner workings and contestants from this show. I've definitely thought about it and it's certainly tempting.
This weekend is a "Bachelor/ette" reunion in NY. However, this one is a tad different than the ones you're used to seeing. The reunion with former cast members is Saturday night at the Gansevoort Park Avenue South Hotel, but it is ONLY for former cast members. Anyone who's ever been on this show is invited, but they can't even bring spouses or significant others (unless your significant other happens to be someone from the show). Why? Because it's basically going to be drunk fest and an open audition to see who can slut themselves up the most and secure a role on "Bachelor Pad 2". And I'm not just talking about the women either. Guys, you want on that show? Then you basically better be willing to tongue down with someone on camera Saturday night or you're probably sh** out of luck. I mean, the producers pretty much have an idea who they want, and who they know the audience wants to see on "BP2". Nothing is finalized, but the names you would expect are probably ones that will get cast. As for the reunion Saturday, cameras will be present and footage of this will be shown during the "Women Tell All" this season. Here's an interesting note: Anyone seen using a camera or a phone that night will be asked to leave. Guess they're cracking down on pictures getting out. Makes sense. I wouldn't want that debauchery on Twitter within seconds either. So sorry I had to ruin any secret information about Saturday night. Kinda what I do.
However, to make up for it since I'm such a great guy, there IS an event Sunday that's open to the public where you can meet all of them hungover. It takes place in Times Square and they will be donating used jeans to homeless youth. So to attend you must donate a pair of unwanted jeans from 11am to 1pm. After all the jeans are collected, they will be dropped off at a local shelter which is also open to the public if you want to attend. Cameras and cell phones will be allowed at the charity event because they want as many people as possible to see the good that they do, unlike on Saturday night, where I'm sure plenty of DNA will be exchanged. Fun times. See ABC? You hate me, but then you love me. I piss you off, but then I promote your charity event. What a swell guy. Hey, I'm here to help. They also made it clear that interviews will be taking place Sunday (ITM's if you will). So if you're a former cast member, and you don't get an ITM this weekend, consider yourself not cast for "BP2".
And one final note: Final casting for the "Bachelorette" was this past weekend in LA. Hope they found Emily some good ones. You know, as long as she wants it. So yeah, I'm on the ball. Told you I'd moved on already from this season. On to last night…
-Immediately we start off with Michelle's black eye. Apparently she doesn't know how she woke up with one, and no one else does either. And for two hours last night, the supposed crazy continued and at the end, no reason was still given. If I knew how Michelle got her black eye, I would've told you by now. I don't. And apparently no one else does either, including her. Michelle thinks she might've kicked her own ass overnight. Whatever. At this point, anything's possible. And because of that, thinks she deserves a 1-on-1 date. Hasn't she said that in every ITM of every episode? What makes this day any different? Yes Michelle, we are very aware you want alone with Pickelsimer. But now she's even telling us why she wants a 1-on-1 date: "I want Brad to kiss my eye and make it all better." This chick has no shame whatsoever. Kiss your eye? That's sexy? Seems a little slimy to me. How about this? If he kisses your eye, then you kiss his eye. His one eye'd monster. I'm sorry, but if you didn't see that joke coming from at least three sentences ago, then you don't know me well enough. I hope for The Pickle's sake, he never kissed Michelle's eye on her date. However, I do hope she kissed his yogurt cannon. I'm rootin' for ya, Dicklewimer.
-Holy crap! Apparently Aaaaasssshhhhlleeeee Spaaaaaaavvveeeey has a mean bone in her body. "Ah weesh ah wuz the wun that gave Meechelle her black ah. Ah wanna rip her hay-ed off." Really? Did sweet little Southern Ashley just say that? Somehow I can't picture that. Like, if Ashley got in a fight with another girl, I would think she'd let her win, make sure the other girl wasn't hurt in the process, then she'd give her a kitten afterwards to make her feel better. Not to mention a fight between Michelle and Ashley S might last a whopping five seconds. How many MMA elbows did Michelle show us in ITM's last night? 15? 20? That chick looks like she'd throw down with anybody right about now. Maybe instead of making cheesy romantic comedies like "Midway to Heaven", maybe she should be auditioning for "Fight Club for Girls". Any chick waking up with a black eye and having no idea where it came from is a bad ass. And God forbid she actually did beat herself up just to get his attention, then even more power to her. "Makes me that much stronger, makes me work a little bit harder, makes me that much wiser, so thanks for making me a fighter…"
-Host Chris looking dapper in the sweater he stole from his grandfathers closet informs the ladies that once again, there'll be two 1-on-1 dates and a group date. And if you checked Reality Steve's spoilers already, you'd know who's on them. Nickeldimer picks Chantal up for her 1-on-1 date in a helicopter. Oh yeah, last nights episode was sponsored by Helicopter Association of America (if there is such a thing), and the word "reassurance". If you'd like to know the reason for why the helicopter that picked Pickle and Chantal up at the mansion isn't the same one that dropped them off in Catalina, go to Chris Harrison's blog for your answer. I've got better things to care about. And exactly how many women needed to be reassured of their status last night? Oh yeah, only the ones that even had a chance in this. Funny how the ones who aren't freaking out and worrying about all the kissing are pretty much the ones who know they're going home. It's all the women who get far in the show that constantly need attention and reminding Wicklescheimer what it was like when he did the tango on their tongues. So Chantal is in the helicopter on her way to Catalina Island, the land of where Tenley and Kiptyn became "Kip-Ten", and where dreams do come true, and unicorns and rainbows appear every morning at sunrise, and where they'll convince you they had their first kiss, and…ugh, I just projectile vomited on my computer screen. Chantal is nervous about this date: "I married my high school sweetheart, so after we got divorced, I hadn't really ever dated before." Hmmmm, yeah, tell us a little more about that divorce Chantal. Haven't heard you speak about it at all. Anything interesting? No? You'll just kinda gloss over any important details? Ok, got it. No problem. I'm sure I'll be reading about it shortly. But thanks for the help.
-Chantal is scared of water we find out. However, she's a trooper, and since every single date this season seems to fit the girl that's on it, Chantal will push through because "I need to do it to face my fear. I have to do it. Little Pickletimer won't like me if I don't." I think my answer in Friday's email bag about who chooses which women go on which dates should be pretty clear about now. Brad has ZERO say in any of it. These producers know EVERYTHING about you before you walk on this show, and they tailor the 1-on-1 dates to something you're either afraid of, or has meaning in your life. These aren't coincidences people. It's television. However, Chantals fear is really beginning to get the best of her. So much so that she delivers the dirtiest sexual innuendo in the history of this show. I can't believe this made network television at 8:15pm. "My biggest fear is I'm gonna go down there, and I'm not gonna come back up." I'm not just speaking for Brad when I say this, but also for all of mankind. Chantal, you are a Goddess. Don't ever change. I think Brads handler should've broken the rules and told him what you just said in an ITM so he could've proposed to you right there in Catalina. Instead, he had to wait til South Africa for you to orally take the temperature on his meat thermometer.
-After walking underwater and looking like that one villain from Scooby Doo that always used to freak me out, these two head to the beach for some serious talk. Like, about marriage and stuff. Whippleclimber: "Do you want to get married again?" Chantal: "I totally want to get married again." She then tells him she was married for 4 ½ years but with him for 10, and she wants a family and kids. Yet, no details given again on why that marriage of high school sweethearts, who'd spent 10 years together, dissolved so quickly. What a shame. And of course she wants to get married again. I mean, especially in her situation, who wouldn't? You know, having your divorce finalized in Dec. of 2009, shortly afterwards already applying to be on the "Bachelor" then leaving in September of 2010 to film the show, and six weeks later getting engaged. I mean, of course that's normal. That's SO how people fall in love these days and how long lasting marriages begin. These two are definitely off on the right foot. Someone who came there with the purest of intentions, completely removed from all her ex-husband baggage, and falling in love in six weeks and becoming engaged to Picklefarmer. Doesn't get any more romantic than that, I tell ya'. They should make a movie out of this.
-The fawning over each other continues. Chantal: "I like you." Stickleheimer: "I like you a lot too. Absolutely. No doubt about it." This is very lovey dovey at the moment. If I didn't know any better, I'd think they liked each other. But being outside of the little cabana, it started raining on them so Stephen Bradley Womack decided, "Uhhhhh, maybe it's best if we go into the cabana and chill here for a while, you know, since it's raining and all and maybe if we pull the curtains a bit, we can get some privacy." It was at this point that they cut away from Catalina and went back to the mansion where Michelle was trying to come unbuckled from the straight jacket she was in. Since they needed to foreshadow a bit, they had Michelle talking about how she just doesn't like Chantal whatsoever. "She's loud, and hard, very focused, and headstrong." Hello, pot? It's the kettle calling. Sorry, but I still don't buy the crazy on Michelle. She's an actress, she came on the show knowing exactly what she needed to do to get screen time, and she did it. Not that the chick doesn't have 100 skeletons ready to fall out of her closet, but the "crazy" factor that they amped up for her is a bit over the top, no?
-Chantal apologized to the little Pickleshiner for slapping him saying she wanted it to be more playful, but she ended up hitting him harder than she thought. Tripleheimer obviously didn't care, gave her a rose, and told her to shut up and stop talking so they could make out. Pretty direct and to the point if you ask me. And apparently rain is good luck according to Chantal. I mean, I guess so. It worked for Jason and Molly's wedding, and already these two are getting rained on during their first 1-on-1 date. Could've been a sign of things to come or could mean nothing at all. If Chantal wants to believe rain is good luck, so be it. Considering it rains about 300 days a year where she lives, she must have good luck every day of her life. Brad seems smitten with her, she basically tells Brad everything he wants to hear cuz she wants to win, and they're happy as clams. I see a bright future here. Children, puppies, rainbows, and her running the books down in Austin for Brad and his bars. Because, you know, after we saw her hard at work with daddy (she even uses a pink highlighter for the important stuff!), it's no doubt she'll be able to answer phones and take "While You Were Out" notes for the Womack brothers. This should be one hell of a marriage. It's funny, even though every spoiler I've given so far has been right, I still get plenty of emails from people with theories that I'm wrong about the ending. These people are clinging to me being wrong last season as the reason I'm wrong this season, which is kinda stupid since one season has nothing to do with the next. One small problem with their theory: I'm not. As I spoiled back in December, and re-iterated on Jan. 1st in a tweet, "The worst kept secret in TV right now is who Brad's final choice is." Sorry. But it's her.