For episode-by-episode spoilers of Brad's season, click on the link above that says "Bachelor Brad Spoilers". It has a breakdown of every date, rose, and elimination, all the way down to Brad's final choice. However, there will be spoilers talked about throughout the course of this column. You've been warned.
So the New York reunion was this past Saturday night, with the "Jeans for Teens" charity event Sunday afternoon. No, I did not attend for those asking. But whoa. These people are ridiculous. I really hope they passed out condoms to everyone the minute they checked in to the hotel considering all the hookups I've heard about. Sorry, not naming names. Not gonna throw these people under the bus, although some probably deserve it. But hey, do you really wanna know who hooked up? Here's what you do. Make a list of the names of everyone who went: Girls down the left hand column, guys down the right hand column. Start making a bunch of lines connecting girls names to guys names, even multiple lines coming out of either a girl or guys names, and I guarantee you some of them will be dead on. What did I tell you? These reunions are nothing but a mask to get these people drunk so they'll start banging each other, then they have built in storylines for "Bachelor Pad 2" when it begins. They want people who have a physical past together, and nothing else. They don't have to have been a couple, just some sort of hook up, and you'll probably see them in season 2. It's amazing the debauchery that happens at these reunions. Apparently self respect and dignity is thrown out the window. What people will do to get on TV boggles my mind.
This has been brought to my attention, so I figured I would address it. I've finally gotten an answer. It's bugged me since I first saw this promo before the season started because I knew it wasn't any of the women on the show. It's of Brad hugging a blonde woman, we only see the back of her head, and he's crying. Here's the pic I'm sure you've all seen in the promos: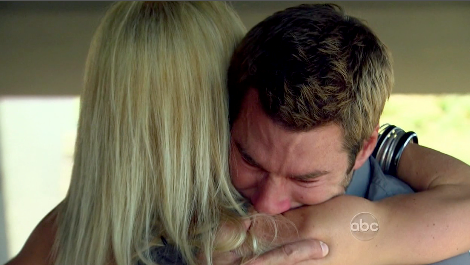 I'm here to finally give clarity to who this is. We only have two blondes left on the show, Emily and Britt. Well, it's neither of them. The person Brad is hugging is his sister-in-law, Dillon, who is his twin brother Chad's wife. This takes place in South Africa when his family comes to visit them. Hell, they might not even actually show this scene later this season and just used it to get people to start talking about which girl it is. So there. Put it to rest. That's who it is.
Ok, so I've already been asked a few times today about the four women getting tattoos in Vegas that was never shown, so did it really happen. If you read Chris Harrison's blog today, you'll see that he talks about it, and says the four girls I told you did in fact get tattoos but due to time constraints, and time they think better spent showing Brad talking to his therapist, they left it on the editing room floor. But for info of which girls got what, you can read what he wrote. You're welcome for the plug, Chris. Always here to help. And the reason I help is because your show is about to undergo a major attack of credibility in the tabloids. You're gonna need all the help you can get in the meantime to actually have people believing any of the stuff being spewed this season is sincere.
I want to point out something very important. Every week on ABC's "Bachelor" page, they've been posting a lot of humorous hand held camera videos taken by the girls when they're in the house. They're calling them the "Uncensored" videos. Most of them are entertaining, but this one, takes the cake.
I think I can say this with all honesty at this point. I've never wanted to be a giant teddy bear so much in my life. I mean, these were already my favorite two of the season, and now I find out they slept together on the show? Are you kidding me? I don't care what any of your religious beliefs are, but I'm telling you, it's videos like this that proves to me there's a God. On to last night…
-So disappointed that Host Chris didn't bother snaking anymore of his grandfathers wardrobe for this episode. Maybe steal his polyester pants or argyle sweater perhaps? Nope. Didn't happen. He went back to his old look of a Nordstrom's mannequin to tell the ladies they are leaving the mansion for good and on their first trip they'll be going to Las Vegas. This has most of the women screaming, giggling, and climaxing. Ok, I added the last part. Of course, Michelle has different things on her mind. No, not Carlos Boozer and how she ruined his marriage by claiming to have absolutely no freakin' clue that an NBA player was married (she's heard of "google", right?), but her reasoning for why other women need to be leaving the house immediately. And let me tell ya', this about as solid a reason as any that you'll ever hear of. Michelle: "I'm ready for these girls to go home because I need space for my luggage." Yeah, that pretty much sums up Michelle for you. Pretty funny actually. I'm telling you, she might have one the shadier pasts of any former contestant on this show, but I'm sorry, she is downright television gold at this point. Who have you talked about every Tuesday morning for the last five weeks with your friends? Exactly. Michelle. She's playing a character, she's getting air time, and is highly entertaining. I also want to personally thank her now that I've added her "Boom!" elbow into my late night drinking and dancing routine. It was a hit.
-The date card arrives and Michelle reads it. "Shawntel N. Lets end tonight with a bang." Obviously the joke writes itself here, but I found it ironic that Michelle read it. Considering all the grief Chantal gave her last week for being the only one to receive a date card that didn't have the word "love" in it, how did Michelle not go in to character and say "Oh my God. It doesn't say love in here. I wonder what that means. Does it mean he doesn't love you? You think he's having second thoughts about you? Why do you think it's not in there? I don't understand. He said it in all the other ones outside of mine." She easily could've gone in full freak out mode but didn't. So disappointing. I expect more from you Michelle. Your big (well, small) movie premiere is coming up soon and you need to start showing all the directors and producers out there your acting chops. Sure, you've been on your game for the first five episodes, but you can never let up. Always be on your game. You'll never know who's watching. What if Christopher Nolan was watching last night looking to cast his next vixen? Stay on it. We need more of you other than lame "Midway to Heaven" movies that'll be on Netflix in probably a month. And oh yeah, for the record, since the news was reported last Wednesday of Michelle admitting to an affair with Carlos Boozer, the Chicago Bulls are 2-0 with wins over Orlando and Indiana. Boozer's stat lines:
Fri. 1/28: 16 pts, 16 rebs
Sat. 1/29: 24 pts, 10 rebs
Look at that missie. His game hasn't been slowed by this at all. In fact, those are above his season averages. Maybe time to start re-kindling the flame, huh? The possibilities are endless. I mean, c'mon. I'm sure he loves you. He probably told you that. And that you were the only one for him. And you were the first time he ever strayed from his marriage. You know, all the things athletes say to get in your pants before leaving you high and dry once they move on to the next city. Unbelievable she fell for it. Well, not really.
-Shawntel informs us this is the first time she's been to Vegas. She's from a small town called Chico, CA. Maybe it's a small town, but anyone who knows anything about college partying knows Chico St. is always ranked in the top 10 in party schools in America. So the town should have at least a few partiers there, right? How this chick never made it to Vegas in 25 years is beyond me. According to the internet, the distance between Chico and Vegas is 442 miles. So either you're too much of an embalming nerd that doesn't like to have fun, or…well, I guess I just answered my own question. Despite her inner geekdom, Nipplehymen is smitten with Shawntel. "Shawntel is an incredibly sexy woman. She's sexy without even trying to be, and that makes her more sexy." I don't see that, but whatever. Different strokes for different folks, I guess. Cute girl, kinda quirky, wouldn't kick her out of bed by any means, but ummmm, yeah. The whole job thing. Good for her. She loves her profession, she's dedicated to it, and that's wonderful. Just enough of the dead people talk. She even said on the date that when guys find out about her profession they get kinda creeped out. Yeah, count me in. I'd go to bed every night (of course after a long night of passionate love making to her) thinking I'm gonna wake up in the morning and she'll have gone Lorena Bobbit on me. Might cut into my beauty sleep.
-So Shawntel gets to go on a shopping spree on Brads, uhhhhh I mean, ABC's dime. Of course, before any part of the date starts, Shawntel must go running and jump into his arms since they made a pact last week to do that. Whether or not this tactic actually works I have no idea, but it sure is cheesy to watch since we've seen women jump into the guys arms for what, 15 straight seasons now? Ummmm, what you're doing isn't original Shawntel. It's actually nauseating. She must not have gotten a lot of hugs as a little girl or something. So even though Shawntel has never been to Vegas, and probably has no idea what's in any of the stores, she basically gets to pick out anything she wants and its hers. Already some of you have asked if she gets to keep what she bought. Yep. She does. Just like Jackie got to keep her earrings from her date. In the past, this hasn't necessarily always been the case, but since their budget has been going through the roof in recent seasons, giving someone $5k worth of clothes really isn't that big of deal to them. You figure it's the least they can do considering how manipulative and unreal the show is. Hell, she should ask for a week's vacation to a destination of her choosing.
-After the shopping spree in which Dickinsideher already got to see Shawntel try on the dress that she'd be wearing that night, he picks her up for the date at the suite and tells her how fabulous she looks again. So he's Mr. Short Term Memory now? "You look incredible." You mean more incredible than she did a few hours ago when she had on the same dress? And lets face it, it's not like Shawntel is a giant make-up girl or did anything really fancy with her hair. So basically you got the same package re-wrapped that you saw earlier in the mall. Whatever. Kind of lost its luster if you ask me. But hey, Brad's got a date on a rooftop everyone! By the way, Michelle is not happy about Shawntel's shopping spree and makes it known. Don't know if it was because she wasn't the one on it, or if it had anything to do with she's the one used to having stuff paid for by older married men and she felt Shawntel hadn't reached that type of "status" yet. I guess she feels she's the only one that deserves that privilege of being pampered by rich, married men. Hey, it happens. There's plenty of it going on in America and there always will be. You're one of many, Michelle.
-So to say Shawntel and Kindlereaders dinner conversation was interesting is quite the understatement. Actually got a kick out of it to be honest. One of the few moments this season that I actually laughed. Of course it centered around her job being a funeral director/embalmer. Sexy stuff, I tell ya'. I mean, who wouldn't get turned on by talks of incisions, embalming fluid, and my favorite, "draining the vein"? Did she really say that? I mean, really? I bet Whistleslimer had all sorts of thoughts running through his head when she said that. I know I sure did. But unbelievably enough, we actually got to see Brad laugh during this date. He managed not to turn into Robot Brad with the same phrases, same expressions, same overused adjectives, and all his apologizing. The guy actually cracked a smile over the ridiculousness of what Shawntel was describing to him over dinner. I mean, we saw the EDITED version. Imagine sitting there having to listen to all that in real time? I might've requested that she drain my vein to at least lessen the pain I would have to endure to sit through that. But of course in the end, he gave her a rose by telling her "You're the hottest funeral director I've ever met." And that may be the case. But, it's not really saying much. It's like winning first prize in the pig contest.