For episode-by-episode spoilers of Brad's season, click on the link above that says "Bachelor Brad Spoilers". It has a breakdown of every date, rose, and elimination, all the way down to Brad's final choice. However, there will be spoilers talked about throughout the course of this column. You've been warned.
Still going strong with REUSE jeans. Can't tell you how appreciative I am of the purchases you've made. I support sustainable denim line REUSE Jeans and think you should, too. Shop online at REUSEJeans.com today and save 35% with promo code REALITYSTEVE35. We're gonna be running it through the end of the season, so get on board. Click on the picture below to be taken to the site: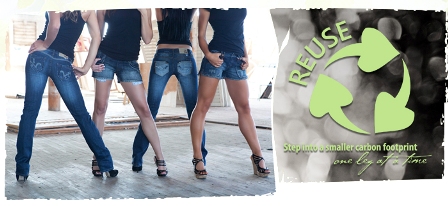 So last weekend was the reunion in NY where about 70 former contestants showed up, all trying to get cast for "Bachelor Pad 2". They're not wasting any time, as there's a reunion in LA tomorrow night, with a charity event on Sunday. And same rules apply. Can't bring your phones or cameras to Saturday's party and it's exclusively just for former contestants. Sunday's charity event is open to the public. But hey, if you wanna show up and watch these people walk into the party, the event is at the H.wood bar. Geez, they must be on barter with that place considering that's where they seem to hold a bunch of events. Or better yet, book a hotel room that night and try and sleep with one of them (which shouldn't be too hard based on last week's debauchery that went on). People staying at a hotel are booked at:
The Hilton Universal
555 Universal Hollywood Ave
Universal City, CA
Last week, you had eight "Bachelor Pad" alumni at the reunion (Gia, Wes, Nikki, Gwen, Kovacs, Peyton, Dave, and Jessie ). I'm guessing in LA, you'll have probably most of the ones that didn't attend in NY (Weatherman, Krisily, Kiptyn, Tenley, Natalie, Michelle, Juan, Jesse, and Elizabeth). And I'm guessing that anyone who attends BOTH events is probably a shoe-in to be cast on "Bachelor Pad 2". So just look for repeat "offenders" once the pictures come out and you'll have an idea of who you can expect to see in the future.
For those that didn't see it, Ashley Spivey did her conference call with the media yesterday. This was a condensed version of it courtesy of Film.com:
How awesome was it that she admitted she was more into Ashley H. than she was to Brad? Now, of course you'll probably assume that got my pants all tight with the thought of those two being in love, but I get what she was saying. I highly doubt she's a lesbian. Hey, all the power to her if she is, but I think she meant she basically has a new best friend. And at least someone in that house backs me up in regards to their feelings about Michelle. Isn't it funny that someone who was actually there and lived with her says Michelle was one of her favorite people in the house and she's shocked to see what she's seeing on TV? Not surprising. Pretty much goes to show that all the acting Michelle was doing was in her ITM's to play it up for the cameras. If Ashley liked her that much, I'm guessing others did as well. Actually, I've yet to read anyone's exit interview actually that had a bad thing to say about Michelle. Ashley's longer, fully transcribed interview is over at Wetpaint.com. Really good interview where she actually gives some good insight to what we didn't see on her 2-on-1 date, and for the most part, kinda admits that she wanted to go home at that point.
So I guess after a couple weeks of the email questions improving, we went back to "Bachelor 101" with some of today's questions. Yikes. I thought we were making progress people? Still some decent questions in there with things getting answered, but for the most part, some people went stupid on me again. Hey, I'm here to educate and share with you the minutia that I deal with on a day to day basis. So here we go:
_____________________________________________________________________
Steve,
If you had the opportunity to date any former contestant, who would it be and why?
Comment: Tough question, and here's why. I could never date anyone from this show that is still totally invested in everything that surrounds it. And since about 95% of them still are, that doesn't leave me with many options. This show is not my life. I have plenty of other things going for me other than this blog. The last thing I want to do is involve myself with someone that is so "Bachelor/ette" crazy, that all they want to talk about is the show, and reunions, and parties, etc. Not to mention the ones that have already hooked up with a bunch of former contestants. Ugh. That'd drive me nuts. So that's one reason I could never see myself ever dating anyone who was on this show. Too many of them let this show define who they are. No thanks. Not for me.
The second reason is, well, it works both ways. Who's to say anyone from this show would even want to date me? I don't know. Sure, I'm friends with a few, but that doesn't mean I'd date them, or they'd date me. So I don't really think about it much to be honest. If I did, that person would seriously have to convince me that they don't give a crap about this show and never want to have anything to do with it ever again. That won't be easy to do.
_____________________________________________________________________
Hi R.S…I can't get enough of your column. My thought is that I too am suspicious of all the publicity surrounding Brad & Chantal. I think it is Mike Fleiss quest in life to discredit you, so I think he will stop at nothing to get you. I can't believe that the show would allow Brad to spend Thanksgiving with Chantal's family before the show was on. Also that Chris H. would be going on talk shows and comparing them to other couples. Something smells fishy to me. I think they are setting you up. Be careful Steve and watch your back, can't live without the column.
Comment: First off, I don't think that's Mike Fleiss' "quest in life". I'm sure he doesn't like what I do, but honestly, there's nothing he can do about it. You tape your show in advance, stuff is gonna get out. I think they're starting to accept that fact more and more as each season goes along.
About the Thanksgiving dinner, let me be clear about this. It's not like Brad and Chantal were walking the streets of Palm Desert, holding hands, waving at fans and talking to people. It was a secret, private get together all done under ABC's watch, that I just happened to find out about. I guarantee they never thought in a million years me of all people would find out about that dinner, but I did. And how I found out about it was about as random as you could get, so even I was surprised. Will the show, or even Brad and Chantal, ever confirm that meeting took place? Probably not. So more than likely it will never get confirmed. I just know it happened, and whether you want to believe me on that is strictly up to you.
_____________________________________________________________________
Obviously we know how much you LOVE Ashley S. I personally can't stand either Ashley at this point in the season. (Not that you asked my opinion)
Looking back over the seasons, who has been your favorite contestants? How about your least favorite?
I know you said there is more to come out this season including things to do with Emily. I can't wait to see.
Also, do you think Michelle gave herself the black eye? We know she's crazy!
And! I know age is just a number, but Brad is 38. I think they had one girl over the age of 30, minus Michelle who turned 30 this season, as she felt the need to share 10,000 times do the contestants have any say in the age range they want? Or what they find attractive?
Comment: Favorite contestants? You mean, like most entertaining to watch, or ones I truly liked? There's plenty. People know the Ashley Sisters are my favorites this season. I was always complimentary of Molly during Jason's season, and that was before I got to know her. My issue was always with Jason, and not with her. I liked the Sarah girl that Travis chose. Kinda hard to distinguish since some of these people I know a lot better now than from when they were on the show. Those people know who they are. Least favorite? That's easy. Jesse Csincsak. Don't care for the guy whatsoever, and I believe the feeling is mutual on his end. People seem to think I "hate" certain people on the show because of what I write. Well, then those people just don't "get" it. I don't hate anybody on this show. I don't know most of them. What I write has nothing to do with how I feel about them as a person. It's fun, it's light hearted, it's sarcastic, and I'm just making fun of what I see on TV. Nothing more, nothing less.
No idea how Michelle gave herself a black eye, and I don't think anyone else does either. Unless she clarifies it on the "Women Tell All", I don't think we're ever gonna get an answer.
No. At least this season, the lead has no say in who they cast for this show. That's the whole joke of it. They're not casting the 25 most eligible women for this particular lead. They're casting a TV show. If it were really about finding true love, all 25/30 contestants would go through the most extensive interview process, and after sitting down with the lead and going over the all the things he's looking for in a significant other, only then would everyone be cast for the show. But that's not how it works. They just cast a bunch of people who'll make for good TV, and if they so happen to end up with a connection to their lead, then so be it.
_____________________________________________________________________
I believe you may have addressed this in previous columns, but I'm curious about the engagement rings on this show. I know that Neil Lane typically supplies the rings for the ladies/men to choose from on the finale show, for what I'm assuming is at no cost to them. My question is when/if these couples call it quits (as they usually do), are the contestants required to return the rings to Neil Lane or ABC? If I remember correctly, only a few Bachelor's in the history of the show have ever said that they purchased the ring (Firestone maybe?), so I just can't imagine ABC would let these women pocket a 3 carat rock. Is this written somewhere in their contracts?
Comment: The contract states (and I'm not sure after what season this was put into place, but I know it's not always been like this), that the ring you are given on the show, if you break up within 2 years, you have to give it back ONLY if the producers ask for it. Apparently they haven't always done that for some reason. So if you get engaged on the show, break up, and for whatever reason aren't asked for the ring back, then yeah, you can sell it. If you last more than 2 years, then you break up, it's yours to keep to do whatever you want as well.
_____________________________________________________________________