For episode-by-episode spoilers of Brad's season, click on the link above that says "Bachelor Brad Spoilers" (it's like, 1″ inch above this sentence). It has a breakdown of every date, rose, and elimination, all the way down to Brad's final choice. However, there will be spoilers talked about throughout the course of this column. You've been warned.
So there's been a lot of discussion since Friday's column regarding the Laurel article that came out in US Weekly last week about her relationship with Brad. As I said Friday, I don't really think the article did all that great of a job in getting her point across since there's so much more to the story, and plenty of more texts that he sent her. Plenty of stuff people haven't heard and what exactly was Laurel's reasoning was for even doing the interview? I'm going to do something I've never done in 8 years in this column. I'm going to have a poll. Right now, I'm really on the fence. Part of me thinks that you don't care about this story, think it's a non-issue, and that it should just go away. Another part of me thinks, knowing how much people enjoy being voyeurs about this show and loving all the dirt and gossip that it brings, that you would love to actually hear what Laurel has to say regarding the article and all the stuff that didn't come out in it. So, very easy question for you to answer in the poll below. I have a percentage in my head of what it would need to be before going forward with the interview. If it doesn't get to that percentage, then I won't do it. If it does, then I will. Simple as that. Please vote now. You can only vote once per computer, so it's not like this thing can be rigged in any way:
In case you haven't noticed, I have updated a few things on the site. Since SOOOOO many people still can't seem to figure out where the spoilers are and what to click, I've made that process a tad easier. The "Bachelor Brad Spoilers" link at the top of the page is now sitting there by itself. You can't possibly miss it. I've also changed the "Read more" link (which brings you to the next page for those who could never grasp that concept) to now "Click here to read more" also in a bigger font. So even if you are skimming and don't read every word on the page, I don't know how you could possibly miss in big, giant font "Click to Read More". Hey, maybe it should've always been this big so I could've avoided the "Hey, where do I click to read the next page of the post" questions. Mind boggling. Do those people reach the end of the page in a book and ask, "What do I do next" too? Anyway, you can't miss it now, so hopefully that will help you navigate better. And finally, the "RealitySteve" text in big orange letters at the top of the page, is now a link back to the home page. So if you're on another page, instead of clicking that small "Home" text to return to the homepage, you can just click on the big "RealitySteve" text in orange letters. I'm like 2nd grade proofing stuff for people now. Lets see if the confusion still continues. Ha ha.
And yet another addition to my site this week? That'll come in Friday's column. Haven't done this in about two years, so I decided I'm gonna have a little fun on Friday. Hope you all enjoy it.
Before we get started, I wanted to promote something for my friend Holly Durst. As you know, she is engaged to Michael Stagliano (yes, they're still engaged) from Jillian's season and have entered a contest to win their dream wedding. So, please go to this link and vote so Holly and Michael can hopefully get an all-expense paid boffo wedding:
And finally, a couple people came to me yesterday saying there's a big rumor floating around Austin right now that Brad and Emily were seen out together this past weekend. Now that's laughable. Even if Brad did pick Emily in the end, which he didn't, he's not allowed to just troll around his hometown with her on his arm for everyone to see. Uhhhhh, that'd kinda be giving away the ending. So lets just put an end to that rumor right now. Brad was not with Emily this past weekend, not only because he wouldn't be allowed to, but because he's not engaged to her either. He's happy, in love, and engaged to Chantal. I cannot be any clearer than that. I've said it in basically every column since Dec. 8th and it's certainly not going to change. Trust me. That's who he chose. On to last night…
-When the show started, I thought it was interesting as all six girls are coming to shore on the boat, that three of them are dressed exactly the same as they were in the picture that I posted back on Oct. 27th when someone was at the St. Martin airport and saw the girls at baggage claim. In fact, Chris Harrison even mentioned it in his blog today that tourists were snapping pictures of them at baggage claim. In case you weren't following the site in the "off-season" (which you probably should because that's when I'm usually leaking stuff months early), here was the picture I posted back then (Don't mind all the arrows. At the time, I didn't know which girls were which outside of a few):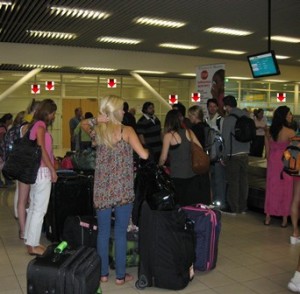 As you can see, Michelle, Emily, and Chantal are in the exact same clothing they were in when they arrived on the boat. Emily's floral top with jeans, Michelle's white pants and pink top, and the pink dress that Chantal is wearing by the baggage carousel. So they arrived in St. Martin that day, then took a ferry on over to Anguilla, then hopped in a boat and were taken to shore. One side of me wants to feel sorry for the constant traveling and getting off a plane and immediately filming that day. The other part of me says, "Suck it up wusses. It's a free vacation in the Caribbean." I think I'm leaning more towards the latter.
-First date card arrives and says "What's three things you would take with you on a deserted island? A picnic lunch, champagne, and Emily." Awwwwwww, how cute. Although, all the things that incorporate a picnic should each count individually. I mean when I hear, "You can bring three things", a "picnic" is like 10-15 things depending on how big it is. Kind of unfair, but whatever, this is fantasy land they're living in. Brad asks Emily what she wants to do today as if she has any say in the matter. "Yeah, I think I'm down for some outdoor barbequing, maybe play a little Frisbee, then build sandcastles. Whaddya' say?" Yeah, not gonna happen. You will do what the script says you're gonna do today, so Brad stop asking her rhetorical questions. A helicopter comes flying in to pick them up and Emily couldn't be more surprised or more blown away by Brad's thoughtfulness. Emily: "You do too much on our dates." Really? So you think Brad booked that helicopter all by himself, huh? Emily, I know you're blonde and all, but please don't tell me you're this stupid. And it's not like he actually wanted this date to be with you anyway. Your name's not Laurel.
-The helicopter takes them to Sandy Island for a picnic. The beautiful waters, the sunny skies, the romantic setting, it was breathtaking really. So much so that this conversation ensued:
Brad: "I like it out here."
Emily: "Me too. (Long pause). What are you thinking?"
Brad: "Really, really cool view."
Emily: "Yeah, it's really pretty."
Brad: "Love it here."
Screw knowing what the spoilers are. We're seven episodes in now. How could anyone possibly think for a second these two are falling madly in love with each other to where he'd be proposing to her in a few weeks? Are people watching the same show as I am? The guy is pitching a tent and fondling Chantal every five seconds he's with her, and he tells Emily every four seconds that he's scared of her. Huh? Really? This far into the process and you're still not comfortable around the woman? Yeah, this is just bizarre. I've come to realize while watching this show that Brad is one giant weenie. Quit telling women you're scared of them after a month of filming. This is getting to be uncomfortable. Then again, when you've been in and out of therapy for 3 years (now that's funny), I guess your emotions will get the best of you sometimes. Except with Brad, it's all the time. Dr. Kajagoogoo would be very proud of you Stephen Bradley Womack. You're making progress. Now just quit telling Laurel's mom you want to marry her daughter weeks before the show and everything will get better.
-I loved how in one scene Emily's hair is soaking wet from being in the water, then the very next shot of her, it's dry. Great editing, people. Can you not make it so obvious next time how much of their conversation was spliced together? Thanks. Really appreciate it. Brad: "I get nervous around you…I move very slowly…I care for you more than I probably should say right now…I care for you a lot." On and on and on he went describing how great this boring date was and that he and Emily had this amazing connection. Uh huh. Sure he did. I guess he can keep trying to convince himself of that. Whatever floats his boat. I just found it quite humorous that sitting on Sandy Island, with a beautiful, plastic woman like Emily, Brad still found some time to sneak away and fire off a few texts to Laurel during his ITM's. That was real thoughtful of him. I'm sure he told Emily he was just conversing with producers about some production stuff, but we all know what he was doing. He's a tricky one that Bradley Pickelsimer. Turn off your phone during the date, man. Kinda rude. At least Sandy Island gets good reception, so that's a plus.
-So these two are now at dinner right on the shores of Sandy Island, which kinda sounds like a porn stars name if you think about it. Who wouldn't watch a porn with a big breasted blonde named Sandy Island? Where was I? Anyway, during dinner the big question arises regarding a hometown date with Emily and whether or not he'll meet her daughter Ricki. Brad: "Would you allow me to meet Ricki?" Then Emily comes back with probably the third or fourth biggest line of B.S. she's told this season. "I really never introduced her to anyone I've dated." I'm here to tell you that's a flat out lie. Yes, she has. Take my word for it. And it's not like that lie is that big of a deal either. Just like a couple of her other fibs aren't all that bad, I'm just curious as to why she can't be 100% honest with her past. Weird. I guess she really wants to play up her storyline so it's an easy transition into the "Bachelorette". I'm not sure. I mean, just the sole fact she's attractive, has a daughter who will never seen her father, and finishes 2nd this season you'd think would be a solid lock for everyone to fall in love with her. Which they have.
-The children talk continues. Brad: "It'd be huge to me if you'd allow me to meet her." Emily: "It's just so scary. It's starting to get so real. What are we gonna do? That's a good question." See, this was all just so dumb to show this part of their conversation. It's not like from the time this part of the episode was airing, til the time the previews for next week aired, that they spliced together stuff showing Brad meeting Ricki next week. Obviously it's an important conversation to have for them, but the parts of it that were shown were pretty anticlimactic considering they give away in the previews that Brad meets Ricki. I mean, seriously? Did anyone honestly think for a millisecond that Brad would go on a hometown and not meet Emily's daughter? Of course he was going to. Brad's all about family as he reminded us numerous times last night. This guy wants a family, wants desperately to be married, and being with Emily means he'd be marrying into someone else's family. That's a huge deal. Probably was a major deciding factor why he didn't choose her in the end. But for them to spend so much time showing us on their date talking about this stuff was nonsense. Of course we were gonna see Ricki next week. This show wouldn't have it any other way.
-Brad is so geeked right now, he's turning into a rebel. "I'll tell you right now. I'm giving you a rose. I don't care if I'm not supposed to do this. I'm breaking protocol. We're going to your hometown." Damn! This guy is crazy! Did you see what he just did? He told us he's giving her a rose before the rose ceremony even takes place! My head is going to explode! The guy is breaking protocol, he's talking about meeting children, he's taking Emily out into the ocean to make out some more. Man, this guy is seriously fired up right now. How much longer can he keep this up? You know what I think he should do? Head back to his room tonight, break protocol again, and contact Laurel while he's at it. You know, because he's so whipped on her and for 8 years they couldn't ever seem to get rid of each other. I think while he's getting paid a ton of jack to be on this show, and he's a month deep into filming, he should really be sending an email to Laurel asking her how she is. You know, because he's moved on and everything. Uh huh.