If you don't want to be spoiled about anything upcoming in Ashley's season of the "Bachelorette", I suggest you stop reading now. I will be confirming contestants for the show along with talking about things I've heard since filming began on Tuesday, March 15th. You've been warned.
No video blog this week. I was gonna do one, but then decided I'd take a week off after getting more confirmed contestants last night, plus, pictures of Ashley on her first 1-on-1 date yesterday in…Las Vegas. Shocker! They went to Las Vegas? Gee, they never do that. Anyway, here's what I can tell you about yesterday's 1-on-1. They went to the Bellagio Conservatory, then to the Jean Philippe Patisserie at the Bellagio where the two of them sat down for a prepared lunch by the chef. Then the last two pics are their dinner on the water in front of the Bellagio. As you can see in the lunch pic, Ashley is eating a wrap and Red Bull. I wonder if she laced that thing with vodka. Here were the best seven pictures sent to me. One problem, I don't know this guys name yet. He's not one of my contestants I have confirmed, at least I don't think he is. Regardless, looks like he raided Ryan Seacrests wardrobe. Or mine. Anybody knows who this guy is or his friends with him, just drop me a line. And judging by that last picture, we can now assume this guy got a rose. Here you go with our first exclusive pictures from Ashley's season taken yesterday at the Bellagio: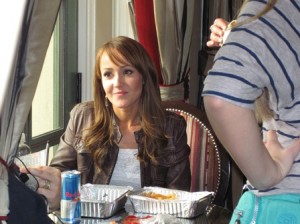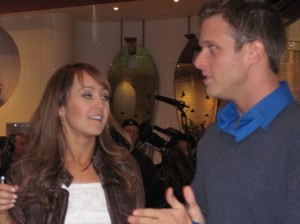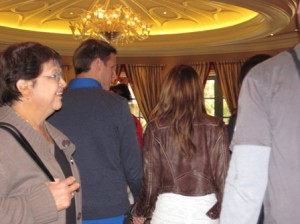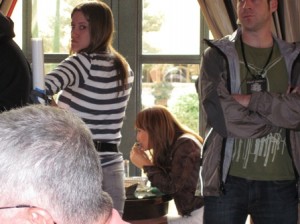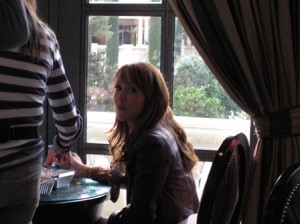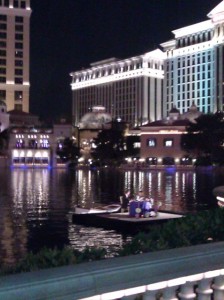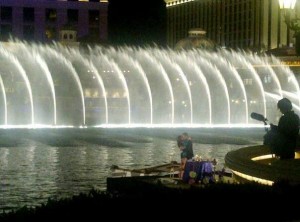 I'm sure you've heard me mention the name Cassie Lambert in recent posts. She's the producer that is assigned to the lead character that follows them everywhere they go. That's her in the black and white striped shirt looking over her shoulder. Hi Cassie! Wave to us! I love the look on her face knowing that pictures are being taken. She's probably like "Great. Only a matter of time before they end up on Reality Steve's site." Yeah, I'd say less than 24 hours isn't bad, huh? This is awesome. You know last season was the first time I'd ever been sent pictures during filming, and that's when the girls were at baggage claim in Anguilla after landing there. Never actually had any action shots of while the show was taping. Good stuff. Hey, anyone else that ever sees them out filming, take pics and send them my way. The more the merrier.
Now lets get to two more contestants that I've gotten confirmed for Ashleys season, which brings the total that I've released to three after releasing Ben Castoriano on Tuesday. I've got roughly 9-10 right now, but not all have pics, so I'm still searching for some. I'll release more as the weeks progress. Doesn't look like either one of these guys is the guy in the pictures above, but hey, we've got time to figure out who he is.
First guy is Chris Drish, he's 25, and an accountant coordinator for a law office in Chicago: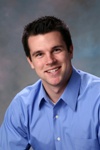 Our second guy might have a couple of the ladies feeling a squishy sensation below their waist considering he was voted "Cosmopolitan" magazine's Hottest Bachelor for the year 2010. I wonder if Jeff Razore is feeling a bit insecure right about now considering Chantal passed up mauling this hunk of beef to date him…ha ha. His name is Ryan "Mickey" McLean, he's 30, and he's a chef in Ohio at the "Flying Fig".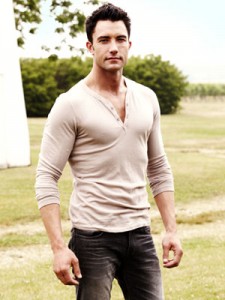 There's a few articles you can google about him if you want to know what makes him tick, or if he has an IQ that's reached double digits yet. Never know with these model guys. Looks like he and Brad are in a battle for longest time elapsed without having ever eaten a carb.
"Q&A with Ryan 'Mickey' McLean"
"Cosmo's Bachelor of the Year"
Hey, I have no idea what Ashleys type is at all, but something tells me our good friend Mickey here can basically punch his ticket to at least the hometown dates, if not farther. Kinda looks like Andrew Firestone a bit, no? Not that Andrew Firestone would ever win any Hottest Bachelor in America contest, but the facial features are somewhat similar. Only difference is Firestone is popping out babies left and right with his wife who took off her top in "Van Wilder" and "Wedding Crashers" and Mickey is chasing after Ashley Hebert, who put sea shells on her breasts in Anguilla. Winning?
Here are your "Reader Emails" for pretty much everything I received over the last week. Some good, some bad, some ridiculous. Pretty much par for the course for this weekly segment. You never know what you're gonna get. Here you go:
_________________________________________________________________
Have caught just a few of Brad's TV interviews, but you're right, he does seem uncomfortable & fidgety. Was thinking part of the reason might be because he's afraid he may accidentally say her name or divulge something about her that would give it away.
I'm surprised up to this point none of the Bachelors / 'Ettes have ever accidentally let the cat out the bag. So I assume they're coached at season's end on how to respond to interviewers' questions. To prevent a mishap do the show's producers insist they either get a list of questions beforehand, or have any inadvertent remarks edited out before it's aired?
Comment: They are very well coached in exactly what to say in every interview, how to avoid giving away the ending, and if a question ever comes up that is inappropriate or a leading question, there's always someone monitoring these interviews and they will cut off the interviewer if they feel like their trying to bait the lead. I wouldn't go as far as to say a list of questions is prepared beforehand, but on those conference calls, an executive is also on the line and will shoot down anything they feel is inappropriate. Like say, someone throwing out the name "Reality Steve" in a question. Those get cut off immediately. I know this because I've been told by people who've been on the conference call before. Sweet. I'm glad my name has become such a bad word with them.
_________________________________________________________________
Steve,
If ABC ever asked you to be the Bachelor, would you do it?
Comment: They would never ask me in a million years, nor would I ever consider it. They know who I am, I don't fit what they're looking for, and it'd be kind of hypocritical of me to make fun of the show for eight years then go on it, no? Sure, the pay day and the trips would be nice, but I'd never take it seriously, nor would they want me.
_________________________________________________________________
Hey Steve,
I was reading your Friday blog and I read the entry about the person
being upset about the lack of diversity on The Bachelor. Let's be
real, this is a show on ABC, so it is going to primarily Caucasian
people. ABC wouldn't want to stir up the pot. The formula they have
has been working for them for years, so why would they change it now?
With that being said, do you know if there has ever been a person on
this show with any type of physical disability? Oftentimes people can
physical disabilities and it may not be obvious to other people.
Although, it seems that ABC would advertise that fact as a point of
interest. I am only asking this question because I am hearing
impaired and wear hearing aids, but most people cannot tell I only
have five percent of my hearing. I am not the type of person to be in
your face about advocating for people with disabilities, but I do
think it is cool when people realize that just because someone is
physically disabled does not mean they are mentally disables as well.
(Trust me, it happens. When it does, I just tell them that I am 23
years old with a masters degree and kick ass sense of humor, so I
didn't hear what they just said. What?) Ha ha. 🙂 LOVE the blog!
Comment: As far as I know they haven't cast anyone with a physical disability. Well, other than Jesse Csincsak being a dwarf.
_________________________________________________________________
Do you consider the people you get to know from the show just regular people and you have a friendship with them as if they were never on the show?
Comment: Of course I consider them regular people. You know why? Because they are. The last thing I am is star struck by any of them. For the first eight years out of college I worked in sports talk radio. I've met plenty of athletes and been in plenty of locker rooms. I guess having grown up in Southern California and seeing famous people all the time, you become immune to it. I don't care about celebrities and their status. And I don't consider contestants on the "Bachelor/ette" celebrities in any way, although plenty of them certainly see themselves that way. That's what's kind of annoying.
Sure, when I do talk to them a lot of the time we joke around about show stuff, but by no means do I look at them as say, "Jeremy from the Bachelorette" He's Jeremy Anderson to me because I know more about the guy than what he had to offer on the show. I don't care that he was on the show. Would I have gotten to know him if he wasn't on the show? Probably not. But I don't look at any of them any different because they were on a reality TV show. That'd be idiotic. They are regular people just like you and I that just so happened to be on TV for a few episodes. And not just with this show, but in general, I've never understood people who are star struck by people they see on TV. Don't get it.
_________________________________________________________________
Hi Steve,
as you mentioned in yesterday's column how much you enjoy receiving emails from foreigners, I decided to write to you in the hope that my language skills don't seem equivalent to those of Anguillans, Jamaicans or Jesse thingamajig's. If errors creep in, I'll at least have the excuse that English is not my native language. I might very well be your first fan from Germany. To my knowledge, the show is not airing on German television, but I'm watching it online because I find it entertaining. We had a German version of the show, but only two seasons (back in 2003/2004): One season of The Bachelor ("Der Bachelor") and one season of The Bachelorette ("Die Bachelorette"). Needless to say that it didn't work out with their final choices. I only remember how everybody made fun of it. The show's concept is so ridiculously absurd. I love how the bachelor stands in front of these women and hands out the roses in such a solemn fashion, as if it was the most important thing in the world. And these women receive the roses so appreciatively. Yeah, I know it's a nice, symbolic gesture, but that doesn't make it less ridiculous. I also like if somebody gives me flowers (all women do), but then, he won't give them to ten other women at the same time. It doesn't exactly make you feel all that special.
I also have a tiny question for you. I would love to read more "testimonials" (in lack for a better term) from former contestants. I really enjoyed reading about the application process, very interesting what these candidates have to and are willing to endure just to be on this stupid tv show. Maybe you could ask one of the former contestants you are friends with to talk about the whole process in a little more detail? I would love to get more background information, esp. about stuff the contestants are not supposed to talk about. You know what would be really cool? If you could get a future candidate of the Bachelor /Bachelorette/ Bachelor Pad to jack one of the questionnaires the candidates have to answer, but that's probably too much to ask.
Comment: Now I have fans in Germany? Awesome. I had no idea. I like that out there it's called "Der Bachelor" and "Die Bachelorette". That's just funny to me. What a surprise, it failed in other countries too. What's the adrenaline dates on the German version? On a firing line to see if you can avoid getting sniped? A game of Russian Roulette? The possibilities are endless.
I doubt I'll ever be able to get a copy of the questionnaire considering they have to turn it in when they're done with it, but hey by all means, if I ever get that thing, you bet your ass I'll post it so you can see all the ridiculous questions they ask.
_________________________________________________________________