If you don't want to be spoiled about anything upcoming in Ashley's season of the "Bachelorette", I suggest you stop reading now. I will be confirming contestants for the show along with talking about things I've heard since filming began last week. You've been warned.
Reality Rocks Expo in LA is happening two weeks from today at the LA Convention Center. We're gonna be having the drawing next week in regards to people who are interested in attending and getting free passes into the event Saturday and Sunday, April 9th & 10th. If you're interested in being included in the drawing, just send me an email to steve@realitysteve.com and just give me your name and say you'd like to be entered in the drawing. Gonna do the drawing live sometime next week on the video blog. DeAnna Pappas, along with plenty of other reality TV personalities will be there all weekend to meet. Including me. Well, I'll just be there on Saturday, but that should be good enough. Prior commitment on Sunday I have to attend. Click on the link below to read all about the event:
A lot has happened in the past week in the filming of the show, so let me update on you on that. Now, because this was still in the States I'm pretty sure is the reason I was able to get pictures and other updates. I'm guessing once they leave the mansion for good, which will be later this week, I will not have as much access to as many pictures as people have been sending me. But hey, so far so good. I basically have pictures from every date that's taken place except this past Saturday's 1-on-1. I've heard since the beginning of the season, that they are only spending one week at the mansion before they begin traveling. Here's where we're at right now:
-Filming started Tuesday, March 15th with 25 guys
-They started filming in Vegas two days later with a 1-on-1 date Thursday, group date Friday, and a 1-on-1 date Saturday
-Back in LA to begin filming dates this week, one of which took place Monday that a whole bunch of people witnessed
-During the first week of April, filming will begin in Phuket, Thailand
(In Las Vegas)
Thursday: I already showed you the pictures of her 1-on-1 date at the Bellagio that was in the last post. I still have not identified who this is yet, but I expect to have it soon. Safe to say this guy probably got a rose.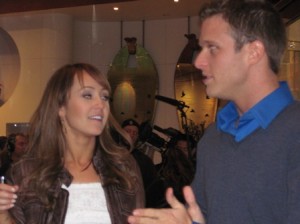 Friday: Group date at the Monte Carlo hotel. There were 10 guys on this date. One of the pictures I have has a good front shot of the 10 guys faces, but I've only identified five of them so far, so I'll wait to post that picture. Here is the beginning of the date in front of the Monte Carlo. Even though you can only see the back of about six of them, there were ten total on the date.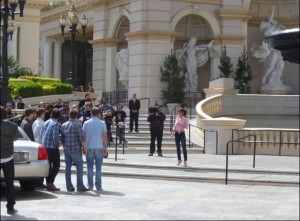 People witnessed them walking through the casino that night before taking in the Jabbawockeez show. Well, there's only two shows the Monte Carlo has, Frank Caliendo the comedian and the Jabbawockeez. And since no one is as tired and played out as Caliendo is, it only makes sense they went and saw the Jabbawockeez.
Saturday: 1-on-1 date with Mickey McLean at the Mandalay Bay wave pool. Afterwards, they got a private concert from Colbie Caillat performing her song "I Do". Probably don't want some guy who's performing with Colbie that night blabbing about it on Facebook but, well, he did. So that pretty much gave away who performed their private concert. And it doesn't take a rocket scientist to figure out which song will be featured on the show.
(In California)
Monday: 1-on-1 date with Ben Castoriano at the Americana at Brand outdoor mall in Glendale, CA. This obviously wasn't kept a secret because there was media there (E! News and Access Hollywood) getting their first soundbites of Ashley this season. Ashley and Ben were part of a Flash Mob Video, which is essentially where a group of strangers breaks out into a choreographed dance in an outdoor location. Great, the show is turning into "Glee" cuz Ashley likes to dance. Wonderful. Obviously Ashley knew what the date was, but Ben didn't. So they have a little picnic at the mall, she starts teaching him some dance moves, when all the sudden music starts playing and hundreds of people who are already in on it, start dancing around them. Below were some pictures that people posted on Twitter Monday night who were part of it, so to actually give credit where the pictures came from, I've added which Twitter accounts provided each picture. I also included a video that some guy uploaded to his Twitter account that was a :30 clip of Far East Movement performing a mini concert for everyone singing "Like a G6". You can see them pan to Ashley and Ben in the front row couple of times. Also included "Access Hollywoods" coverage they had on the date during their show last night.
Far East Movement :30 clip (courtesy of @ryandodson)
(pics courtesy of @Murphinator9)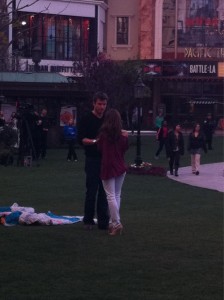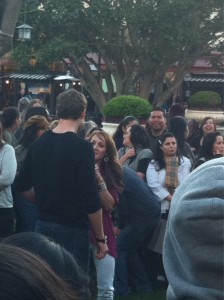 (pic courtesy of @Nataliahart)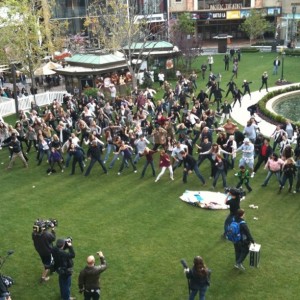 (pic courtesy of @bethanyburger)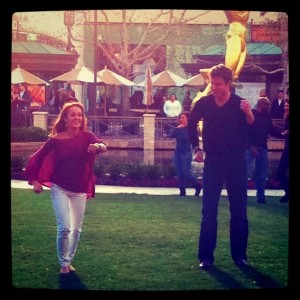 Access Hollywood:
What's funny about this "Access Hollywood" clip is they blurred out Ben's face and wouldn't tell you what his name was. Yet if you watched E! News last night, they show Ben's face, they give you his name, and they even interview him. Uh oh. Something tells me that wasn't supposed to happen. Why would one show be allowed to divulge all that stuff and the other one not?
So it's not like they actually tried to hide these dates, you know? I mean, you start filming in Vegas the week of spring break, the day March Madness starts, and in outdoor locations? I mean, what'd you expect to happen? I know they've filmed in Vegas quite a bit before, but I wonder why now people all the sudden decided to start sending me pictures from it? Then you do a Flash Mob Video in the middle of an outdoor mall where Far East Movement performs a mini concert? Uhhhh, ok. The last thing ABC should be right now is upset that any of this stuff leaked. It's their own fault.
Including the first three guys that I've already released, here's nine more guys confirmed for Ashley's season. This list will just be added on to the more I find out, and you can access it by clicking on the "Ashleys Guys" link at the top of the page. I've actually added a couple YouTube videos to Ben and Chris' profiles as you'll see.
__________________________________________________________________
1. Ben Castoriano: 26 or 27, lawyer, New Orleans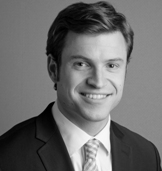 No wonder why they put Ben on Monday's 1-on-1 Flash Mob Video date. The guy likes to get his groove on at weddings. Hey, so do I. Now I'm a fan of Ben. He's the 2nd guy who dances in this video, not the spaz who's dancing right at the beginning.
__________________________________________________________________
2. Chris Drish: 25, account manager for law office in Chicago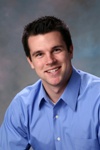 I guess he also thinks he's Eminem too. His nickname is "Motive C" and he likes rap wars. Good god.

__________________________________________________________________
3. Ryan "Mickey" McLean: 30, chef in Ohio, Cosmo Mags Hottest Bachelor for 2010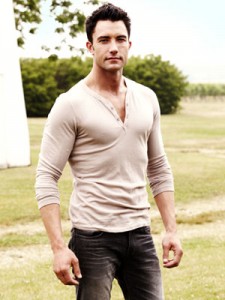 "Q&A with Ryan 'Mickey' McLean"
"Cosmo's Bachelor of the Year"
__________________________________________________________________
4. Anthony Santucci: 27, New Jersey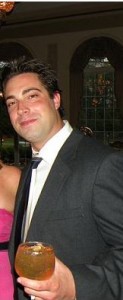 __________________________________________________________________
5. Mike Burns: 29, originally from Rhode Island, attended Sacred Heart University in Fairfield, Ct, now living San Diego, currently in health care sales, eliminated first night.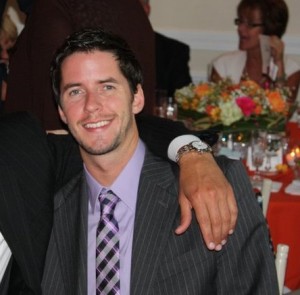 __________________________________________________________________
6. Bentley Williams: 28, From Tampa, lives in Alpine, Utah, divorced Mormon with a 2 yr old daughter (Cozette, but they call her "Cozy"), graduated BYU with a degree in Finance in 2007, used to work for Goldman Sachs
His ex-wife has a blog in case you want to see pics of her, Bentley, and Cozy. Although, she posted last Tuesday for the first time in over two years: http://suzettenicole.blogspot.com/
Somehow his audition video is still online. I can't imagine this will be up much longer after today, but in the meantime, here it is:
http://vimeo.com/15436771
__________________________________________________________________