If you don't want to be spoiled about anything upcoming in Ashley's season of the "Bachelorette", I suggest you stop reading now. Or for a list of the guys confirmed for Ashley's season to date, click on the "Ashleys Guys" link above. I will be confirming contestants for the show along with talking about things I've heard since filming began last week. You've been warned.
Sorry, no video blog today. Gotta be in a mood to do one of those and I was up late watching the games last night. Didn't feel like recording a video at midnight, so I passed. But still, a lot of stuff to get to. First lets start with the Reality Rocks Expo in LA two weeks from tomorrow at the LA Convention Center. We're gonna be having the drawing next week in regards to people who are interested in attending and getting free passes into the event Saturday and Sunday, April 9th & 10th. I was informed yesterday I have 10 Two Day passes to give out. So it's not like I just have a couple and your chances are slim. I will be pulling 10 names out of a hat for a chance to go to this thing, so if you're interested in being included in the drawing, just send me an email to steve@realitysteve.com and just give me your name and say you'd like to be entered in the drawing. Gonna do the drawing live sometime next week on the video blog. DeAnna Pappas, along with plenty of other reality TV personalities will be there all weekend to meet. Including me. Well, I'll just be there on Saturday, but that should be good enough. Prior commitment on Sunday I have to attend. Click on the link below to read all about the event:
Lets get to the next important topic that needs to be addressed, and that's the status of Brad and Emily. Can't tell you how many times there's an internet report on them being broken up how many emails I receive on it. Like I'm their personal manager or something. Hey, I don't know them. I know as much as the public does when it comes to these twos relationship. The best answer I can give you is that both of them are on Twitter now. Brad is @Brad_Womack, and Emily is @RickisMommy. Any time you see, hear, or read a story about them and you want an answer to it, I would just go check their Twitter accounts. They seem to be keeping up with it and answering fans regarding their status. Yes, they're still together, the OK! Magazine cover story is complete B.S., and Brad is actually in Charlotte this weekend visiting Emily according to what he wrote on Twitter. So, I'd say that's your best way of keeping up with them. Now, the minute you hear them stop addressing rumors, or one shuts down their page, or they just stop tweeting in general, that's probably when it means something is wrong. But until then, go there for all your info. I don't know anything. I've moved on to Ashley's season. Speaking of…
I have confirmed who the guy is that Ashley had her first 1-on-1 date in Vegas with. He's now been added as guy #13 in the "Ashleys Guys" link at the top of the page. Here's what was added:
_____________________________________________________________________
13. William "Will" Holman: 30, Fostoria, OH, retail sales rep at Sprint, never went to college.
LinkedIn Page: http://www.linkedin.com/pub/william-holman/27/b3/77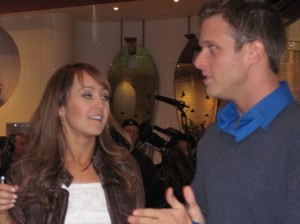 _____________________________________________________________________
So we're over half way there now. I have two more that I'm on the cusp of releasing, but I need to get a little more information. If you didn't see my tweet Wednesday night, you'll have missed that Todd Dunlap is NOT a contestant this season (I had released him on Wednesday), but Ben Flajnik is. Apparently Todd Dunlap has a lot of time on his hands and just thought he'd post a bunch of messages on his Facebook wall telling everyone he was on the show, he was leaving for filming, to watch for him on May 23rd, etc. Wow. Who does that? I at least hope this guy auditioned and didn't get cast, because if he just did this having never even sent in an application and just wanted to have some fun, then he's got some serious issues. Really? You want people to think you're on a show when you're not? Exactly what's the purpose of that? Once they see you're not on the show, then your "joke" is over. Makes no sense whatsoever. Anyway, sorry for reporting he was on the show. He's not. Ben Flajnik pic and bio has been added to the "Ashleys Guys" link.
A lot of you have been asking when "Reality Roundup" is returning. That will be next week. The column is going to come out every Thursday so that I can do my Idol predictions after Wednesday's performances. I'll have my "Idol" breakdown of each performance along with the rest of the shows I'm watching like "Survivor", "DWTS", and "Celebrity Apprentice". So look for that coming next Thursday.
And finally, you know almost a year ago I started promoting "Emilys Smile Boxes" on this site. If you missed that column, please click here to read all about her amazing story. Anyway, if you're in the DFW area, next Wednesday March 30th she will be having a box making party at her middle school at 4:15pm. Usually lasts an hour or so, but we'll be making 200 boxes to delivers to Scottish Rite, and Children's hospitals in Dallas. Anyone who can make it out and volunteer would be greatly appreciated. The address is:
3937 Haslet Roanoke Rd,
Roanoke, TX, 76262
Hope to see you there.
You know what I'm thrilled about? No more "Where are the spoilers" questions for at least the next few months. But as you can see, I've already added an "Bachelorette Ashley Spoilers" and "Ashleys Guys" link at the top of the page so I can get started on this early. Especially with the "Reality Roundup" columns starting next week, some of the spoiler columns will get pushed down further on the page, so if you want your news on the dates, or even look at Ashley guys, just click on either of those links. Not a lot of "Reader Emails" this week, which is expected since the season is over. But still have a few I wanted to get to. Here they are:
_____________________________________________________________________
Hi Steve,
I love your column! I've been reading since the Jason/Molly/Melissa drama
– I never really watched the show until I started reading your column.
I was wondering if you will ever reveal your sources and how you came to
know everything you know sometime down the line…once the show has ended
and there would be no repercussions for you or your sources? Maybe a
tell-all book, even 20-30 years from now?
Comment: Will anyone care 20-30 years from now who my sources are? 20-30 from now I highly doubt many people will remember this show, let alone my site. I can't imagine it'll be all that important. If I were going to write a tell-all book, it'd happen right when this franchise ended, not 20 years down the road. And the chances of me writing a tell-all book are slim and none. Here's why: The only book I'd consider writing would be an all-out expose on this show as you hear past contestants tell you exactly what went on behind the scenes, things they were told to do and say, and how manipulated and contrived the show is. That'd be the only book entertaining enough that I think a lot of people would be interested in. Problem is, a lot of former contestants would never want their name attached to it, and ABC definitely wouldn't let that book come out since they know it'd expose how the show is really made. So I just don't see how that book ever gets made. In 21 seasons of this show, have any of the previous 500 contestants who've appeared ever released a tell-all book? No. And there's a reason for that. Because they can't. It'd be no different if they relayed that information to me and I printed it.
_____________________________________________________________________
Hey Steve,
Love the blog. Makes watching the show far more entertaining. I was just wondering why the Bachelor/ette never goes back to the runner-up? If it doesn't work out with their final choice, why wouldn't they give it a whirl with the person they rejected? Besides for maybe the runner-up has already moved on with other contestants. It's just that if they "loved" each other so much and it didn't work out with the other person, you'd think they might give it a chance?
Thanks a bunch for the time you take to do this…it really is super amusing!
Comment: Well, Lorenzo did. After breaking up with Jen, he and Sadie started dating for a little bit. She even moved to New York to be closer to the guy, but for whatever reason, it didn't work out. Hey, Jason did too, and now they're married. I'm sure there are other ones in the past that probably tried to contact the girl they dumped (or maybe even other girls from their season) once it didn't work out with the final one. I just don't know exactly what all those instances are. But if I had to guess, I'd say Bob Guiney probably went down his list of chicks when he and Estella broke up after five minutes.
_____________________________________________________________________
I know that the "rules" state that there are no cell phones allowed, they have no interent, ect but do you think phone numbers and emails are exchanged between the lead and the girls? I mean, I know once Brad technically chose Emily and sent Chantal home that he shouldn't be contacting Chantal but my question is if there is literally zero contact between the #2 girl and the lead while the show is airing? I see both sides of this – 1) it would make Brad a slimeball for "cheating" on Emily but 2) obviously he had real feelings for Chantal and sending a "I hope you are okay" email would make him a gentleman in my book. You've said before that Jason didn't have any contact with Molly before he ended things with Melissa but couldn't he have? Or does the "lead" tend to follow the rules since they have a lot more $$ at stake to lose if they breach contract?
Obviously Brad was texting Laurel when he wasn't supposed to have his phone, so what would keep him from contacting Chantal?
Comment: The contract states you are to have no contact with the #2 girl once you leave the show. And if you're engaged or with the girl you chose, why would you? I think Jason admitted that a couple days after Molly left New Zealand he contacted her just to make sure she was ok, but that was it. If I were in the leads position, I wouldn't contact the #2 girl either. I don't see the point. Not only does it state it in the contract, but I would think it'd just be awkward at that point. Don't really see the reasoning behind it other than a quick "Are you ok?"
_____________________________________________________________________
Hey RS!! Got a couple of questions for ya…when it comes down to the final 2 girls/guys and the lead is all dressed up standing there waiting for someone to show up, do they know who's coming first? I know the show makes it so that the person who the lead doesn't choose seems to always be the first limo to arrive, but is that the way it actually filmed? Do the final 2 people know who is arriving first or last? And how much time is there between when they turn down the person and when the person they actually do pick show up?
Comment: No. The final two girls have no idea who showed up first. You are kept completely separated from the other girl. Chantal even said it in her exit interview that she never saw Emily on that final day, but driving up to see Brad, she had a feeling she was first and about be sent home because she felt it was too early in the day for it to be her, and that the proposals usually happen later on. Basically, once you get to the final four, you never speak to anyone else the rest of the show besides the lead. There is zero interaction with the other girls/guys, and you're pretty much just hanging out with your handler during your down time. They don't want people talking because they don't want you sharing stories of what you may have done on your hometown, overnight date, etc. They don't want anyone being influenced at that point by stuff that might just be hearsay.
What if some manipulative crazy chick like, I don't know, Trish from Jesse's season makes the final four and is allowed to talk to the other girls? What if she just flat out lies and tells them "Jesse and I had the most amazing time. He told me he loved me, told me we'd be together, and it's pretty much gonna be me at this point." It would then cause those women left to confront him with that info on their dates and that's just something they try to avoid, since once it gets down to four, it's somewhat serious on who he's gonna be with, and the drama and cattiness tends to end.
_____________________________________________________________________