If you don't want to be spoiled about anything upcoming in Ashleys season of the "Bachelorette", I suggest you stop reading now. Or for a list of the guys confirmed for Ashleys season to date, click on the "Ashleys Guys" link above.
Very bizarre. Back to back weeks I'm typing "Reality Roundup" on a plane headed out of town. Thank god for in-flight Wi-Fi or I might actually have to read something. Anyway, I'm in New York for the next week for a family gathering and some extra vacation time. Lets hope the weather cooperates. However, I expect to get some more news regarding Ashley's season very soon, so I'm guessing next weeks update will have a little more info for you.
I guess I should first start off with recapping the Reality Rocks Expo last weekend. Ummmm, honestly, it was pretty uneventful. I was only there on Saturday, and lets just say that my presence there wasn't well received by the higher ups at Warner Horizon (the production company behind the "Bachelor" franchise). I could go into detail but I'd rather not. Just know that everything I thought they thought about me was pretty much confirmed. I am without a doubt public enemy #1 to them and they couldn't have been more obvious about it. Yikes. Calm down people. It's just spoilers to a TV show. Anyway, outside of that, I did get a chance to speak very briefly with every "Bachelor/ette" person in attendance, outside of Jillian, who was there with "Extreme Makeover: Home Edition". In fact, believe it or not, I even got a chance to speak to my two best friends: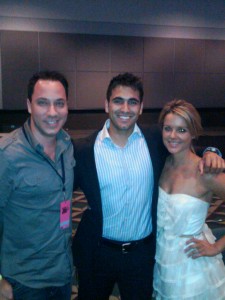 Despite all that's been said, and trust me, they were both very well aware of what I've written about them, Ali and Roberto couldn't have been nicer. So that was a good thing. Goes to show that, honestly, the fans seem to care more about what I say than the actual contestants do. The ones I've come in contact with have always been able to laugh it off and move past it, whereas the fans never let you live down something you said about one of their favorites. I'll never understand that til the day I die, but so it goes. I made sure I told them that when the wedding happens, just like Jason and Molly, I will be sure to purchase them a wedding gift as well. And even Roberto said I do kinda look like Craig from his season. Damn.
As for the awards show that saw Mike Fleiss receive the "Humanitarian Award", yeah, kind of uneventful as well. He got up there, received the award, and maybe spoke for a minute. No confrontation, no words exchanged, no meeting the guy, nothing. I'm sure he was made well aware I was there considering the way some others were acting, but there was never any intent to say anything to guy in the first place. For what? What could I possibly have to say to him? Or him to me? The only thing he and I would ever have to discuss is him writing me out a fat check to stop giving spoilers on his show. And since that'll never happen, there's no reason for us to ever speak. He's gonna keep pumping out seasons of the "Bachelor", "Bachelorette", and "Bachelor Pad", and I'm gonna keep spoiling it. Simple as that.
Speaking of the "Bachelorette", as I mentioned last week, Ashleys filming moved from Thailand to Hong Kong. I found it interesting that last Saturday, two days after I had mentioned that filming moved to Hong Kong, for the first time in this shows history, they publicly announced where filming was taking place while on location. Never happened in 21 previous seasons where before the press tour for the season began, they just out and out told everyone "We are filming here and here's a picture". Chris Harrison tweeted last Saturday a pic of him on top of a building in Hong Kong. It's almost like they're just accepting it now and trying to get out in front of it. Whatever the case, the fact that it's never happened before, and considering how secretive they love to be about everything, I found that awfully coincidental that Chris was just allowed to tweet "Hey, we're filming in Hong Kong and here I am!" Unfortunately, Chris didn't tweet these pictures: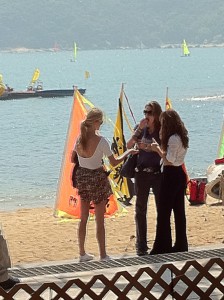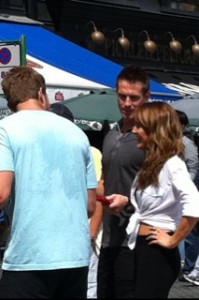 The first pic is of Ashley on Stanley Beach with her main producer, Cassie Lambert (middle), and some other producer. The next pic is of her on a 2-on-1 date at Stanley Market. Kinda hard to tell who the guy is whose back is to the picture. Looks like it could be Blake, but I'm not sure. As for the other guy, that looks like it could be Will, the guy who had the first 1-on-1 in Vegas, but again, that's just a guess. Not 100% sure. These were obviously taken on the same day since Ashley is wearing the same outfit in both pictures. By next week, I hope to have some more things nailed down. Still five weeks away from the first episode. There's plenty of time to piece together all the info I have right now and give the episode-by-episode breakdowns. Almost there.
Courtesy of WetPaint.com, here were a couple videos taken at the Reality Rocks Expo. Since there was never a chance in hell I was gonna be allowed to interview any of them, I figured I could post these for you. The first one is of Kasey, Vienna, and Natalie talking about things going on in their life, plus Natalie gives her early impression on some of the guys on Ashley's season. A thank you to Danielle Lehman for acknowledging she got the pictures she used from my site.

Natalie Vienna Kasey

Myspace | Myspace Video
This next video is of Ali and Roberto playing the Newlywed Game. Ooooohhhh, my favorite game show of all time. She didn't ask them where the craziest place they've ever made whoopee is, did she? Lets hope not.

Ali Roberto

Myspace | Myspace Video
Natalie kills me. In another video, she's openly campaigning to be the co-host for "Bachelor Pad 2" all while hitting on the guy interviewing her. Impressive. Natalie has got some skills, no doubt. As far as her co-hosting BP2, I have no idea what's happening with that. I don't know if Melissa is being asked back, if she's not and they're opening it up to someone else, or if they're gonna do away with the co-host thing altogether. Nothing's official right now, but that won't stop Natalie from campaigning for it. There's even a poll going right now on WetPaint.com where you can vote for who you'd like to see as the co-host. Well, I know who I'd NOT like to see.