If you don't want to be spoiled about anything upcoming in Ashleys season of the "Bachelorette", I suggest you stop reading now. Or for a list of the guys confirmed for Ashleys season to date, click on the "Ashleys Guys" link above. I will be confirming contestants for the show along with talking about things I've heard since filming began. You've been warned.
Obviously the death of Osama Bin Laden makes todays post that much less important in the grand scheme of things. But nonetheless, I tweeted last night before the news broke of Bin Ladens death that I'd have a column today, so here it is. It's going to be strictly all things "Bachelorette" and "Bachelor Pad" related, and I'll be back with another post on Thursday regarding other shows. I didn't post this past Thursday because I was waiting on some information that I received over the weekend, so just figured I would delay it until today.
Still not ready to release the episode-by-episode spoilers just yet, but in the meantime, I do have some new information to pass along:
-The overnight dates, which are being filmed as we speak, are in Fiji
-Contestant Lucas Daniels is divorced
-There is at least one guy who voluntarily leaves the show
-The eliminations go like this:
Episode 1 (airing May 23rd): 25 guys down to 18
Episode 2 (airing May 30th): 18 to 15 (Dates in Las Vegas)
Episode 3 (airing June 6th): 15 to 12 (Dates in LA)
Episode 4 (airing June 13th): 12 to 11 (Dates in Phuket, Thailand)
Episode 5 (airing June 20th): 11 to 8 (Dates in Chaing Mai, Thailand)
Episode 6 (airing June 27th): 8 to 6 (Dates in Hong Kong)
Episode 7 (airing July 4th): 6 to 4 (Dates in Taiwan)
Episode 8 (airing July 11th): 4 to 3 (Hometown Dates)
Episode 9 (airing July 18th): 3 to 2 (Overnight dates in Fiji)
Episode 10 (airing July 25th): "Men Tell All" episode
Episode 11 (airing August 1st): Finale
Two new contestants to announce for Ashleys season which brings the total up to 19. Here they are below:
_________________________________________________________________
Ryan Park, 31, San Luis Obispo, Ca. Director of Business Development at REC Solar
LinkedIn: http://www.linkedin.com/in/ryanmpark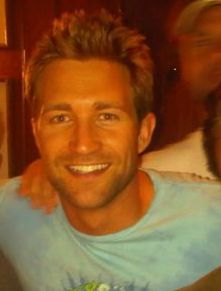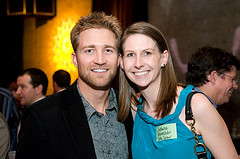 __________________________________________________________________
Ames Brown, 30 or 31, New York, Yale graduate 2002, marathon runner and may be the smartest guy in the history of this show. Geez, enough degrees Ames?
Bio: http://www.people.hbs.edu/abrown/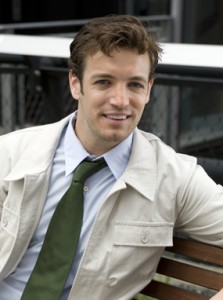 ___________________________________________________________________
You might recognize both of these guys from the pics I posted last week. I can now confirm the four guys who are in these pictures from Hong Kong. In the picture on the left is Mickey McLean (left) and Ames (right). In the picture on the right is Ryan (left, light blue shirt) and Blake Julian (right, dark shirt).
Along with Constantine and Ben F., those are six of the eight guys who were in Hong Kong. I believe I know the other two, but am not 100% sure just yet, so I'm holding off.
And remember a few weeks back I told you I had a pic of the group date in Vegas with everyone's face visible, but I hadn't identified everyone yet? Here's the picture with almost all of them identified, along with my captions of what I think each guy is saying:
___________________________________________________________________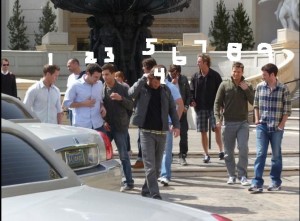 1. Blake Julian – "I kinda look like Prince William from my profile view."
2. Chris Drish – "Dude, Matt, quit whispering into my ear. You're creeping me out."
3. Some dude named Matt. Don't have a last name yet. "Hey Chris, wanna tickle each other tonight?"
4. Bentley Williams – "What the hell am I doing here?"
5. Ben Flajnik – "Uhhhhhh, which way do we go?"
6. Stephen D'Amico – "(Cough)…this is gay…(cough)…I can't believe I'm doing this..(cough)"
7. Nick Peterson – "Hey, anyone know where the nearest gym is? I need to do some core training."
8. Ames Brown – "Ha ha…stylin and profilin'! Check me out. Wassup ladies?"
9. West Lee – "I hate my mom for filling out my application and sending me on this dumb show."
There were 10 guys on this date as you can see someone in between #4 Bentley and #5 Ben. Based on a previous picture I posted where all the guys backs were to the camera, I believe the guy in between them is Lucas Daniels.

I'd like to mention what Chris Harrison tweeted last week in regards to when the "Bachelor Pad 2" cast announcement was going to be made. He tweeted that it would be "very soon". This is a lie, and here's a few reasons why:
1) I'm sure there's going to be guys from Ashleys season on "Bachelor Pad 2", just like Ali had three of her guys on "Bachelor Pad". They can't announce the "Bachelor Pad" cast with guys from Ashleys season on it when they haven't even announced who Ashleys 25 guys are. Even further, say they announce Ashleys guys within the next 10 days or so, which I expect them to do, still doesn't mean they'll announce the "Bachelor Pad 2" cast because whichever guys from Ashleys season are on BP2, by announcing them as part of the cast, you're already giving away they don't last in Ashleys season.
All three of Ali's guys who were on "Bachelor Pad" (Weatherman, Jesse Beck, and Craig) were all guys eliminated in the first four episodes. Only two episodes of Ashleys season will have aired here before BP2 starts filming, just like last season. They're not gonna cast someone from Ashleys season who made it far, since that would ruin any element of surprise. Craig got eliminated in episode 2, and the "Bachelor Pad" cast wasn't "officially" announced until AFTER Jesse Beck and Weatherman were eliminated from Ali's season. They were eliminated in the June 14th episode, and whaddya know, on June 16th, they were announced as part of the cast. Expect more of the same this season. Make sense?
2) "Bachelor Pad 2" is a game show with a $250,000 prize at stake. Announcing the cast before it starts makes no sense whatsoever because they know all these people will start facebooking, emailing, and calling each other trying to set up alliances before even getting in the house, which I think would go against any game show rules. No way ABC wants that on their hands. Sure, some people have an idea of who they think will be on the show and may talk beforehand, but they don't know for sure until the first day of filming when people get out of the limo.
3) Last season, "Bachelor Pad" filming started on June 5th, and the cast wasn't officially announced by ABC until June 16th, the day after I released it. Once it was, it came with pictures all taken from when the cast had arrived at the mansion and taken their head shots at the pool. This franchise rarely breaks from its norm. BP2 cast members will arrive two or three days before filming (which I believe starts June 6th or so), they'll take their cast photos, and it will be released roughly around the time it was released last season, which is AFTER filming has begun. And I'm pretty sure I'm going to beat them to it again.
4) Forget "Bachelor Pad", NO network announces the cast to one of their reality TV shows before the show even starts filming. "Survivor", "Amazing Race", "Biggest Loser", "Apprentice", etc. they all announce their cast either during filming, or after it's completely ended filming. Any show that has a money prize involved I don't even think can legally announce who's gonna be on the show before it even starts filming. And if those shows aren't doing it and they've been around forever, certainly little "Bachelor Pad" in its second season won't.
So basically all those who got excited seeing Chris say they're gonna announce the cast "very soon", you can forget it. They won't announce it until the show starts filming so the contestants aren't tipped off to who exactly is on the show. Chris being the mouthpiece for the show didn't really think before he opened his mouth on that one.
Be back this Thursday with any new info regarding the show, plus, thoughts on "Idol", "Survivor", "Celebrity Apprentice", "DWTS", and "The Voice". Send your emails to: steve@realitysteve.com. To follow me on Twitter, it's: www.twitter.com/RealitySteve. Or join my Reality Steve Facebook Fan Page. See you next week.