For all your episode-by-episode spoilers of Ashleys season up through the final four, either click on the "Bachelorette Ashley Spoilers" link at the top of the page, or click here. Once I have the remaining breakdown of everything else, I will post it immediately. However, there will still be spoilers posted throughout this column. You've been warned.
If you're interested in writing for the site, please email a writing sample of some trashy reality show with "Sample – (name of show)" in the subject line to: steve@realitysteve.com. We are expanding the site and I'm looking for others to cover some of the shows I don't watch. I've already got over 50 submissions just from yesterday, so keep them coming. Remember, not a paying job, just looking to expand. Thanks.
So remember how in Monday's column I referenced how many people LOVE to talk about how Ashley is boring, they don't care for her, they're not gonna watch, blah blah blah? Well, the ratings are in, and just like every season, those people are in the minority. Here was the daily press release sent out yesterday:
"The Bachelorette" (9:00-11:00 p.m.)
On its 7th season opener, ABC's "The Bachelorette" finished No. 1 in its 2-hour time period in Total Viewers and Adults 18-49, leading CBS by 27% (9.3 million vs. 7.3 million) and 40% (2.8/7 vs. 2.0/5), respectively. In addition, "The Bachelorette" was the dominant series in its time slot with Adults 18-34 and across all key Women demos (W18-34/W18-49/W25-54). ABC's "The Bachelorette" stood as the 2nd most-watched TV show of the night, behind only "DWTS."
* Building its audience for its 3rd consecutive premiere, it was the most-watched opener overall for "The Bachelorette" since 2004 – since the premiere of Season 2 on 1/14/04.
For those that maybe don't understand TV lingo, basically the show dominated its time slot on Monday night in the only demographic they care about – women 18-54. Not only that, the only other television show on all of television Monday night (and if you have satellite TV that's about 8 billion channels) that drew a bigger audience was the DWTS finale. Every other possible show that aired on Monday night drew less viewers than the "Bachelorette". Also, "building it's audience for its 3rd consecutive premiere" means that Ashley's first episode did better than Brad's and better than Ali's. And it was the most watched "Bachelorette" premiere in 7 years, which was Meredith's season. So Jen, DeAnna, Jillian, and Ali's premiere episode can all take a backseat now to what Ashley's did on Monday night. So anyone who says "this show is dying", and "who watches this show anymore" has no idea what they're talking about. Same formula every season, and the ratings keep getting bigger. Keep it coming, ABC. On a side note, I'll let you know that the past two days have also been the biggest premiere Monday and Tuesday in my site's history, and honestly, it wasn't even close. I know that probably bothers some people, but hey, deal with it.
I'm glad that People.com decided to do a reputable story on the death of West Lee's wife.. At least now people might have a little better understanding of what went down instead of immediately crucifying him and calling him guilty when they had no clue what happened and took what a tabloid said at face value. Hey, neither do I because I wasn't there, so any angst you have towards West or this case, you may now take on with the actual Lieutenant involved with the case. Here's a couple quotes from Lt. Matt Davis from the Lexington, South Carolina Police Dept:
"Her mom voiced concern about the cause of death, but we looked into the case a second time," Lt. Matt Davis, from the Lexington, S.C., Police Department, tells PEOPLE. "There was no physical evidence on scene that suggested Sarah Young's death was a homicide by Bachelorette contestant Adam West Lee."
Friends, family and acquaintances [of Sarah] were interviewed," Davis says. "A longer than usual investigation was conducted in regards to pursuing who she was. This case is no longer active and not expected to open again just because it is back in the news."
There you have it. Hey, you may still think West is guilty for whatever reason, but any qualms you have, I suggest you take them up with Lt. Matt Davis of the South Carolina police department, and not me. This case is over and done with. Let it go. You don't know West, you don't know anyone involved, the guy has been through enough, and after having been thrown under the bus by his ex in laws, I really don't think he needs to be convicted in the court of public opinion on something the public knows nothing about. The police handled the case, twice, and have found him innocent in any wrong doing. I don't see why any of you fans, who didn't even know the guys name up until two months ago, would even consider trying to trash the guy after such an incident. I'm seriously embarrassed for you. Moving on.
On to more positive news, and that's yet another storyline is being re-hashed on this season of the "Bachelorette". Fairly similar to something we saw two seasons ago, with a couple minor differences. So the spoilers I gave out on Friday are still 100% correct in terms of the episode breakdown and who the final four are. That doesn't change. And still, as of now, I don't know all of the exact breakdown of the final four other than I know 2 of the final 3 and 1 of the final 2. However, there's just been a little bit of a monkey wrench thrown into what happens in Fiji. I was alerted on Monday morning that there was an incident in Fiji I had yet to report regarding an appearance by someone who wasn't part of the final four. When I watched the season previews at the end of Monday's episode, it became apparently clear who that person was. So I went back, rewatched the video, took pics, and wrote down what was said. Here's what you may have missed: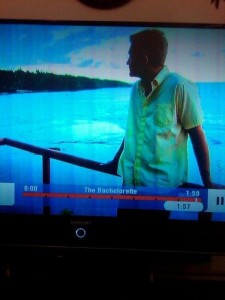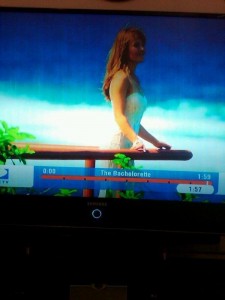 The top picture is Ryan in Fiji, even though Ryan was eliminated in Taiwan and never had a hometown date. The bottom picture is Ashley at her final rose ceremony in Fiji (because why else would she be wearing a dress like that for any other date), standing at or near the same railing Ryan is standing next to. When they ran that pic of Ryan on the screen, there is a voice over of Ryan saying "My only fear is getting hurt again." Again? Why would someone say the word "again" on this show unless they are going back after already being eliminated? So after piecing this together, here's what I can tell you. Ryan does get eliminated in Taiwan. Ryan does not have a hometown date. However, he returns at some point in Fiji. Why? Obviously I wasn't there and don't know what was said, but I'm guessing it's to tell Ashley to re-consider her feelings for him. We will see this all play out when that episode airs, but I can tell you that Ryan is not part of the final rose ceremony and basically once he makes his return, he is unceremoniously dumped again. If you ask me, I think it's clear they might really be pushing hard for Ryan to be the next "Bachelor".
Obviously we are a long ways away for them to announce that, but I mean, they showed him getting out of the limo first (even though he wasn't), they showed his hometown video first, he got the first impression rose, and now I'm guessing we see him try to win Ashley back in Fiji only to get dumped again? Sounds like the perfect set up to be the next "Bachelor" to me, but there's still plenty of time for that. Lets see how the rest of the season shakes out. Now, this is very similar to Reid returning on Jillian's season with one MAJOR difference. Reid returned at the final rose ceremony. Ryan does return in Fiji but it's not at the final rose ceremony, he doesn't "re-enter the game", doesn't meet Ashley's family, and once he gets to Fiji, he basically gets turned around and sent right back home. I'm getting closer and closer to finding out who Ashley chose, but still waiting for one bit of information. I can say it's not Ryan based on everything I've been able to deduct.
So the question is "Why would Ryan go back?" Well, I think we can chalk that up to, "Because the producers told him to and it'll create drama". Absolutely it will. Hey, if Ryan truly thought in his heart that Ashley made a mistake and wanted to go back and tell her that, all the power to him. But I'm telling you it's the producers that present him with the idea, get these contestants all fired up into thinking that's the case, and they get them to do it. Sure, Ryan could've said, "No, I'm not going back on. There's no point, she made her choice." But these producers can be VERY convincing. I guess we'll never know the real truth as to why he did, but knowing the way this show works, and knowing what they've done in the past to lie to contestants and tell them things which will elicit a certain response, I'm pretty sure Ryan didn't know any better and just went along with it.
I mean, lets just say for hypothetical purposes, once Ryan came back home, the producers called him and said, "Hey, you know, Ashley is really having second thoughts about you. She really thinks she might've made a mistake. We think you should go back and talk to her and maybe you can salvage this thing", of course Ryan would find that enticing. Who wouldn't? The problem is, they'd be lying. Trust me, it's not far fetched for them to do that. They've done it before, and they'll do it again. That's the only possible explanation for Ryan getting back on a plane and flying to Fiji to try and win her back. Not knowing a thing about Ryan or what makes him tick, but I'm telling you, this was no doubt a producer driven idea that Ryan went along with for some reason. I'm sure Ryan did care about Ashley considering he lasted 7 episodes, but to actually get on a plane and go back to Fiji to tell her to re-consider or whatever he said, had to have taken an awful lot of egging on by the producers. And in the end, they get exactly what they wanted. Him going back for a second chance, getting rejected again, and America feeling sorry for him. IF, and that's big if, Ryan becomes the next "Bachelor", it's a win-win for everyone. If not, then he basically got played and the show used him to get what they wanted for this season.
So there you have it, another re-cycled storyline from seasons past to create more drama. Hey, at least they didn't go the ex-girlfriend route. That one was getting kinda played out. And it's been at least three seasons since we've seen the ol' "Hey-I-know-you-dumped-me-but-maybe-if-I-come-back-you'll-reconsider" storyline. Well played, ABC. I mean, sure it would've been interesting to see happen and a surprise to a lot of us if you didn't just basically give the whole thing away in the previews. Don't really understand the method to their madness, but whatever. That's what happens, and you'll see this play out at some point in Fiji.
"Reader Emails" will be back on Fridays throughout the season, so get any questions or comments you have in. Good or bad, doesn't matter. If I feel it's worthy enough to appear on Friday, you'll see it in there. Send your emails to: steve@realitysteve.com. To follow me on Twitter, it's: www.twitter.com/RealitySteve. Or join my Reality Steve Facebook Fan Page. See you Friday.