Your episode-by-episode spoilers for "Bachelor Pad 2" are in a link at the top of the page, or or click here. You've been warned.
I'm sure plenty of you came here today looking for the answer to the Mensa question from my "American Way" magazine that I posted on Friday. Well, apparently that was the easiest question ever since I think of over the 200 tweets, emails, and texts that I got giving me the answer, one person got it wrong. The answer was 69,369. And you can rest assured, that'll be the last bit of trivia I ever put in this column. Why? Oh I don't know. How about these emails I got:
________________________________________________________
Hey Steve,
The five digit number is: 69369
first is 2x the third: 2 x 3 = 6
second is the sum of first and third: 6 + 3 = 9
fourth is 2x the third: same as above, 6
last is the sum of third and four: same as above, 9
6 + 9 + 3 + 6 + 9 = 33
I didn't cheat. here is the formula I used. a b c d e are the numbers respectively
2c + (2c + c) + c + 2c + (c + 2c) = 33
11c = 33
c = 3, the third number is 3
Ummmmm, what the hell? Am I back in Algebra 1 now? I don't need you to show your work. This isn't for extra credit or anything.
_________________________________________________________
Or even better yet, this person wanted to actually SHOW me their work:
Hi Steve,
I'm sure you've gotten multiple emails about the Mensa math problem.
I'm just reading yesterday's column so here's mine. I attached a
picture of my work because I know you won't sleep tonight unless you
know I found the answer (69,369) on my own. I'm a sucker for a system
of equations on a Saturday night.
Thanks for your hilarious column and spoilers!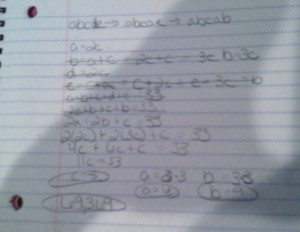 ________________________________________________________
As is the case most of the time, people take what I say waaaaaaaaaaaay too seriously. I guess I expect more people to understand my humor by now, but apparently they don't. How about the two emails I got from people actually GIVING ME THEIR HOME ADDRESSES to send the scratch-n-sniff sticker to? Really? I mean, even if you knew I was joking about mailing a scratch-n-sniff sticker, why would you possibly email your home address to a complete stranger? Some people really having me questioning their sanity.
So what happened on Twitter Pad last night? Here's what I was able to deduce:
-William was very well liked in the house by everyone and they all find it funny he got no camera time on the show
-Melissa continued to answer twitter followers who were on her side while Blake did the same with his account
-Jake will be on "Bold and Beautiful". Shocker.
-Holly and Blake subtly, or not so subtly depending if you can read between the lines, tweeting their love for each other
Rumors swirling the past week, mostly started by the contestants on this show, who then tell other people and it gets spread elsewhere and taken as fact, that the reason ABC teased Jake's exit at the end of last week's episode, but didn't show it until this week's episode is because they're saying he wouldn't agree to do "Bachelor Pad" unless he was guaranteed to be on 4 episodes and got paid $20k to do it. Sorry. I don't buy any of that. The rest of these contestants got paid $750 for every episode they appeared on. Do you honestly think they needed Jake that badly that they'd pay him 5 times as much as anyone else could make on the show just for his services? C'mon. Look, I don't have any proof that it DIDN'T take place, I just don't buy that it did. They wouldn't waste 20k on a guy for something like that. No way. Especially when I've heard about how cheap this show can be and what other people have asked for in the past and got laughed at. Now, could the "four episode guarantee" be true? I think that's highly possible, but once again, you're getting into ethics of a game show here. Guaranteeing someone four episodes on a show where anyone can go home any time seems like you're opening yourself up to the possibility of a lawsuit against you. Basically, if it were proven Jake was guaranteed 4 episodes, then the 17 other contestants could sue the show since that wouldn't have made it a fair game. All it is is a rumor at this point. Nothing more, nothing less. But if you're asking me do I think Jake got 20k to do the show, my answer would be "no."
With all that said, sh**, maybe he did have a deal that guaranteed his mug be shown on four different episodes since that was about the most uneventful exit ever. With the hype surrounding last weeks ending, and then to see him utter a cheeseball lines to the group, then get in the limo for another couple lines, that couldn't have been more overblown and overhyped if they tried. Of course, this show is known for overhype, so what you saw last night shouldn't have surprised anyone. Especially considering last week I told you it was gonna be nothing major. And for whatever reason, Chris Harrison reiterating that "it was easily the closest vote in Bachelor Pad so far" basically tells us nothing. First off Chris, you've had 9 episodes in this franchises history, so don't make it out to be some big deal. Secondly, by saying that was the closest vote, you were saying it was 7-6. Well, the previous two episodes, you led your viewers to believe that the Rego/Alli and Jackie elimination were also decided by swing votes. So the show either lied about how close the voting was on the first two eliminations, or they lied about how close the voting was on Jake/Kasey. Or they lied about both. My guess? They lied about both. Television shows do whatever they can to create drama. And the way they built up last week's ending for a complete dud of a payoff proves my point. They had NOTHING, and they built it into something.
I found the reaction to the kissing contest to be quite funny. Pretty much all of these people have hooked up with more than one person from a past season before, they all watched last season of "Bachelor Pad", they're all good looking people who've been lying, cheating, and backstabbing people since the moment they stepped in the house, yet the minute a kissing contest is announced, everyone freaks out like it's beneath them. Kind of ironic, no? The remaining twelve contestants all are relishing the fact they are on TV again, yet, a simple kissing contest has them mumbling about not participating? Well, except Ella. She makes no bones about the fact that she's here to win money for her son, and if kissing a bunch of dudes is her best way to that money, than dag gummit , she's gonna do it. Good for her. After watching that contest, it was made very clear how much Ella wanted that 250k. Good lord. Her tongue ran through 6 guys mouths like she was giving them a cleaning.
Speaking of cleanings, our resident dentist, Dr. Blake Julian, is giddy for this challenge because he can't wait to kiss Holly, the girl he's been pining over since walking into the house but has lied about it from the beginning to his "partner" Melissa. Blake says he wants to perform a tonsillectomy today. Wonderful. I just gagged like I was sitting in his dentist chair and he just put those plates of cream into my mouth to take my impressions. Ugh. I can handle ANYTHING in a dental chair. Nothing bothers me in terms of cleanings, fillings, etc. But I swear, you load those bite plates for my top and bottom teeth with that disgusting pink foam or whatever the hell it is, and I wanna hurl all over you. Really? With all the technology in the world, that's ONLY way we can get someone's impressions? I remember getting that back in 5th grade, then had to get them again 6 months ago? Seriously we can't find any different way to do this? Screw you dentists of America. Ashley is a rich dentist now, maybe she can come up with a different solution.
As for the contest itself, basically the only four people who did any kissing were Holly, Blake, Ella, and Erica. And the editing made a few of those kisses waaaaaay longer than they actually were. All they did was keep showing the same kiss from different angles to make you think they were going at it forever, when in reality, they weren't. Holly tongued down Michael, then had no problem doing the same to Blake. But of course, these two had no interest in each other from the beginning of the show like they've claimed to people. Uh huh. I understand both of these two are under contract and can't openly come out and say the status of their relationship until the finale tapes a week from today, but anyone with half a brain can see what's going on here. She's moved on from Michael, had since her first day of filming, and was set on hooking up with Blake. As he was her. Hell, for all I know, these two were conspiring before the show began taping and could've been flirting with each other on email and forming a strategy. Holly has readily admitted she flirts with "everyone," so it's not that far fetched to think that maybe she heard Blake was gonna be on the show, got a hold of him, and they liked each other before actually meeting on the show. Not saying that's what happened, but it's entirely possible. I wouldn't put it past either of them. All I do know is that, yes, Holly cares for Michael. But she knew from the first night who she was interested in and she went after it. Good for her. And good for them. Let everyone else be the judge of whether they think that was the decent thing to do.