Your episode-by-episode spoilers for "Bachelor Pad 2" are in a link at the top of the page, or or click here. The finale spoilers have been included. You've been warned.
Even when I'm vacationing in Vegas, the "Bachelor Pad" drama continues. I'm gonna make this short and sweet, cuz I've got some gambling to do.
As for this fight at the after party on Tuesday night, here is what I know:
-Graham and Blake were in a heated argument over I don't know what, but they were having words with each other.
-Rego stepped in to break it up, there was an altercation of some sorts between those two, and Graham was asked to leave the party.
-I have no idea what caused it, what the semantics of the fight were, or anything like that. I just know that there was an altercation between Graham and Rego, and Graham was asked to leave. Reports of a knock down, drag out fight with punches being thrown around is all speculation at this point. I wasn't there, I didn't see it, so I'm not gonna say that's what happened. Just know those two got into it and Graham was kicked out of the party.
As for the Holly and Blake engagement, some new light has been shed on this. Just like on the "Bachelor" or "Bachelorette", this whole "lets film the proposal and give Holly a ring" was a complete set up paid for by Neil Lane. Blake didn't buy Holly anything. This was all done for TV purposes, Blake didn't buy any ring, and this story has already been sold a tabloid. I'm not sure which one yet, but after the episode airs Monday, you'll see some tabloid running with the pictures of the ring and pics from the proposal. Sickening.
Look, Holly and Blake obviously fell for each other on the show, but this goes to show these two will stop at nothing for the attention. Could've been handled totally different if you ask me. Do it off camera. Buy her your own ring. Do it once filming of everything is complete, and you're away from the spotlight. But the fact that this was all a set up, and that the ring was paid for, and it was all caught on camera pretty much tells you all you need to know about this situation. If you think that was handled properly, then I don't know what to tell you. They were presented with a storyline, a free ring, and publicity, and they took it over having a normal engagement away from the spotlight.
And oh yeah, one last thing: An anonymous emailer with a fake email address sent me this pic that landed in inbox late last night. It's Holly at the after party with her ring on. Glad I could help.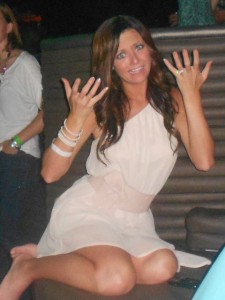 Those in the Dallas/Ft Worth area, I'll be on with Kidd Kraddick Monday morning to discuss the "Bachelor Pad" finale. Don't know what time, but last month, I was on during the 8:00 hour. Send your emails to: steve@realitysteve.com. To follow me on Twitter, it's: www.twitter.com/RealitySteve. Or join my Reality Steve Facebook Fan Page. Talk to you Tuesday.