Your episode-by-episode spoilers for "Bachelor Pad 2" are in a link at the top of the page, or or click here. You've been warned.
For those that follow me on Twitter or Facebook, you'll know that yesterday morning I appeared on the radio show Kidd Kraddick in the Morning here in Dallas to talk "Bachelor Pad" stuff. Always a good time with that crew and I appreciate them having me on. Their show is streamed live every day, so I actually did two interviews. The one that aired live over the radio, then this video that was done during a commercial break with Kellie Rasberry. Three things about this video you should know:
1) I said during this that last night's show was going to be 2 hours of the finale, with an hour "reunion" show. Had that part wrong. I actually thought that's how it was gonna go down until I looked at my DVR and it was only a 1 hour show with 2 hours dedicated to the reunion. Made sense. I should've known they couldn't have pulled 2 hours out of one final challenge, and then Holly and Michael's decision on who to take to the finals.
2) I honestly had no idea Kellie and I had started the interview when we did, which is why I'm talking about a bunch of stupid sh** and don't even look ready when the thing begins. I thought it actually started once she started asking me questions about the show. Oops. Good thing I didn't curse.
3) Thank you for the compliment Kellie. I was kinda caught off guard by it as you could tell. I didn't know what to say, so, thanks.
A lot to get to before even delving into the finale last night, all of which was already spoiled for you last Tuesday night/Wednesday morning, depending on what part of the country you live in. For the last time to those that are asking, yes, I'm fully aware that People.com and US Weekly and other sites took everything that I wrote and claimed it as their own "sources" when reporting Holly and Blake's engagement and Holly and Michael winning, but that's just the way it goes. On shows that are taped in front of a live audience, well, they can get away with it because technically they could have their own sources and usually I'm only beating them to the punch by a matter of hours. It's ok. However, when dealing with the "Bachelor/ette" series and I start releasing stuff for that, those sites really stand no chance. Tabloids don't print the spoilers to the show until they are well into the season (stuff like who gets roses, eliminated, final 2, etc) because they want to be in good standing with the show for interviews down the road. That's why they'll rarely have anything before me. They just want to dig up dirt on contestants and talk to ex's, friends, co-workers, etc. I know when I released all the "Bachelor Pad" finale spoilers, and I know when everyone else ran with it. It's obvious where they got it from, and if they don't want to credit me, then I think that reflects poorly on them. It is what it is though.
Before I get to the Graham/Rego afterparty altercation, I want to address something that was brought to my attention after what I posted on Friday about Holly and Blake's engagement. Somehow, I'm getting looped in as being the one who said Blake and Holly got paid 25k for their proposal to be recorded. And gee, you'll never guess in a million years who ran with that and immediately had words for me: Blake. He took to his FB account and wrote this message:
"All I have to say is that Reality Steve should be called Embellisher Steve. Unfortunately he gets accurate information as far as the show is concerned. He doesn't, however, get anything right when it comes to individuals lives. Basically, I WISH I was 25,000 dollars richer. Alas, I'm not."
Huh? Where in the world did that come from? How about actually reading my site before making ridiculous statements like that. I never said they got paid 25k each to have their proposal recorded. Nor did I even insinuate it. You know what's funny? For someone who complained about being edited so bad, and constantly saying his dealings with Melissa were taken out of context like Blake did all this season, he sure took what I said out of context and jumped to conclusions. At no point did I ever say they were paid. Read what I wrote. I said that the engagement ring he gave her was paid for by Neil Lane. All I said was that Blake was presented with the opportunity to propose to Holly on camera, with basically a "loaner" ring given to her to make it worthwhile. And that's it. If/When Blake and Holly break up, that is not a ring she will ever be able to keep. It was given to them for show purposes, which is why we saw "Neil Lane" in the box clear as day during the proposal last night. As for the engagement itself, I never said Blake and Holly weren't an item and hadn't fallen for each other. Did anyone read anything I wrote the last 3 months? I've told you since filming ended that these two were dating and seeing each other. So yeah, they definitely fell hard for each other on the show, and yes, they are engaged and claim to be in love. All I said was insinuating was that their engagement would never have happened that soon if Blake wasn't given the opportunity by Neil Lane to provide a ring and have it televised. Producers, ABC higher ups, etc I'm sure were all behind it as well. I'm sure Blake was coerced into doing that for the finale. I mean, really? He couldn't have waited? Even just a day and done it off camera? Makes no sense. More on that later. But hey, at least Blake admits that I'm right about everything else when it comes to the show. Thanks, pal.
As for the Graham/Rego afterparty altercation, let me set the record straight once and for all. It's ridiculous how people run with rumors with no basis for anything. I'm going to present you with both sides of the information here and let you make your own decision on what went down, because frankly, this thing got way outta control and I feel responsible. On Thursday, people were emailing and asking me on Twitter who Rego got in a "fight" with at the afterparty, because he had tweeted a pic of himself with a black eye. Well, I knew the altercation was with Graham, and that Graham was removed from the event because of it, and that's what I tweeted. I said "punched" because that's what I'd heard at the time, but I didn't know the reason or what caused it. Next thing I know, it's being reported like a full scale brawl, haymakers flying everywhere, and the whole party came to a crashing halt with people having to break these two up blah blah blah. Totally not the case. Here's the short version:
Graham and Blake were having words because as we saw last night on the finale, Graham told Blake to his face he wasn't a fan of his. Things apparently escalated, Rego stepped in, Graham shoved Rego off of him and right into a bouncer, and that's why Graham was kicked out. It was over and done with at that point, plenty of people weren't even aware it even happened, and everyone went about their business. Then Rego posted a picture of his black eye on Sept. 8th, the tabloid sites are all over it, Rego tells TMZ that Graham punched him in the face, and that's where we are.
So since I wasn't there, and I was the first one to tell people Graham was the one involved, I figured I'd do the next best thing and that's let people who actually were there tell us what happened and what was said after the fact. Rego has stated his case, so I figured I'd let others who wanted to chime in have their say because they were there. William, Michelle, and Erica all responded to me via email and here's what they had to say:
From William Holman:
"Hey Steve I just wanted to email you to help clear up a story that recently ran about Justin and Graham. I was outside the club when Graham was kicked out by security and spoke with him to find out what happened. Graham thought he may have hit him but was not sure if he did in fact connect. The next morning quite a few bachelor alum showed up for the Meals on Wheels charity event (which went awesome) and Justin was there. He had no black eye and plenty of photos were taken that day as well as video by ABC to document the event for charity. I spoke with Justin and asked what happened the night before and he told me Graham hadn't even connected and he was just fine, but he did get a scratch on his nose. He even stated he had no hate towards Graham and hoped everything was fine since were considered a family.
Graham should not have let anything get the best of him especially working for a charity and he is aware of that now. Justin should not talk it up to something its not.
Hope this helps
William Holman
Dysfunctional Bachelor Family"
From Michelle Money:
"I feel really bad that Justin feels like he needs to make up stories just to get attention. To claim that Graham hit him in the face in any way is simply not true. Justin is making claims that he has had to ice his nose because he got hit. Well Justin said directly to William that he didn't get the scratch on his nose from Graham because no contact was made. On top of this, Justin showed up the next morning to the charity event with no black eye at all (see pics below). This was truly just a heated argument that blew off very quickly. It wasn't until the completely dishonest tweets and claims came about that everyone realized that this was just some publicity stunt that Justin was trying to play up. It's very disappointing and hurtful.
In July, while Justin, Kasey and I were getting ready to film the "Men Tell All" episode, Justin was very upset that he had lost his title as the "biggest villain in Bachelor history" to Bentley Williams. He was adamant about getting his title back. It is unfortunate that this is Justin's motivation in life. I actually thought Justin was a pretty cool guy until he said that. I honestly wish him the best but I will not sit around and allow someone as cruel as Justin try to play up his "villain" title at Grahams expense. The Bachelor franchise is filled with incredible people who are loving and supportive of one another.
Unfortunately there are also a few that are quite the contrary. Maybe Justin just needs a hug!
Just wanted to clear this up. Xoxo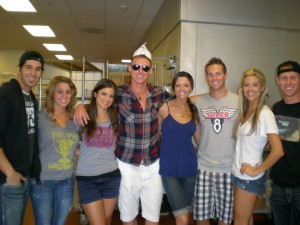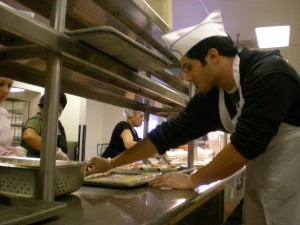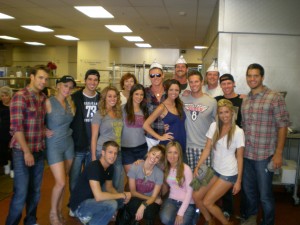 Michelle"
From Erica Rose:
"I was at the club when the incident took place but didn't directly see everything that happened. When I asked Justin about it right after he said he was fine and had not been hit or injured at all, so he stayed and partied the rest of the night. I also saw him the next morning at a "Meals on Wheels" Bachelor Gives Back volunteer event and he did not have any black eyes or visible injuries. While I'm not an expert on black eyes, I am a law student and I can logically deduce that if Justin had gotten a black eye from a fight the night before, it would've been apparent the next morning. So I do not think the "black eye" he tweeted was a result from the club incident with Graham. Case dismissed.
Erica"
So there you have it. Draw your own conclusions. Put it this way, immediately after I tweeted what I did, it didn't take more than 24 hours for a lot of people to come running to Graham's defense saying Rego is playing the whole incident up for attention and Graham never punched him. I don't know, I wasn't there. However it does seem like something that started out as not a big deal got blown way out of proportion.