There is a link at the top of the page entitled "Bachelor Ben's Girls" that will keep a running list every time I add new girls. Today's girls have been added.
Quite a loaded column this week. Didn't think I'd have this many pictures, but now I do. Ben had Group Date #2 yesterday in San Francisco where it looks like 11 ladies got to "ski" down a street in SF that was made into a ski slope. And oh yeah, they were in the their bikinis frolicking around having snowball fights. Of course they were. And yes, this was done in a residential neighborhood so everyone and their mothers were taking pictures. I wonder if the ABC producers were all freaking out yesterday too and shouting people down to put their cameras away. Whatever the case, here you go: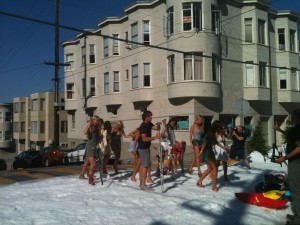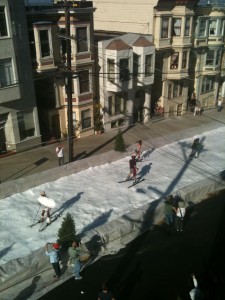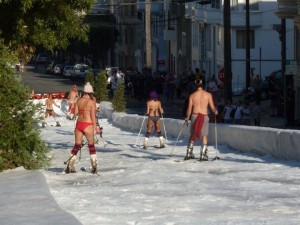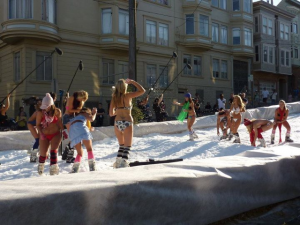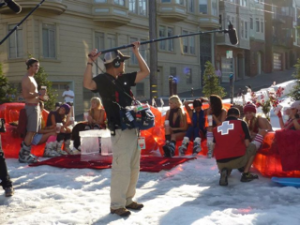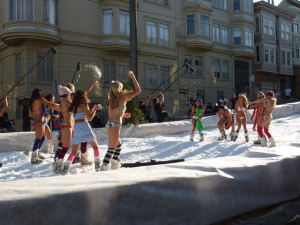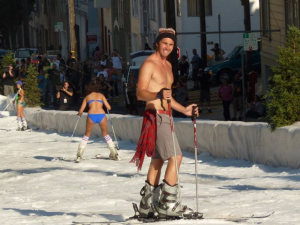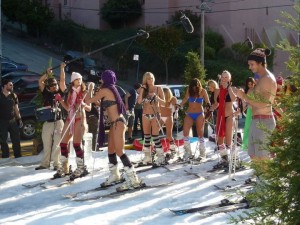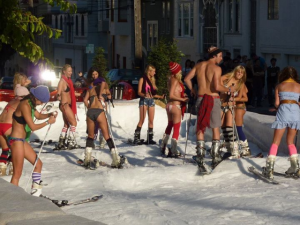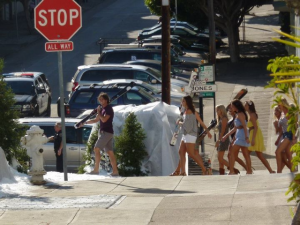 _________________________________________________________
As for a couple of new contestants I can confirm, lets first start out with this doozy:
6. Blakeley Shea: 34, esthetician, studied at the Aveda Institute in Charlotte, former Hooters girl, former Maxim Top 100 in 2006, and pretty much has guaranteed that no one will take her seriously on this show. Google her. Out of the hundreds of pictures that pop up of her on the internet, I can't really find one where she has on any clothes. Hide your eyes if you're not into this sort of thing:
Lets just say it seems like Ben has a mouthful…I mean…hand full with her. I'm guessing most of these pics of her on the internet are from her younger days since she doesn't look 34 in these pics. Except for her bust size. I wonder how long before Dave Good tries to pounce on this? 5 seconds after she gets back from filming? 10 seconds? Blakeley is actually one of the girls in the group pic in Sonoma. She's in the top row, far right. One last thing about Blakeley: She's got a connection to this show in her past that I will reveal at a later time.
_________________________________________________________
7. Jaclyn Swartz: 27, grew up in Massachusetts, lives in NY, Account Manager at CBS Interactive (CBSSports.com), graduate of the University of Wisconsin. I don't have any updated pics of her, however, she is the 2nd girl from the left in the top row of the group picture: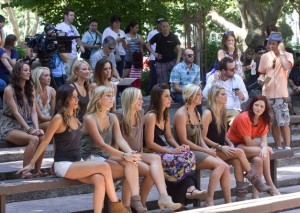 "Dancing With the Stars"
I can't say I'm real shocked it only took them two weeks for Hope and Maks to do a soccer themed dance. You know, one where her outfit looks like a soccer uniform and Maks is dressed like he's playing in the Premeire League. All very cute, and if Hope wants to show off that much of her stomach every week, by all means, go ahead. I'm just curious when they're ever gonna reference the fact that she pretty much gagged in the World Cup Championship game vs Japan. I'm sure they won't, but hey, she did. It's ok. I won't hold it against her. I've got something else I want to hold against her. How long before the Hope/Maks dating rumors start? Another week? Maybe two?
Nice to see Kristin and Mark try and get out in front of the dating rumors by saying, "Oh yeah, we totally expected it." Ummmm, that's not really throwing us off or making any of us think there isn't something happening. Mark gets with every chick partner he finds remotely attractive and we know Kristin loves to sleep around. So there. Case solved. And is Kristin legally a midget? Mark is tiny and he freakin' towers over her. Mark basically could represent the Lollipop Guild if he wanted to. Kristin might as well just start one of their dances popping out of his pocket. And no matter how much she improves, or impresses the judges, for the sole reason she's been portrayed as a bitch on TV, Kristin will never hit it big with the older, women vote on this show. Not happening.
I'm completely convinced that there's not a second in the day where David Arquette isn't either completely high or off his medication. The guy is just too fidgety for my taste. Stay still for Christ sakes. For years I never understand what Courtney Cox saw in him. What a looney tune that guy is. I don't even really find him all that funny either. Seems like he tries waaaaay too hard for attention. Side note: One of the reasons I'm thoroughly enjoying my 90210 watching on SoapNet on the weekends, is because I love looking for cameo appearances from people who are more famous now. Perfect example was this past weekend. They were showing the first few episodes of season 7, which was the year after college. The gang went to Hawaii for Donna's new job, but Kelly stayed behind. The storyline was she did it because she thought her and Brandon needed some space, when in reality, that was when Jennie Garth was pregnant with her first child and they didn't want to have too many scenes of her showing her belly. I know this because I'm a complete 90210 nerd.
Anyway, my point being, in this episode while in Hawaii, Brandon runs in Tracey, his girlfriend from the previous season that he dumped to get back with Kelly. Well, Tracey is now engaged, and her fiancé just happens to be the guy who plays Courtney Cox's ex-husband on "Cougar Town." So yeah. There's my Courtney Cox tangent for this column. There have been some classic moments watching these 90210 reruns and being like, "Hey, that guy/girl is in 'x'." Doesn't take much to entertain me, I'm telling ya'.
I know that Val and Maks are brothers, and Maks seems to have the height advantage, but I swear those two sound exactly alike. I wouldn't be able to tell those two apart if they both did a voiceover. Scary. I wonder if they pulled tricks on chicks with that back in the day. Like Maks would be on the phone with his woman, then he'd hand it off to Val and he'd just chat away while Maks went and talked to Val's chick. C'mon, you know those two had to pull that stunt at some point, right? That's what siblings do. I think. As far as Elisabetta goes, ummmmm, has there ever been a world renown (well, maybe not world renown but highly visible) supermodel who had the barb wire tattoo on her arm? Seems awfully trashy for a woman who's held in such high regard in the fashion world, no? And is it just me, or does Elisabetta kinda look like a more feminine Jillian Michaels?
Sooooooo, after two weeks Carrie Ann is singing songs about how Rob Kardashian is a better dancer than Kim Kardashian? Was that supposed to be a compliment or something? We're supposed to be impressed by that? Kim was awful. And frankly, Rob really isn't that good either. Saying he's better than Kim isn't saying much at all. I'm pretty sure Carrie Ann just hates Kim because she's a no talent hack that's only famous because she let Ray J go backdoor on her all while filming it. And that her dad read OJ's suicide letter.
I want to send this warning out to everyone who's tuning into this show on Monday nights, because I'm telling you, it's coming. It is only a matter of time before Ricki Lake and Derek Hough make sure they get the audience in attendance all up in a frenzy with their "Go Ricki…Go Ricki…" chants. It's coming. You've been warned. Purchase your earplugs at the nearest Walgreens and thank me later.
If we're gonna be open and honest here, which I always, it's time that someone said it. Chaz Bono sucks at dancing. Congrats on becoming a dude, congrats on being open about it and coming forward and making yourself vulnerable on a show watched by 20 million people a week and all that good stuff blah blah blah. The guy can't dance. Sorry. Zero rhythm, zero musicality, coupled with his knee injuries, I know Carson and Nancy suck too, but sorry, Chaz is worse. He's a charity case that's gonna last about 3 or 4 weeks longer than he should. There's nothing entertaining about his dances, he's not any good, and doesn't have much of a personality. But because people feel sorry for him, they're voting. Wonderful.
Chynna Phillips is a MILF. Even back in the Wilson Phillips day when she had the mushroom haircut, everyone always thought she was the hottest. Then again, when you're in a group with the other two who weren't quite the lookers, I guess you'd stick out too. Regardless, she's quite MILFY on this show and I think might have a shot to win. Although, the fact she's married to a Baldwin might lose her some points. Outside of Alec, there isn't much talent in that family. Hopefully Chynna sticks around to at least have a wardrobe malfunction at some point, because frankly, the thought of a Nancy Grace nip slip gave me, how do you say it, the opposite of a boner.
Speaking of Nancy, we all are aware she's easily the least attractive female on the show, but how in 2011 can she keep the soccer mom hairdo going? And hey, I'm not sure any of you are aware of this, but did you know Nancy Grace is a lawyer? No, seriously. Just ask her. She'll tell you. 1,000 times. Go away, Nancy. Please. And stay away. America has seen enough.