Looks like this Thursday we will launch the new look to the site. Still some kinks here and there to work out, and there's a chance we might tinker with the logo, but most of it should be ready to go on Thursday. The interviews with past contestants will start shortly. Don't want to give an exact date because I'm still working out the technical side of things, but they will be up on Tuesdays throughout the remainder of the calendar year. In addition, this Thursday I will be announcing where the "Bachelor" filming is headed for the overnight dates and final rose ceremony.
You know what's funny? I don't know if I've ever announced the final destination this early. Now we know the girls aren't allowed to have access to phones, computers, the internet, etc so it's not like they'd know ahead of time they were going to Panama, Belize, then to the place I'm announcing Thursday. However, I'm sure their families are well aware of this site, or it will get relayed back to them. So whoever gets to the hometown date, technically when they're off talking to a sibling or parent, maybe when a producer isn't paying attention, couldn't they just whisper to them, "Hey, if you make it past this round, you guys are going to _______ for the overnights." Then when Ben toasts at the final four rose ceremony, and says, "Ladies, we're headed to the beautiful ___________", they can try and act all surprised when in reality they already knew because their family told them after reading it on my site. That would be awesome. Obviously, it'd never happen on camera, but would be interested to know if a family member did sneak that in there during hometown dates. They should.
So what am I referring to in the title of this column? Well, apparently the people of Puerto Rico were given a heads up a while ago that there would be filming on the beaches of Vieques, Puerto Rico, however, a rumor got floated that the filming was going to be for a porn shoot, and not the "Bachelor." If you can read Spanish, here is the article. If not, I had a friend translate it below for me because, well, I don't speak Spanish. I took three years in high school and don't remember sh**.
Is a Porn Being Shot in Vieques?
Here's the translation:
"Porn Film Is Not Being Filmed, Instead It's a Reality Show 'The Bachelor' at the Hotel of Vieques"
Yvette Perez Alvarez, spokesperson for the Corporation of the Development of Film in Puerto Rico stated the rumor that a porno would be filmed on the beaches of Vieques is false. Instead the filming is for one of the most watched reality show in the United States and in the world, the series created by ABC, "The Bachelor".
The premise of the show is that one bachelor, who in its 16th year will be Ben Flajnik, chooses a partner out of 30 women who participate in a competition that sees women eliminated weekly.
"It will be filmed at the W Hotel and we believe it will be for the benefit of the island, because it gives us the opportunity to project Puerto Rico for a filming destination for producers," said Perez to the show "Primera Hora" ("First Hour"). Perez rejected the rumor that as part of filming there will be pornographic scenes. "Primera Hora" discovered that the producers have wanted to keep everything a secret in order to prevent information from leaking since the new season for which everything is being filmed on the island is slated to debut in January 2012.
Rumors about filming a porno are quashed.
On his own, the manager of the W Hotel in Vieques algo denied information that the beaches were going to be closed to the public in order for a pornographic film to be recorded.
"That's not true about the porn film and that's not true about the closing of the beaches," said Nicolai Ursin, director of hotel management, when he effectively denied the rumor of a porno being filmed on Nena Island.
The publicist Marilyn Rivera clarified that the rumor is false and "we have no idea where that information came from… no beaches will be closed this weekend and no beaches will be closed at all," she insisted.
The information was leaked by the Viequense leader Ismael Guadalupe, who expressed concern by the rumor that a porno was being filmed and by the lack of guarantee that there would be access to the beaches.
The same way, Ana Maria Ramos, press official of the secretary of the DRNA, Daniel Galan Kercado, told "Primera Hora" that the agency had not received any request to film on the beaches.
"In Natural Resources there has been no permit given or petition received to film a movie on the beach of Vieques. Through this agency there was been none," he stated.
Well, I guess if you wanna get real technical, the "Bachelor" could be construed as a porn, without all the sex. Look at the similarties:
-Contrived situations (contestants being told what to talk about vs the pizza delivery guy showing up shirtless)
-Ungodly amounts of alcohol to fuel the drama (contestants being force fed alcohol so it ramps up the drama vs every girl in porn hopped up on pills and coke)
-A sleazy producer (Mike Fleiss vs anyone who's ever made a porn…ever)
See? It's not far fetched to think these aren't veerrrrrrrry similar in some ways. I'm sure once network television begins allowing nudity in 20 years or so, Mike Fleiss will be first on board to keep this franchise going and he can start having the show he REALLY wants.
Wanted to update you on a few things that I've yet to address regarding this season. As I said, I'm well aware of over 20 girls names on this show and who is who. But I've only got about 15 last names, and not any other solid pictures of them so there's really no point in revealing those just yet. Take for example a picture that WetPaint.com posted yesterday on their site. On Sunday night, some guy in Puerto Rico with a Twitter account posted this picture on Sunday during a baseball group date that Ben had with eight of the women. Here's the pic: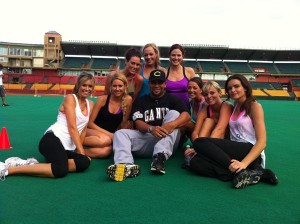 When he tweeted this picture, he also gave out the first names to all these ladies. One problem: He gave out nine names and there's only eight women in the picture. In addition, he left out a name that IS in the picture, and also named two girls in the picture who aren't even in there. As of right now, I'm up to date on who each of these women are, which ones have been on 1-on-1 dates, and what each of them did. But, I don't really plan to give the breakdown of every episode and dates until later on, so, a group picture like this definitely only helps matters. There's plenty more I know that I haven't released yet and that's just because there's no point in releasing everything this early. Here's what I can tell you:
-Someone left early before a rose ceremony
-There was another private concert put on by a musician in addition to the Clay Walker concert
-Someone passed out during a rose ceremony
-Someone arrived on the first night NOT in the limo
-The women got to spy on one of Ben's 1-on-1 dates
Those are just a few of many things I've yet to reveal. All in due time. Send your emails to: steve@realitysteve.com. To follow me on Twitter, it's: www.twitter.com/RealitySteve. Or join my Reality Steve Facebook Fan Page. See you Thursday with the new look.