A lot of you enjoy this site because of the inside information I'm able to attain about this show. Some of it makes it air, and sometimes I tell you stuff that happened that never gets shown. Like Brad kissing all 9 girls during the Dr. Drew date, or that four girls got tattoos in Vegas on his season. There are plenty of other examples of things that I've said which ABC chose not to air for whatever reason, but those were the first two that came to mind since they happened two seasons ago.
Why the cupid picture? (That's a girl shooting the arrow at the boy, right? It was the best one I could find to set this story up) Well, looks like one of the girls had a crush on someone, and it wasn't Ben. I've got some information now regarding this season that I'm going to share with you because it's good gossip. It's fact because I know it happened, but, I wouldn't call it a scandal. Why? Well, I don't edit this show and we're still two months away from the first episode airing, so I have no idea how they are going to handle this incident. Last column I mentioned that there was a girl this season, Britni, that leaves before a rose ceremony. This is NOT that incident. A couple columns back, I mentioned a Mike Fleiss tweet from back on Oct. 18th where he said, "Every year, some guy or girl on the show thinks they can outsmart my amazing team of producers. Good luck with that." This is NOT that incident either. Those are each separate incidents that I will address in future columns. The incident I'm about to talk about I haven't hinted at yet.
For the time being, I'm not going to mention the names of the people involved because I'll save that for later. Here's what you need to know: There is a girl this season that falls for one of the producers on the show, and asks to leave. At the time of the incident, when she informed the crew that she had fallen for the producer, somehow she ended up staying another week. Don't know what was said, I wasn't there. I just know that in the city that she came forward with her admission, she wasn't eliminated in that city. So somehow they convinced her to stick around. Eventually she was eliminated.
I have no idea if this incident is ever going to make air this season. If I had to guess, I'd say no because the producer in question is married with kids. However, before everyone immediately starts jumping to conclusions and compares this to the Rozlyn incident, you need to know a few things. In the Rozlyn incident, we saw it play out on TV, they accused her of having a relationship with a producer, she was let go, and the producer was fired. This is nothing like that. There was no physical contact between this girl and the producer. This producer is still working on the show, he was never accused of anything, and basically did nothing wrong from what I was told. This girl just started having feelings for him, told other people about it, wasn't in to Ben anymore, and asked to leave the show.
For those that are unaware, most of the producers on this show are men. So during the "Bachelor" season, this really isn't that far fetched. The producers of this show have one main job, and that is to get every single contestant in that house to begin to trust them with their life, so they can gather information about them, then eventually use that info to turn around and screw that person whenever they can. Sure, these producers act like they're your best friend, but it's because it's their job. Is there flirting that goes on? Absolutely. Am I surprised this happened? Absolutely not. Ask any former female contestant and they'll tell you how the producers act towards them and the things they say to try and get them to reveal stories or info about themselves. These producers will stop at nothing to get what they want. So what happened with this girl? Did she just read too much into the flirting this producer was giving? Or was this guy more her type than Ben was? I'm not quite sure. All I know is she came forward and told people that she didn't want to be there anymore, she wasn't into Ben, and she was falling for this producer.
Whether this storyline ever makes air, I have no idea. Guess we'll see in a couple months. If it does, then you'll know who it is. If not, then I'll just tell you at the time of her departure from the show. Something tells me though that because this producer has a wife and kids, it won't make air. Good thing I found out about it though. I enjoy dirt like this and exposing the show for its ridiculousness. Ohhhh, the producer stories I could share with you all. It's why I've said for the longest time that this show isn't real. Because it isn't. All fake, manipulated, and contrived situations put together by producers and the editing room. 15 Bachelors in this show's history, and not one married the final girl he chose. Why am I to believe Ben will be any different? He's a frat boy that's using the show for an 11 week promotion of his winery. I don't fault him for doing the show, but he's at no different of a place in his life to find a wife than the fifteen (well fourteen since Brad went twice) that preceded him. Nothing more, nothing less.
A few more contestants to confirm for you. Last season, I had 19 pegged before ABC released their info. Looks like I'm going to. Here's three more to give you this week.
________________________________________________________
14. Monica Spannbauer: Salt Lake City, Utah, works in dentistry, she is the second from the right in the back row in the Sonoma picture wearing the brown tank top.
LinkedIn Profile – Monica Spannbauer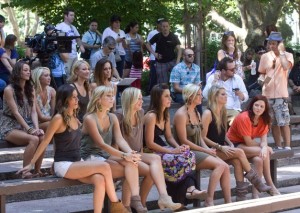 ________________________________________________________
15. Amber Bacon: 23, Canada, maternity nurse at Royal Columbian Hospital in New Westminister, BC. Sorry, no picture on her yet. She was eliminated on the first night, so, it's not like she's all that important.
________________________________________________________
16. Emily O'Brien: Charlotte, NC, graduated from Duke with a degree in Psychology, currently a 2nd year medical student at UNC. When I was informed about Emily over a month ago, it was told to me she is "this season's Ames". Smart, attractive, well liked, and most definitely a front runner. Had no idea what an Epidemiologist was until I googled it. Easily one of the smarter women they've ever cast. Not hard to figure out if Ben doesn't pick her, you might wanna pencil her in for the next Bachelorette.
Research project: http://www.sph.unc.edu/images/stories/news/cph_2011_spring/documents/howell_stroke.pdf