The 18 women remaining after the first episode are:
Jamie Otis
Monica Spannbauer
Kacie Boguskie
Lindzi Cox
Emily O'Brien
Blakeley Shea
Jenna Burke
Nicki Sterling
Shawn Reynolds
Erika Uhlig
Samantha Leavy
Jaclyn Swartz
Casey Shteamer
Rachel Truehart
Courtney Robertson
Elyse Myers
Jennifer
Brittney
Episode 2: Sonoma, CA (18 to 16)
1-on-1: Kacie Boguskie. They watch home movies of each other and also go shopping in town where she buys a baton and shows off her baton twirling skills. She was a majorette at the University of Tennessee, so I guess she's excellent in handling long, hard poles. Too easy.
Group Date: 12 of the women audition for a play put on by children. This was documented in real time back in September when this piece from the Sonoma News came out entitled "The Bachelor Invades Sonoma". Still awesome to this day and they deserve an Emmy.
1-on-1: Courtney Robertson. They go on a picnic, Ben's dog Scotch makes an appearance, and Ben develops a boner for Courtney that lasts all season.
Rose Ceremony Eliminations: Jenna Burke and Shawn Reynolds.
Episode 3: San Francisco, CA (16 to 13)
While in San Fransisco before any of the dates start, Ben meets up with his sister Julia at the Grove on Chestnut street and they ride around on a vespa. When I was first given this picture back on Sept. 27th, I was told this was a 1-on-1 date with one of the girls who hadn't been identified yet. It wasn't. It's Ben and his sister Julia. Hey, if his dog gets to make an appearance the previous episode, surely they'd give his sister some run. Here was the pic: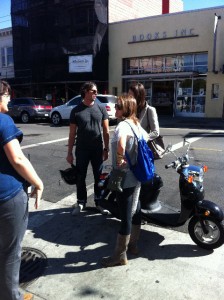 1-on-1: Emily O'Brien. They scale the Bay Bridge and see fireworks. Also during this date, there is a telescope conveniently placed on the balcony at the Fairmont hotel where the rest of the women are staying, and the women can see Ben & Emily kissing from their view.
Group Date: Closed down one of the streets in San Francisco, brought in fake snow and 11 of the girls went skiing. Here are some pictures that were posted back when it happened:
1-on-1: Lindzi Cox. Took a trolley around town, went to a "Speak Easy" at a place called "Bourbon and Branch", then headed to a private concert at City Hall put on by Matt Nathanson.
This will be the episode most talk about in the early part of the season for all the sh** that goes down.
-After the group skiing date, they all got dressed and had an after party at the Tonga Room. It was during this time that Brittney, the woman whose grandmother introduced her, voluntarily leaves the show.
-It was also established in San Francisco that contestant Samantha Leavy had fallen for producer Bennett Graebner. Nothing physical ever happened between the two, but Samantha told producers she didn't want to be there anymore because she had feelings for someone else, somehow they convinced her to stay another episode, and that was that. I am not sure if this storyline will ever make air because Bennett is married with kids, but hey, it sure made for some good dirt. So whatever BS reason they show for Samantha leaving in Utah, just know it's because of that.
-At the cocktail party before the rose ceremony at the Farimont hotel is where Shawntel Newton, the mortician during Brad's season, comes back to "enter" the game. The details behind her appearance were given to you back on Oct. 7th. Here's what I wrote:
-Shawntel first appears on the show at the cocktail party on the night of the San Francisco rose ceremony, which was last Friday night.
-Her reasoning for being on the show? Well, she wanted to date Ben. If you go back to her Twitter account during Ashley's season, Shawntel made it known to the whole world she had a crush on Ben. I'm guessing this is where they got the idea to bring her on.
-Shawntel shows up at the Fairmont hotel during the cocktail party and talks to Ben. Essentially tells him she thinks there could be something between them, they live close to each other, and she'd like the chance to date him, but, she will leave it up to him by giving him a chance to think about it and decide at the rose ceremony if he wants to give her a rose.
-Well, that pretty much backfired since Ben does not give her a rose at the rose ceremony and she's sent home.
What's funny in all this is I'm guessing Shawntel was pretty confident Ben would want to keep her around, or else why would she agree to do it? And hell, I'm sure the producers thought he'd keep her around. I've heard from numerous sources that Ben and Shawntel had definitely had communication before last Friday night in terms of speaking with each other. I don't think they'd ever met up, or gone out on a date, but I know they had texted, emailed, and tweeted each other before. So naturally, she probably thought she had a chance. I guess Ben didn't since he sent her packing a few hours after she arrives. Sucks for her.
-Erika Uhlig faints during the rose ceremony while Ben is passing out the roses.
Rose Ceremony Eliminations: Erika Uhlig and Jaclyn Swartz. Brittney has already eliminated herself during the after party of the group date and Shawntel never receives a rose from him after showing up.