Here's a brief summary of episodes 4, 5, & 6 in terms of the eliminations. Episode 4 is in Utah and they begin with 13 girls. Episode 6 is in Panama and at the end of that episode, they have 6 girls left. Which means 7 girls total were eliminated in Utah, Puerto Rico, and Panama. Without a doubt, the 7 girls eliminated in these three episodes were:
Monica Spannbauer
Samantha Leavy
Jamie Otis
Blakeley Shea
Casey Shteamer
Elyse Myers
Jennifer Fritsch
These next 3 episode summaries are where I had the least amount of my information, so, the dates aren't complete, and some of the eliminations might be off by an episode, but all you need to know is those 7 girls are eliminated during these three episodes, and I do my best to break it down based on what info I had.
Episode 4: (In Utah, 13 down to 11 or 10)
1-on-1: Jennifer Fritsch. First she had dinner and a gondola ride, then they attended a Clay Walker concert. Damn that I can't get this girls last name. Driving me bonkers. This is what I wrote in my blog back on Oct. 6th when I confirmed this date:
"As for the Clay Walker date on Tuesday night in Park City, Utah, it was the end of a 1-on-1 date with the red head in the Sonoma group picture. She's the girl on the far right on the bottom row. Her name is Jennifer and she's from Oklahoma City. Don't know her last name or have any other pictures of her, but I'm guessing I will soon. She had a rose on her, so she was safe at the rose ceremony. Ben and Jennifer (or Bennifer for all those people who can't type two names) arrived during Clay's performance and they danced to the song "She Won't Be Lonely Long." After that song, they slow danced to a ballad of a song that hasn't been released yet called "Like We Never Said Goodbye," so I'm sure when it airs, the song will be on itunes the next day or something. At the end of the ballad Ben kissed her, and Clay asked him, "So is she a good kisser?" and Ben replied she was the best kisser thus far. He asked the same to Jennifer and she said Ben was a great kisser as well. The End."
Group Date: Fly fishing.
Rose Ceremony Eliminations: Definitely Monica Spannbauer and Samantha Leavy were eliminated this episode, but, if they eliminated 3 this episode and only took 10 to Puerto Rico, then Elyse Myers went home here. I think they only did 2 though.
Episode 5: (In Puerto Rico, either 10 or 11 down to 9 or 8 )
The dates that I do know are:
1-on-1: Nicki Sterling. Ben is dressed in a white suit and hat looking basically like a douchier Ricky Ricardo, and they head to Old San Juan to visit some wedding chapel.
Group Date: Baseball Date. Some guy in Puerto Rico with a Twitter account posted this picture in October during a baseball group date that Ben had with eight of the women. Here's the pic: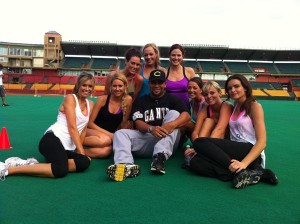 For those keeping track, going clockwise, that's Lindzi, Casey, Blakeley, Emily, Jennifer, Jamie, Rachel, and Courtney.
Not sure what the other date was in this city, but this is the episode where Ben and Courtney go skinny dipping and show their bare asses to all of America. Courtney? Can't wait. Ben? Not so much.
Rose Ceremony Eliminations: Pretty sure it was Jamie Otis and Jennifer. If three people were eliminated on this date, and Elyse did make it Puerto Rico, then I'm pretty sure she went home here.
Episode 6: (In Panama, 9 or 8 down to 6)
1-on-1: Kacie Boguskie. This is the only date I know about in Panama. I've got nothing from this city. I know about this date because it's shown in the previews of her and Ben with a fishing net in the water.
Group Date: Boat ride in the Panamanian jungle then they spend the day with a local tribe painting their faces and wearing tribal clothing.
Rose Ceremony Eliminations: Definitely Blakeley Shea and possibly Casey Shteamer. Unless Casey was eliminated the previous episode, then swap her out for whichever girl wasn't – Jamie or Jennifer. UPDATE from 1/31 post: Blakeley Shea eliminated during 2-on-1 date with Rachel Truehart. Jamie Otis and Casey Shteamer the other two eliminated this episode.
UPDATE from 1/31 post: Also, the previews for next week also clearly lay out who's on what date. Man, they don't even try to hide stuff anymore, do they? It's not even a big deal at this point when they are just giving things away in their promos. They gave the skinny dipping away back in December, Shawntels return in San Francisco, Kacie confronting him in Switzerland, and now next weeks dates. Kacie has a 1-on-1 which we knew, the group date has 6 girls on the boat – Lindzi and Jamie are sitting closest to Ben, Emily and Nicki in the middle, and Courtney and Casey at the front. Which means Rachel and Blakeley are on the 2-on-1 date, and Blakeley gets sent home.
UPDATE from 1/31 post: The previews also show Chris pulling Casey S aside to tell her something. Well, that has to do with the boyfriend back home. The previews make it seem like somebody died and she has to immediately rush home or something, but that's not the case. Look at what Chris Harrison says in his blog today about it:
"What I'll tell you is this has something to do with her personal life back home and it concerned me enough to step in and talk to her about it. In next week's blog I'll explain exactly why I did what I did and how some of it was related to my regret of how I handled the Bentley situation with Ashley."
Uhhhh, yeah. If he's comparing it to the Bentley situation, this has nothing to do with any family emergency or anything like that. This has to do with what I mentioned back months ago, was that I was told Casey was dating a guy named Michael Patak before she left for filming. Don't know how it's presented or what the exact storyline is, but rest assured, her exit has to do with having a boyfriend back home. Even The Bachelor Fan Page on Facebook posted this status last Wednesday:
"Secret of the Week: Soon it will be revealed that one bachelorette still has a boyfriend… Who do you think it is?"
Look at what next weeks press release for the show even says:
"On rose ceremony day, Chris pays a surprise visit to the women, pulling Casey S. from the group. In another of 'The Bachelor's' most dramatic moments, he confronts her about a situation she has kept secret from everyone. A shocked Casey S. then must admit the truth to Ben. How will he take the news?"