Episode 9: Overnight Dates (In Switzerland, 3 down to 2)
UPDATE from 1/31 post: As for the other information I received, I actually was told back in November that someone returns to the show, but didn't have any details surrounding it. I heard again on Friday that someone does come back, and the previews last night clearly show it's Kacie who returns in Switzerland (after getting dumped at the hometowns), to warn Ben about Courtney. Not sure at what point in Switzerland she returns, if it's before or after Nicki leaves, but she does come back to talk to Ben about Courtney. Nothing more, nothing less. She doesn't come back to try and win him over or ask back on the show, but she shows up in Switzerland to let Ben know Courtney is an evil witch that needs to drink a bottle of poison.
Rose Ceremony Elimination: Nicki Sterling.
Episode 11: (In Switzerland, Lindzi Cox vs. Courtney Robertson)
-The final rose ceremony took place Wednesday, November 16th at a location on the mountain called Sunnegga, with the Matterhorn as the backdrop. Here is a pic to kind of show you the area: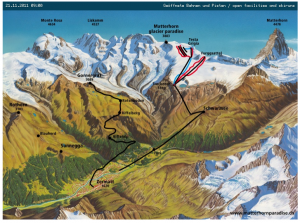 As you can see, it's pretty high up, and both girls arrived at the final rose ceremony via helicopter.
So with Lindzi Cox and Courtney Robertson to choose from, who did Ben choose? The easy going, horse riding chick, or the girl with the potty mouth that seemed to be disliked by the others in the house and went skinny dipping with him in Puerto Rico? Naturally, Ben went with his head.
Ben got engaged to Courtney Robertson in Switzerland, and is still engaged to her today (Yes, he went with THAT head).
I'm sorry, but this is utterly hilarious to me. Yes, this girl is engaged to Ben: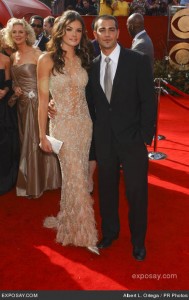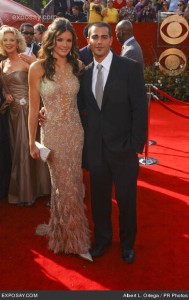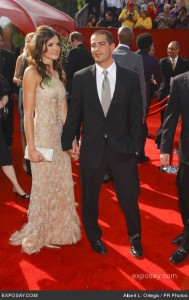 ________________________________________________________
The girl that is an international model/actress, who once dated D-lister Jesse Metcalfe and was his date to the 2005 Emmys (as shown above), the one girl that you can tell from the promos none of the other girls like and probably questioned her sincerity is now engaged to the guy who admittedly said his wine business took off after his appearance on Ashley's season, who made a "Cream Dream" music video about wet dreams where he was squirting lotion all over the place, was also briefly hanging out/seeing Britt Billmaier from Brad's season, then had a little fun with Jennifer Love Hewitt six weeks before filming this show? Really? Fifteen previous seasons of the "Bachelor" and not one of the leads has ever gotten married to the final girl he chose in the end. Ummmmm, I think it's safe to say we should already make that 16 straight seasons of the "Bachelor" that won't produce a marriage. C'mon people. The guy chose the girl he lusted over and there is not a single chance in hell these two will ever get married. Period. End of story. But it sure will be a hell of a lot of fun making jokes at their expense. By the way, Ben appeared on Ryan Seacrest's radio show this morning and admitted he had dinner and a date with JLH in August. Funny. Back when the news broke and JLH went on Seacrest's show to talk about the rumor, she said she randomly happened to be at the same bar he was at and there was no date whatsoever and it was completely coincidental. That should pretty much tell you all you need to know about what happened that night. Ben's essentially bragging it happened. She is denying it. They can't even match their stories up. (Her exact quote to Seacrest back on Aug. 17th, "we just happened to be in the same place at the same time." Uh huh. Not when Ben said, sweetcakes. Here's a link to the full interview JLH did with Seacrest).
Hey wait! I got it! Best idea I ever had. Since Ben and Courtney have each spent some quality time with D-listers, how about Ben calls up Jennifer Love Hewitt, Courtney rings up good ol' Jesse Metcalfe, and they can play matchmaker? I mean, JLH just had another guy dump her, and last time I checked, Jesse Metcalfe doesn't seem to be busy these days. It's perfect! A match made in heaven. Hey, since Ben and Courtney have no chance of ever getting married, why not at least use their resources and see if JLH and Jesse hit it off. Or is Jesse already one of JLH's 100 Hollywood ex-boyfriends that I completely forgot about? Whatever the case, I really think they should take me up on my idea. Thank me later. Wow. ABC is gonna have a hell of a time trying to sell this final couple to their audience.
Look, I'm sure Courtney is as sweet as pie, and Ben seems like a decent guy, but seriously people, lets take off the blinders and see exactly what's happening here. Courtney is on the show to promote her career, and now being engaged to Ben, do you realize how much more publicity she's gonna get, how many more magazine covers she'll be on, and how many more TV appearances she'll get out of this? Whatever plan she had when applying for this show worked. She should probably cut her agent another 5% for probably booking her on this show. I'm guessing Courtney wasn't sitting alone at home dateless looking for something to do, saw that Ben Flajnik was gonna be the "Bachelor", and ran to her computer to fill out an application in hopes that she could one day be his future ex-fiance. Call me crazy. As for Ben, he gets an 11 week commercial for his winery, he's got a woman completely out of his league looks-wise to prance around to all the tv shows and magazines once the finale airs, and he got to show his butt on national tv. Seems like he wins all around. The show is the same exact thing every season except with different cast members. This season will be no different.
Send your emails to: steve@realitysteve.com. To follow me on Twitter, it's: www.twitter.com/RealitySteve. Or join my Reality Steve Facebook Fan Page. Talk to you tomorrow.