Hey Steve,
So I've been reading your blog for a while, including Reader Emails, and you obviously get a lot of the same questions over and over. Since some people may only have started following you recently, maybe it would be beneficial to have a FAQ section on your site where you list the answers to all the same tired questions you get all the time. Then people can have their answers in one place, especially if they haven't been following long enough to see you answer it, and you can get a break from all the redundant emails. I'm sure some people will end up asking them anyway, but at least the volume of them might be reduced. Just a thought.
Comment: Swweeeeeeeetttt!!!! Great idea. I'll get right on that. Right after I go to the kitchen and bash my head on the stove.
__________________________________________________
Hi Steve,
So you obviously talk a lot about how contestants on The Bachelor get really drunk, and that helps the producers get the footage they want. But wouldn't there sometimes be contestant's who just didn't drink alcohol? Or who didn't like drinking enough to start acting crazy and saying bad things? I mean how do they guarantee that all their contestants are borderline alcoholics, it doesn't seem like something you can just ask in casting.
Comment: I'm sure there have been contestants on this show that don't drink. They're just few and far between. And you know what happens when you don't drink on this show and don't give entertaining ITM's? You don't last very long because you're not good television. Those who give the producers what they want seem to stick around, and those that don't, don't.
__________________________________________________
I usually wait to see the bachelor until the next day on hulu, but we live in Utah and my husband is an avid fly fisherman, so we wanted to see the episode tonight. Utah really is beautiful, I will never get tired of the gorgeous mountains surrounding us with everything else that that entitles, like waterfalls, hidden lakes, etc. There are a lot of things in Utah that are "in the middle of nowhere". But let me tell you, the Homestead Crater in Midway is not one of them. Granted, it isn't in a big city, it's in a rather small mountain town, but it is not how they tried to portray it. Every time I've been there, there are people waiting, it's not like nobody can get in. You just can't get in from the top. They have a man made tunnel from the side where people go in (I've attached a picture):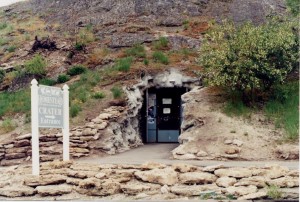 And inside the crater they even have lockers and stuff like that. I think it's the only place around here where you can get scuba certified, so I know quite a few people go there for that reason, but anybody can go. I just wanted to let you know. I feel like sometimes they want us to think that they have access to things that nobody else has access to, and I wonder how much of that is actually true.
PS, great column! I love reading you recaps, and I'm not gonna lie, mostly your spoilers, it makes watching it all that much more fun. Thanks!
Comment: Thank you for that. Never thought that the Crater date would be so appealing to some people. That's two in a span of 3 days that sent me something on it. I think there was another one too, but it basically said the same exact thing as the first two.
__________________________________________________
Hello Steve. I am Stephen from Iowa. I am fifteen and I'm a huge fan of the bachelor/bachelorette/bachelor pad shows. I accidentally came across your spoiler alert and I'm disappointed. Im not one for spoilers but I respect your work because I know in life you gotta do what you want to do. I'm still holding out faith that maybe Courtney isn't the bachelorette but I was really frustrated about the spoiler. I was reading an article about Ashley and JP and had no idea then it just flashed up at the bottom of the page. I mean I know I cant ask you to stop because like this is your career obviously and stuff. But can you please maybe ask other websites to not site your spoilers and maybe not flash them up on their websites? I'd really appreciate that man. I did like ur article about kasey kahl and that was interesting.
I know that some people really don't like to wait forever but I like to wait and let it 'set in' and then they come here and that's cool. But I'd ask if you could ask those websites not to do that, so that way people who do not wish to get alerts do not. Thank you very much for making yourself so approachable for contacting and thank you for you time Steve!
Comment: Hello Stephen from Iowa. I'm terrified. No, not because I seem to be ruining this kids TV viewing pleasure of this show. But because a 15 year old boy is even watching the "Bachelor" in the first place and cares about the ending. Uh oh. This could lead to some serious emotional scarring. Stephen, I'm begging and pleading to you – don't watch it. It's crap.
I have no control over how many people run with my information on other sites. It's a free country and everyone knows my site is quite accurate in telling you what's gonna happen on this show, so, obviously they are going to take what I say and put it on their site to get people to read them. I can't control that. Once the spoilers are up on my site, it's going to spread. That's the world we live in.
Stephen, don't tell any chicks you watch this show. Or your winter formal date. Might not be a good thing.
__________________________________________________
Hey Steve,
So glad to finally see someone point out how hypocritical the "Bachelor Family" is every single year (with Grandma Bachelor Trista probably being the worst of all). Every Monday night they go on and on about how evil, childish, rude, unworthy, etc. the contestants are but the minute the show's over, they're all planning to meet up and all the bad stuff is chalked up to "bad editing." Unless she pulls a Chantal (who I have new found respect for) and finds a man off camera, I would not be surprised at all if Courtney's a beloved member of Bachelor nation six months from now despite the fact that they all find her so horrible now.
I've also noticed that plenty of the fans are just as hypocritical. The same ones who were talking about how mean all of Jake's girls were were saying a year later how unfair it was that Brad didn't get sweet girls like Jake did and now they're saying that Brad had the best girls and all of Ben's are nasty you-know-whats. It'll be the exact same next year. As long as they can talk to former candidates on twitter and pretend they're bff's the past is always forgotten.
Some advice for these fans: find some real friends, kiss your husband and appreciate this show for what it is: a highly entertaining train wreck.
Comment: An excellent, excellent email that I absolutely 100% agree with.
__________________________________________________
Hi Steve –
Love your column. I promise myself each season I am not going to read the spoilers but I always read them! Like the kid who knew what I was getting every year for Christmas because I peaked.
I have two questions:
1. I have read on Twitter comments that Courtney broke up with a long time boyfriend right before she came on this show. Do you know if this is true, who he is, and how long they dated?
2. On the night of the premiere of this season, Tolan Florence, the wife of chef Tyler Florence sent a tweet to Mike Fleiss saying that "she was D-Y-I-N-G right now watching my brothers, very very recent ex on the Bachelor premier". Any idea which girl she was talking about?
Comment: 1) There's so many Courtney rumors out there, who knows what's true and what's not. I'm going to address this a little deeper on the live video blog tonight, so stay tuned. People seem to have quite the short term memory when it comes to this season and Courtney's edit.
2) No idea.
__________________________________________________
Hi Steve,
LOVE the blog. I look forward to the Tuesday recaps like Christmas morning, though I often read it at my desk at work and people around me must think I'm a crazy person hearing the hysterical laughter, I guess they might think that about me for other reasons too…but I digress 🙂
Kind of a possibly dumb (and probably previously asked) question coming 'atcha, so, you've been warned…..Not sure if you've ever heard anything about this from previous Bachelor season ladies, but last night at the rose ceremony I found myself wondering about their cocktail dresses. Typically we only see them packing up a suitcase about the size of a carry on as they get ready to go out for 1-on-1's or whatever, but do they really pack enough dresses to last out the whole season if needed or get to shop on location during all their "downtime", or heaven forbid – share each others?! It just seems like each week they wear different things, and while granted they're not very "big" dresses in the first place and could probably cram quite a few in there haha, it just doesn't seem possible that they are able to plan and pack ahead like that. Anyway just curious. Excited for live blog Thursday! Keep up the great work!!
Comment: Yes. I believe during this offseason I posted the "acceptance" letter on what to bring if you're cast on this show. I think each girl is now allowed 5 suitcases? Maybe it was 3. And they obviously stuff those things with as many dresses as possible. Once you get to the final four, you get to go shopping with your handler (on the house of course), to buy more clothes.
__________________________________________________