-Up next is Emily's 1-on-1 date with Ben. Or at least I thought it was Emily's 1-on-1. Kinda hard to tell when THREE different times during her date, they cut away to Courtney back at the hotel whining about Emily getting a date while her sorry ass might not get a solo one this week. I don't think we've ever seen a 1-on-1 date, especially this late in the season, interrupted that many times to get the reaction of someone else back at the hotel. If that wasn't foreshadowing of what was to come for the unspoiled, then I'm not sure what was. Then again, I really wasn't too interested in watching this date for reasons that I've probably made clear in every column this season. When Emily left, one of the girls said to her, "Have an un-BELIZE-able day." Ok, enough with the Belize nonsense. Not only because it's not funny, but you're really isolating Courtney. Having her incorporate "Belize" into a sentence might give her an aneurysm. Well, unless that sentence is "I Belize I'm carrying Ben's baby after Puerto Rico." Ben and Emily rides bikes through town, which we knew back in October when the site SanPedroScoop.com posted these pictures.
-However, what the pics from that site didn't show us was Ben and Emily getting in a little basketball game. I mean, did you see that? Emily didn't shoot like a girl. She didn't go flat foot, push shot, with one leg kicking back up behind her that 99% of women who don't play basketball shoot like. Trust me, I was watching intensively considering my basketball background. Emily actually took a little jump shot and didn't look like a spaz doing it. Good lord. This just isn't fair. What's the next thing you're gonna tell me, her three favorite shows are "24," "Friday Night Lights," and "Lost?" Watching her take that jump shot pretty much sealed the deal. Why? Well because in case you didn't know this, there are only three guarantees in life. Death, taxes, and MY jump shot. Check this: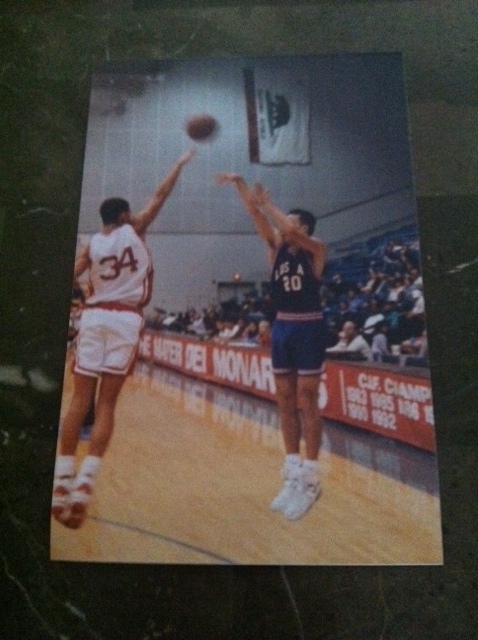 ______________________________________________________
Who's the baller in the nut hugger shorts nailing that jumper back in 1993? That would be yours truly. And oh yeah, for those who might not be able to make out who #34 is that I'm busting in the eye right there, that'd be Miles Simon, two-time Orange County Player of the Year, National Champion and Most Outstanding Player at the Final Four for the University of Arizona in 1997. Where you at, Miles? Bam! In your eye. Look at the form. Did it go in? Of course it did. Did we win? Uhhhh, no. I believe that Mater Dei team won state that year. And pretty much every other year. But as long as I can bring back pictures from 19 years ago and glam on to my shining moment making Miles Simon look silly for everyone to see, I'm happy. And oh yeah, if Emily wants to even attempt a game of H-O-R-S-E with me, bring it. I'm down.
-After their game of basketball where Emily was legitimately trying to play and Ben was trying to cop a feel since I'm sure he has the basketball skills of a 6th grader, these two try and go get some lobsters for dinner. What?! There's no lobsters left for them? How convenient though that a boat is ready to take them out to sea where they can catch their own lobsters. It's like this is all planned out in advance and not spontaneous whatsoever. Oh wait. It isn't. From the editing, it looks like each of them caught lobsters. I guess. I'm thinking more that Emily caught hers because she's got skillz whereas they had to wait around for one to jump into his hand. Lets just say he's no Ozzy Lusth underwater. At dinner, Ben asks, "Do you feel confident enough bringing me home to your family?" I think after a five-minute answer, in a roundabout way, Emily said, "I think they will absolutely love you." Really? You are going to prevent worldwide diseases from spreading some day while this guy is off jerking around with D-list celebrities making "Cream Dream 2: The Release…Onto Courtney." Not being biased here but, yeah, good thing these two didn't last. Ok, I'm being biased.
-Ben toasts to Emily saying that her parents would love him and she's giving him an open invitation to come to Charlotte with, "To a beautiful woman, I'm happy to be here, and wonderful moments together." The guy basically just dissed her invitation. Ummmm, he certainly didn't diss Lindzi when she mentioned meeting her parents or even Courtney later. Hell, he flat out told Courtney to her face he wanted to meet her parents. Good cover on Emily, Ben. Don't think I didn't notice that. Even last season we saw Brad break the rules and give Emily a rose on her 1-on-1 before hometowns when he wasn't supposed to. Even the non-spoiled should've seen Emily's departure coming from a mile away. Of course, even though Ben's mind was pretty much already made up, that didn't stop him from getting on last tongue down session in with her. I began breaking out in hives during this.
-And of course they cut away to Courtney back at the hotel bitching about she's losing it for Ben. Oh look! A date card! I wonder if it'll be a 1-on-1 for Courtney! Well lookie there, it is. "Courtney. Lets take the next steps in our relationship. Ben." Ummmm, if you've already had sex, exactly what would the next steps be? The justice of the peace showing up? Courtney is flaunting that she got the last 1-on-1 date and little southern belle Kacie is turning into a drunken sailor. Kacie: "That f***ing bitch. It took every freaking fiber of my being to not spring across the room and punch her in the face…it's not because I'm jealous of her…it's because $#%^!@ piece of a person." Ummmm, well, it IS because you are jealous of her Kacie, you can at least admit that. You know what's funny? By no means am I gonna sit and defend anything Courtney has said or done this season, but can you imagine if that last line came out of Courtney's mouth how much more hatred would spill her way? But since sweet, little ol' Kacie B. said it, no one is probably batting an eye today talking about it at the water cooler with their friends. Just saying. Courtney would've been crucified if that came flying out of her mouth. An f-bomb and a physical threat. Kind of along the lines of how Michelle Money said her thing last season. Michelle says it during Brad's season, and women are calling her nasty, and a bitch, so on and so forth. Kacie says on camera she wants to punch Courtney in the face and no one will say a word about it today. Hmmmmmmm. And if you don't think Kacie has a little rough streak in her, check this out:

Courtesy of: Lucky Gunner

Courtesy of: Lucky Gunner

Courtesy of: Lucky Gunner

Courtesy of: Lucky Gunner

Courtesy of: Lucky Gunner
__________________________________________________________
Thanks to LuckyGunner.com, back in May we can see this chick was firing off guns at the range lookin' all bad ass. Just to think a few months later she wanted to haul across the room and punch Courtney in the face. I wonder if "punch her in the face" was a euphemism for "blow her brains out at the shooting range."