So I fell asleep last night, due to boredom watching the bachelor. I decided to go back and watch it today to see if there was anything interesting I missed – NOPE. But I did notice one thing that I think might be of tiny-itsy bitsy interest (well not to you) but to some of the readers.
When Ben & Courtney are on their date, they sit down to write their "fake vows." First off, for those who think that Ben writes the Date Cards, they show him writing his vows that clearly looks NOTHING like the date card writing. The next shot, they show Courtney writing her's. She has a little torn piece of paper under her thumb that has parts blurred out that she is copying her vows from. I paused it at the right moment, honestly on accident to rewind it to see Ben's writing (I was curious how messy, neat, legible, etc. it was) and that's when I noticed Courtney's little cheat-sheet.
OK now that I have wasted 4 minutes of my life that I will never get back writing this email to you, I hope some of your readers can sleep peacefully tonight knowing those two things.
Oh one more thing, because I fell asleep while watching the Bachelor, I guess it decided to haunt me in my dreams. The awesome thing is, I ended up being the main source for R.S.! I was a private investigator, posing as a producer, and had little cameras hidden all over the place. I would send you the info., pics and video clips and helped keep Reality Steve alive! Oh, and I learned to fly, which ended up being handy because one date they were on safari and only 2 crew members were allowed – So I flew (like superman) overhead and got some real spoiler shots for you. Wow. I think I should stop watching T.V.!
Comment: Ummmm, wow. I didn't realize I had that effect on people. It's kinda like how a lot of the time the last person I text or talk to before I go to bed ends up in my dream as well. Except, well, my dreams are a TAD different than yours. If only it were that easy to get spoilers.
__________________________________________________________
Hey Steve,
Maybe this has been asked before:
After I saw the picture of Ali and Ashley in your last post, I was wondering how much the former contestants get paid to appear as guest judges, giving advice, etc. I'm sure the show covers all travelling expenses but how much do you think they get paid to appear($1,000? $5,000?,$10,000?)?I'm sure it's quite large since we can never get rid of Trista and some of these other former contestants and they all keep coming back for these cameos. Or do they just do it so that they can stay in the public eye? or are they contractually obligated?
Comment: Yes. Every time you see former contestants come back to a "Women Tell All" or "After the Final Rose" or come back to appear on "Bachelor Pad," they are getting paid for it. You kidding me? You think these people are doing that stuff for free? Not a chance. And I'm guessing your dollar amount guesses are fairly accurate. It's not much, but something that's definitely worth their time.
__________________________________________________________
Hello, here are some reader questions from me:
1. Last night when Courtney said her vows to Ben Flajnik, did you know that they were taken from Sex & the City? I suspected it but even Chris Harrison tweeted it out to confirm it. Does this make her more or less fake than you suspected, and did Courtney plan that faux-wedding or did production plan it (liek how they planned the William-Ashley wedding last year on one of their dates)?
2. On Twitter last night someone was berating Ben Flajnik for sending home Kacie B, and he wrote this: "Have you met KC b?" as if to say that there was something wrong with her or some reason and that if that fan had met her they'd get it. What does he mean? Was there something else to Kacie's exit we don't know about?
3. And for the title question. When you were wrong about the ending of Ali's and Brad's second season how did that happen? I am a HUGE fan and I'm not trying to point out the fact that you were wrong, I'm just wondering if you could explain how you were wrong, since I know you are never wrong lol. Now, I know you were NOT "Fleissed" as people say, and were NOT fed misinformation by your sources. But then how did it happen? Did you just make inferences and conclusions and made a guess at the ending based on the info you were given, and then that final conclusion was wrong? Did you put together the pieces people gave you and you made the wrong guess, at the end (ie you weren't 100% but guessed anyway)? Did your sources just not give you info about the ending? Just wondering what happened since I know you are always right and I know you aren't being fleissed or anything ridiculous.
4. Finally, has anyone ever told you this? What I do EVERY season, and have, since Jason and Molly, is I bet with my friends each episode on who will go home. Since I discovered you, I have been right PER episode (with one or two wrongs- ie Brad's ending and Ali's ending- enough to make it 'real'), and every year I win hundreds of dollars in bets! My friends think I'm seriously psychic, and they haven't yet had the brains to google and find out about you. No joke. So thanks a lot- over the years I've won hundreds in cash and starbucks cards, all thanks to you. Do a lot of people admit this to you? Lol. One day the jig will be up I'm sure.
Comment: 1. Production plans everything on the hometown date. These girls don't plan sh**.
2. I have no idea what he meant by that.
3. Sorry, can't get into details about that other than to say it was probably a combination of both. Some miscommunication and some of it was me jumping to conclusions before I should've.
4. Wow. I hate to say this, but your friends are idiots then. Not because they haven't heard about my site, but because they're stupid enough to bet on the outcome of a show that's taped in advance. You'd think after years and years of you being right so much, someone would have the idea that maybe, just MAYBE, they should google "Bachelor spoilers" and see if you're getting your answers from someone who knows. Just a thought.
But hey, that's their fault, not yours. Keep taking their money.
__________________________________________________________
Final question of the night – why do they pretend they're looking for a great man or woman for the next bachelor/bachelorette when they know they're just going to recycle someone from a previous season?
Comment: This question got asked to me a lot this week since during the commercial we hear Chris Harrison saying, "If you know someone that would make a great Bachelor, nominate him now at ABC.com." The thing is, they do this EVERY season. This is nothing new. They ask for it, but in reality what they're asking for is just more applicants to choose from. So if you submit a friend to be the next "Bachelor" and they like him, basically he will just get asked if he wants to be on the next "Bachelorette." The next "Bachelor" will be someone recycled like it has been for the last 8 seasons. It's just a way for them to drum up interest and get more candidates to choose from.
It's no different in how "Amazing Race" and "Survivor" pass off contestants to each other that apply. Some couple will apply for "Amazing Race" that won't make the cut, but a casting director will think they might be better suited for "Survivor," so then the "Survivor" people contact them, and vice versa. I'm aware of someone this season on "Survivor" that it happened to.
__________________________________________________________
Hi Steve,
I was watching the home towns last night and was wondering if you knew if the families of the women are required to sign something from ABC stating that they will not mention certain things and answer in certain ways. I can't believe that a family member would not ask something like "This show/franchise has only produced 1 marriage in all of the years it has been on the air and the rest are failed relationships – what makes you so special, etc.?" Instead they all just say "I am skeptical of this process." It seems like something they have been coached to say rather than mentioning the show itself and the fact it is a ridiculous way to get engaged.
As I watched I was thinking I would tell my sister she is smoking crack and same with the bachelor if they really think they can find true love this way (which I think a lot of those women think is a legit process to do so.) Anyway, I was wondering your thoughts on this.
Comment: Well, they can't force them to sign something that says that, and I'm sure all the parents are thinking it, but they're not dumb enough to say it on camera because it will never make air anyway. The show shows us what they want to show us, and that's parents being positive about the whole experience, talking up how the lead is such a great person and would be right for their child, etc. They're not gonna sit there and air footage of a bunch of family members saying, "This show is stupid. There's no way it's ever gonna work. I don't know why my son/daughter is wasting their time." Lets be real.
So the only thing negative they'll show is some family member saying the word "skeptical," as they should be. But that's the extent of negativity you'll ever get on a hometown.
__________________________________________________________
As you presumed, the Ben and Courtney's date was most definitely showed out of order.
When Ben pulls up at the beginning of the day, he MOST DEFINITELY pulls into The Farm. I am a Phoenix native and have been there multiple times, and have parked in that dirt parking lot.
So, unless he met her there, then they went to her parents, and then back to the Farm, they most definitely showed the sequence out of order from when it was shot. Because the beginning and end were definitely at the Farm.
Anyhoo…enjoy the column…you're a riot.
Comment: That was obvious. I also noticed when Ben was sitting with the family, towards the end of the date, the sun was going down. When he was with Courtney at the fake wedding, the sun was blazing. He obviously met her first and did the faux wedding and then met the parents. Why they showed it out of order is beyond me. Especially when I can't remember a single hometown date in the history of this show where the couple met the parents first and THEN did something together. Made no sense and it was a horrible edit job. I mean, at least make them take their rings off to get people to believe it could've been possible.
__________________________________________________________
1. When the Bachelor leaves the women's family's homes, do the women leave then too or do they get to stay the night with their family? When Ben was leaving Kacie's family's home, the parents made it seem like Kacie was leaving too because they said bye to both of them, yet Ben is the only one that got into the vehicle.
2. You said in your recap that Lindzi's father's name is Harry, yet when Lindzi introduced her father to Ben, she said his name was Sean, yet Lindzi's father interjected by saying that Lindzi calls him Harry. When did Harry become a nickname for Sean & when did it become okay for daughters to call their fathers by name & not dad? What is Lindzi's father's real name: Harry or Sean? So confusing.
3. Did you see the glasses Ben & Lindzi's father were drinking out of? They were mason jars with stems attached to the bottom. Just because you put a stem on the bottom of a mason jar to make it look like a wine glass, it's still a mason jar at the end of the day & you're still southern. Stop trying to make it something it's not.
Comment: 1. No, the lead and the contestant both leave that night. Maybe Kacie got to go back into her parents house for a bit to talk to them, but it would've all been on camera for footage to possibly use on the show.
2. Actually, Lindzi's father name was John, not Sean, but as we know he called himself "Harry." No idea how "Harry" became a nickname for "John" but I'm sure there's a reason behind it. Maybe his middle name is Harold, so some people have always called him "Harry."
3. I didn't notice it while watching, but plenty of people pointed it out to me afterwards. Here's a pic for those that missed it as well: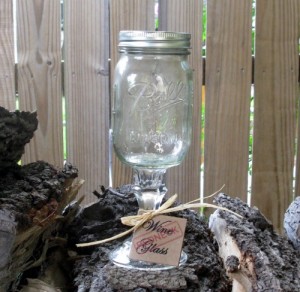 __________________________________________________________
Hey Steve – In your opinion, why doesn't ABC end the Bachelor each season with a live proposal/final rose instead of taping it months in advance, similar to how they do Celebrity Apprentice? This would eliminate any chance for the final results getting leaked out to viewers. I admit that it is much more entertaining for me to already know the results (thanks to you!) before the finale, but I'm just wondering why ABC does such a bad job of safeguarding the results if they really don't want people to know.
Comment: They did it once when Charlie dated both Sarah and Krisily in the real world and make his decision live. Impossible to do that now with social media and paparazzi so invested in this show. It would still get out.
It's not just the "Bachelor" franchise. Any show that tapes in advance runs the risk of spoilers getting out, and they usually do. It's just that some shows spoilers are a much bigger deal than others. I mean, would it really be on the cover of tabloids if the winner of say Top Chef got out? Of course not. But I tell people who wins the "Bachelor" three months ago and it's like I'm letting out CIA secrets. Like I've said, I'll never understand the fascination people have with this shows spoilers, I just know it exists. If people had the information I did, they'd be doing the exact same thing with it. I'm just capitalizing on a market where there's a rabid fanbase for what I know.
There are other places out there to find the "Celebrity Apprentice" final two (since that finale is live) and the "American Idol" top 24 and other stuff like that, but people don't even bat an eye to those spoilers. It's just not a big deal. For whatever reason, people are obsessed with this show's spoilers, so I continue to give it to them.
__________________________________________________________
Hey Steve
I have a few questions for you:
1) Who is your favorite bachelorette so far (the lead, not the girl contestants on the bachelor)
2) What do you think of Ben as a person
3) Why in the world would someone like Emily who is getting her PhD want to be involved with this show
4) Every Monday Trista grandma bachelorette tweets non stop about the episode and is always super judgemental. Shouldn't she know better than anyone else about how this show is edited. I also found it funny that she tweeted something angrily about Ben not explaining to Kacie why she was eliminated. Hasn't it occur to her that he actually DID explain but they just decided not to show it??!
5) What was Emily's GPA when she was at Duke
6) What is Ashley H up to now with her whole dentistry thing? Is she practicing in New York?
7) Out of all the seasons of Bachelor and Bachelorette, which season is your favorite and who is your favorite guy and girl?
Comment: 1. I'd say Ashley Hebert was my favorite "Bachelorette," which is funny because I didn't think she would be going in.
2. I don't know Ben as a person, only by what I see on TV. But knowing some of the stuff he's done (the Cream Dream video, the flirting/texting with other women during his season with Ashley, his wine business), I knew from the beginning this whole thing was just a fun game to him that he never really took seriously in terms of wanting to find a wife. He just wanted to travel, meet chicks, bang models in the ocean, and get more attention for his business, that's all. I said that right when he was announced and his actions this season aren't doing anything to change my mind about it.
3. I have no idea. Been asking myself the same question.
4. There's a reason I decided to unfollow Trista on Twitter. She's actually very nice, even though her and I have had our differences, and we were able to speak about them at one point. But I don't need to follow her for obvious reasons.
5. Emily's GPA? Uhhhh, how the hell am I supposed to know this?
6. I just read recently Ashley got a dental job back in Pennsylvania so her and JP now have to move out of the city.
7. Brad's first season was my favorite ending, along with Charlie's season. I have lots of favorites over the years.
__________________________________________________________
There is a lot of talk that Kacie B. was in the running to be the next Bachelorette instead of Ali. Do you really think that her family could've handled watching her date numerous men? And then watching "the fantasy suite" dates with possibly three of them? I like Kacie a lot, but I don't think that realistically she could ever be the Bachelorette, unless she decides to break away from her family and do her own thing. Also, I can picture her being a nervous wreck if she was on the Bachelorette, being in love with everyone. Do you agree?
Comment: The only "talk" about her being the next "Bachelorette" was just from people who wanted it to be her, and the fact that she made final four, so obviously she's a candidate. There's no proof whatsoever that she was ever a strong candidate, just speculation. And after seeing her parents on the hometown date, it does make it seem a little less likely that she could ever be put in that role. I just don't see it.