I guess the biggest thing to talk about today is what pictures are appearing in US Weekly this week. What you see to the right is one of the pictures, and I've included the other one on the next page. Honestly, people are going to believe what they're going to believe regardless of what I say. I can tell you right now that, yes, that picture looks pretty incriminating for the guy, but if it doesn't change the bottom line, and that's that Ben and Courtney are still engaged, I don't see what the point is? US Weekly, and every other tabloid for that matter, has one job and one job only. To sell magazines. They will do whatever they can, and post whatever pictures they can in order to do that. This is the same mag that said Ali used to hang out at Roberto's minor league baseball games 8 years ago. It's ridiculous. This picture could look incriminating, or, it could be absolutely nothing other than a picture taken at the exact perfect time that could lead you to think it's incriminating. We can definitely discuss this more tonight on the live video blog at 9PM EST/6PM PST, although, there really isn't much else to say. The pictures are there for everyone to see and make their own interpretations of what they perceive them to be. But because it's coming from a tabloid, and only one of the pictures really could be interpreted as incriminating to me, I guess I just don't think it's as bad as other people do. Paint me skeptical since it's coming from a tabloid.
And the other pics? Please. Because we see a girl in the same outfit in the daytime as the night time, with no one else around her, we're supposed to automatically take their word that she was leaving Ben's apartment? Where's the proof? I don't see Ben's apartment (or any apartment for that matter), in that picture. I don't see Ben in the picture either. Has anyone ever thought that maybe that chick went home and slept with one of Ben's roommates, who are also said to be capitalizing off Ben's "fame?" There's a myriad of different ways to go with the these other pictures. Random blurred girls faces with anonymous quotes attached to them means nothing to me. Sorry. Anyone can say anything to a tabloid and they'll print it. It's their job. I will give you that the first picture is the most incriminating one, but, considering Ben and Courtney are still together and will be appearing as an engaged couple at the ATFR taping this Sunday, it's just another way for this franchise to stay at the top of the pop culture list. That's now 3 weeks in a row that Ben and/or Courtney have been on the cover of US Weekly. Exactly what ABC loves. They do not give a sh** about protecting Ben or his image. As long as their show is getting coverage in the tabloids, they're happy. I'm the biggest conspiracy theorist in the world when it comes to this show you know that, but sorry, this is all garbage and just a tabloid being a tabloid.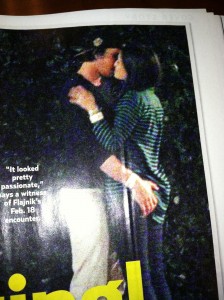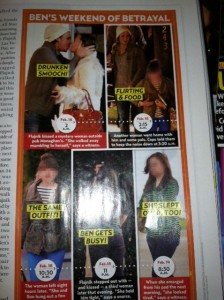 ___________________________________________________________
There are plenty of you that will choose to believe everything you read in there, that he got with 3 different girls on three consecutive days in February, and that's fine. You continue to believe that. Do I think Ben did the show for publicity? Yes. Do I think he's going to ever marry Courtney? Not a chance. Do I think he's just a guy loving all the attention he's getting from this show from a lot of females? Absolutely. Ben might be as bright and exciting as a box of hammers, but there's absolutely no way the guy hooked up with three different chicks on three consecutive days IN PUBLIC while engaged to Courtney and them a few weeks from taking their relationship public. It's tabloid garbage that obviously accomplished their goal because everyone and their mother emailed me yesterday once these pics started making the rounds already calling Ben guilty and saying he cheated on Courtney. All I'm trying to do is talk some sense into you people and say don't believe everything you read, and as for the pictures, we have no idea the context those were in, as bad as they look. I can totally see in that first one something a little more than a friendly embrace goodbye if I look at it one way. But I also can look at it another way and realize it could also be nothing other than a photographer taking the picture at the perfect time.
These two will be together come Sunday's taping, and after the finale airs on the 12th, they will be able to finally have a public relationship, make the talk show rounds and explain themselves to everyone. THAT'S when their real relationship will begin. If there's a change at the ATFR taping, I'm sure I'll find out about it and report immediately. But since they haven't let any of the last 3 months negativity break them up, I don't see how another week of it will. Having private safehouse visits over the last four months (which they've had) can only go so far. That's not real dating. You can't do anything other than sit in a house, watch TV, play board games, and have sex. Once this is all over, and you can actually do things in public is when you're able to see if the other person is definitely someone you want to be engaged to. Do I think it will last? Absolutely not. But if you're asking me if Ben has cheated on Courtney during these four months since the finale filmed, I will tell you no and stand by it. He's dumb, but he's not that dumb.
The other thing that popped up yesterday were these pictures of Courtney yesterday in a wedding dress and now everyone thinking it's because she's marrying Ben, like, tomorrow or something. Pretty ridiculous. These two are not getting married, and the pics of Courtney were from a photo shoot. It has nothing to do with her marrying Ben, or getting fitted for her dress for a soon-to-be wedding. Couldn't be further from the truth. But very well played by Courtney to schedule a wedding photo shoot less than 2 weeks before the finale airs to stir the pot just a little bit more. Well played. She definitely knows how to keep attention on her I'll give her that. I'm just amazed at the amount of people who saw the wedding dress pics yesterday and said, "Oh my God, you were totally right. This proves she's with Ben." Well yeah I was right on his choice, but certainly not because of these pictures. The photo shoot yesterday has nothing to do with Ben. Sorry to disappoint.